States that toughened their firearms policies overall saw declines in the rate of workplace homicides, according to a new study by Boston College researchers who looked at gun law changes during a six-year period.
When states tightened certain categories of firearm policies—restrictions on firearms for domestic violence offenders, concealed carrying, and background checks—workplace homicide rates decreased significantly, the team from BC reported in an advance online publication of the American Journal of Public Health.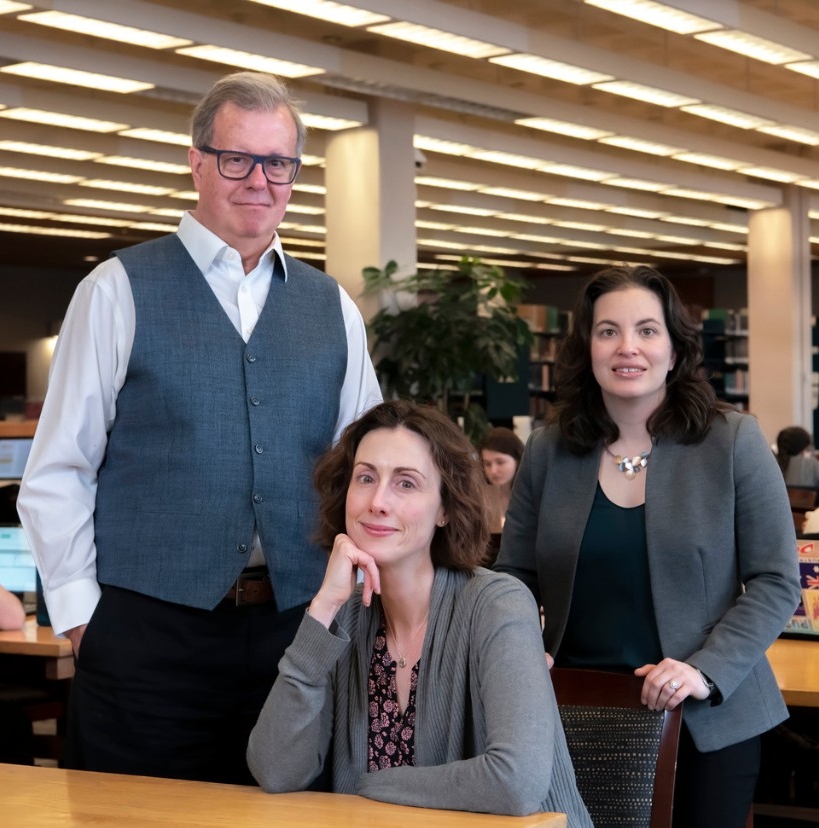 "What this study points to is one potential lever that states can pull to help reduce the number of homicides that take place at work," said BC School of Social Work Assistant Professor Erika Sabbath, who led the study. "Regardless of your position on gun control versus gun rights, we can all agree that nobody should be killed at work. That's a fundamentally unjust and preventable event. Results of this study suggest that laws that restrict firearm access and use could be meaningful steps toward prevention."
Gun violence in America has reached such proportions that it has been declared a public health crisis. In 2017, 13,205 working-aged adults died by firearm, making it the ninth-leading cause of death for the group. Each year, approximately 400-500 homicides occur while victims are at work, accounting for about 9 percent of the approximately 4,800 workplace fatalities that happen in the U.S. each year. Nearly 80 percent of those workplace homicides were classified as intentional shootings.
While efforts to enact federal curbs on gun use have failed, state-level policies are more dynamic, with states both tightening and loosening certain firearm policies. The fact that legislatures in all 50 states change different policies at different times makes state-level policy activity a valuable tool to determine the effective of these policies on public health outcomes.
Already, evidence has been gathered by other researchers showing that policy changes in areas such as background checks and permit requirements helped to reduce gun deaths overall.
Sabbath and her School of Social Work colleague Associate Professor Summer Sherburne Hawkins, along with Professor of Economics Christopher F. Baum, looked at states' annual workplace homicide rates and any variations in those rates related to changes states made to their firearm policies, either to tighten or to loosen them.
In all, the researchers analyzed 13 categories of firearm policy changes from 2011-2017. They then used federal data on workplace homicide rates from all 50 states during that same time period to test whether a state's workplace homicide rate went down in the years after they tightened a firearm policy.
From 2011 to 2017, more than 3,000 people died as a result of workplace homicides, with a firearm involved in 79 percent of those deaths. During that period, 23 states strengthened firearm regulations and 23 weakened them.
"We found that when states tightened firearm policies overall, the rate of workplace homicides went down," Sabbath said. If a state were to add enough firearm policies to move them from one of the least restrictive states to one of the most restrictive states, they could expect to see a 3.7 percent decline in workplace homicides, equivalent to preventing 15 to 16 workplace homicides per year, the team found.
The study is the first to demonstrate that workplace homicide rates can be influenced by stronger firearm laws, Sabbath said. Other studies have shown a relationship between a reduction in overall gun-related deaths and state-level firearm policy changes, such as background checks and permit requirements.
"We saw clear evidence that when states tighten policies that make it harder to get or keep guns, their overall workplace homicide rates declined," said Sabbath. "It was particularly true for a couple of categories, such as concealed carry policies. When you think about having a disagreement with someone at work if a gun is in your pocket, that argument can have a very different outcome than if the gun is in your home or in your car, or if you shouldn't have a gun at all."
Sabbath said the findings may help contribute to workplace safety and gun policy debates among lawmakers. They may also support internal policymaking by companies, which have broad power to restrict concealed carrying of firearms within their organizations.
"Nearly every workplace homicide is preventable," Sabbath said. "There is no reason why someone should ever be killed by another person at work. While tightening gun policies cannot prevent every homicide at work, our results suggest that state legislative action could mean that more people would return home to their families at the end of their workday."

Ed Hayward | University Communications | February 2020