For many Boston College undergraduates, the COVID-19 pandemic not only affected their academic year but also their summer plans, resulting in the cancellation of internships and other professional or academic programs.

When Associate Professor of Political Science Jennifer Erickson saw the impact on some of her students, she decided to fill the gap.
A faculty member jointly appointed in the International Studies, or IS, Program, Erickson ran an informal workshop via Zoom this summer for 14 IS majors—all of whom who had been in her Introduction to International Studies class this past spring or in previous years—on the theme "order and disorder in international politics." The sessions covered controversies such as the World Health Organization and its handling of the coronavirus, as well as topics related to the World Trade Organization, the International Criminal Court, refugees, and arms control, among others.

The non-credit workshop, not affiliated with or sponsored by any department or program, was an "on-the-fly" creation by Erickson, who saw it as a means to keep her students engaged in intellectual formation and help enrich their understanding of international issues. But there was another, deeper aspect to the workshop, she said.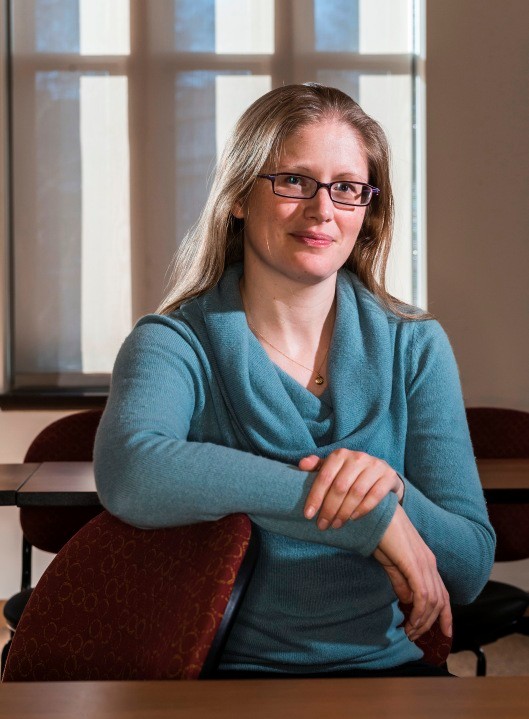 "Once we began remote learning, I thought a lot about the value of a BC education," she explained. "Besides the academic component, the value is being part of a community built on interaction between faculty and students, whether in the classroom or outside of it. Teaching intro classes is a good way for me to get to know IS majors, so that I can stay connected with them through the rest of their time at BC; I like to be a person they feel they can keep in touch with.

"When I checked in with my students, they expressed concern about whether they would be able to do internships in the summer. But they also talked about the difficulty of being away from BC and its sense of community. So I tried to come up with ways to keep connected, and where they felt they were building on what they had learned—not the same thing as an internship, of course, but hopefully of some value."

Daniela Vazquez Loriga '22, a native of Hialeah, Fla., had hoped to participate in the Boston Lawyer Group Summer Internship Program or the U.S Foreign Service Internship Program, but both possibilities fell through. She was enthused when Erickson floated the idea of a workshop.

"She has great expertise and a knack for explaining difficult topics in an understanding and digestible manner, and focuses on challenging questions that link our class material with current events," said Vazquez Loriga, whose International Studies major is complemented by a concentration in Ethics and Social Justice and a minor in history.

"This really pushes our critical thinking and comprehension skills. I was discouraged at not having the opportunity to further develop these skills in an internship as I'd hoped. But I trusted Professor Erickson to deliver a challenging and fascinating workshop that would expand my understanding of international relations."

Although the workshop was informal, Erickson wanted to promote a shared sense of commitment among the participants. She asked interested students to apply and include a cover letter stating their reason for wanting to join the workshop, which consisted of six Zoom sessions that took place every other week; in between, the students had to do assigned readings.

"I tried to strike a balance," she said. "I didn't want the workshop to be burdensome, because I knew some of the students had jobs or other responsibilities. At the same time, I wanted them to take it seriously, and understand that they had to commit to attend the sessions and do the readings. Above all, I wanted the experience to be fun as well as intellectually stimulating."

Stephanie Brendsel '21, whose IS major includes a concentration in political economy and development and a minor in economics, was awaiting her security clearance for a summer internship at the U.S. embassy in Panama when her program was cancelled due to travel restrictions. Although she had found a new internship when Erickson contacted her about the workshop, Brendsel decided to take part.

"I was interested in having a built-in summer commitment where I could read and discuss policy topics within a group of BC International Studies students," said Brendsel, a native of Virginia who spent her high school years in London. "It's in these intimate group discussions during my previous IS courses, including Introduction to International Studies, that I feel like I gain the deepest understanding of specialized topics."

For senior Christopher Sundaram, who decided to take some online courses and offer tutoring for children when his internship ideas didn't pan out, the workshop was satisfying on many levels.

"The hour always seemed to fly by," said Sundaram, from Hanover, NH. "Professor Erickson asked us questions, moved the discussion along smoothly—it never felt forced—and I learned a great deal from everyone. I think it shows that if the professor and students are interested and committed to the topic, online classes can really work."

Among other activities, Erickson and the workshop participants compared the WHO guidelines for COVID-19 with those of the 2014 Ebola outbreak and examined the Trump administration's response to the investigation of U.S war crimes in Afghanistan. They also discussed how much protection the International Humanitarian Law provides to hospitals in conflict zones, how states skirt their responsibilities toward refugees through bureaucratic measures or by excluding certain groups, and the degree to which the "taboo" against use of nuclear weapons persists today.

Vazquez Loriga appreciated that the topics were timely, relevant, and challenging in that "we were talking about things that were still unfolding. We had to really think about everything we've learned from our courses and theories that we've studied to draw our opinions and conclusions."

"These topics are not spoken about nearly enough, especially given their massive importance," said Sundaram. "The most valuable thing about the workshop was being able to discuss them in a critical way in an accepting setting, as this is the best way to reach solutions and fix these issues."

Brendsel agreed. "I enjoyed hearing the different interpretations of readings amongst our group. Professor Erickson or a student would pose a question: For example, did we believe that the WHO serves as a stabilizer or as a police force for member states? Our readings, these questions, and students' diverse opinions were all useful for me as I formulated my own educated opinion on an important international relations topic."

The three students greatly appreciated Erickson's willingness to volunteer her time and effort, but were by no mean surprised by it.

"She has always been a reliable resource for help and guidance, whether hosting multiple review sessions before a big midterm, organizing a movie night so the class can bond, or just answering emails asking for academic advice," said Vazquez Loriga. "I was very grateful that she decided to dedicate her free time to her students who just wanted to make their summer worthwhile despite the many setbacks of COVID-19."

There is a possibility the workshop may continue on in some form during the academic year, perhaps as a monthly discussion. "I want all the students to get settled back into the school routine, and then see how everybody is," said Erickson. "I'm glad the experience meant so much to them."

Sean Smith | University Communications | September 2020