The Boston College community mourns the loss of civil rights champion U.S. Representative John Lewis, who died July 17 at age 80.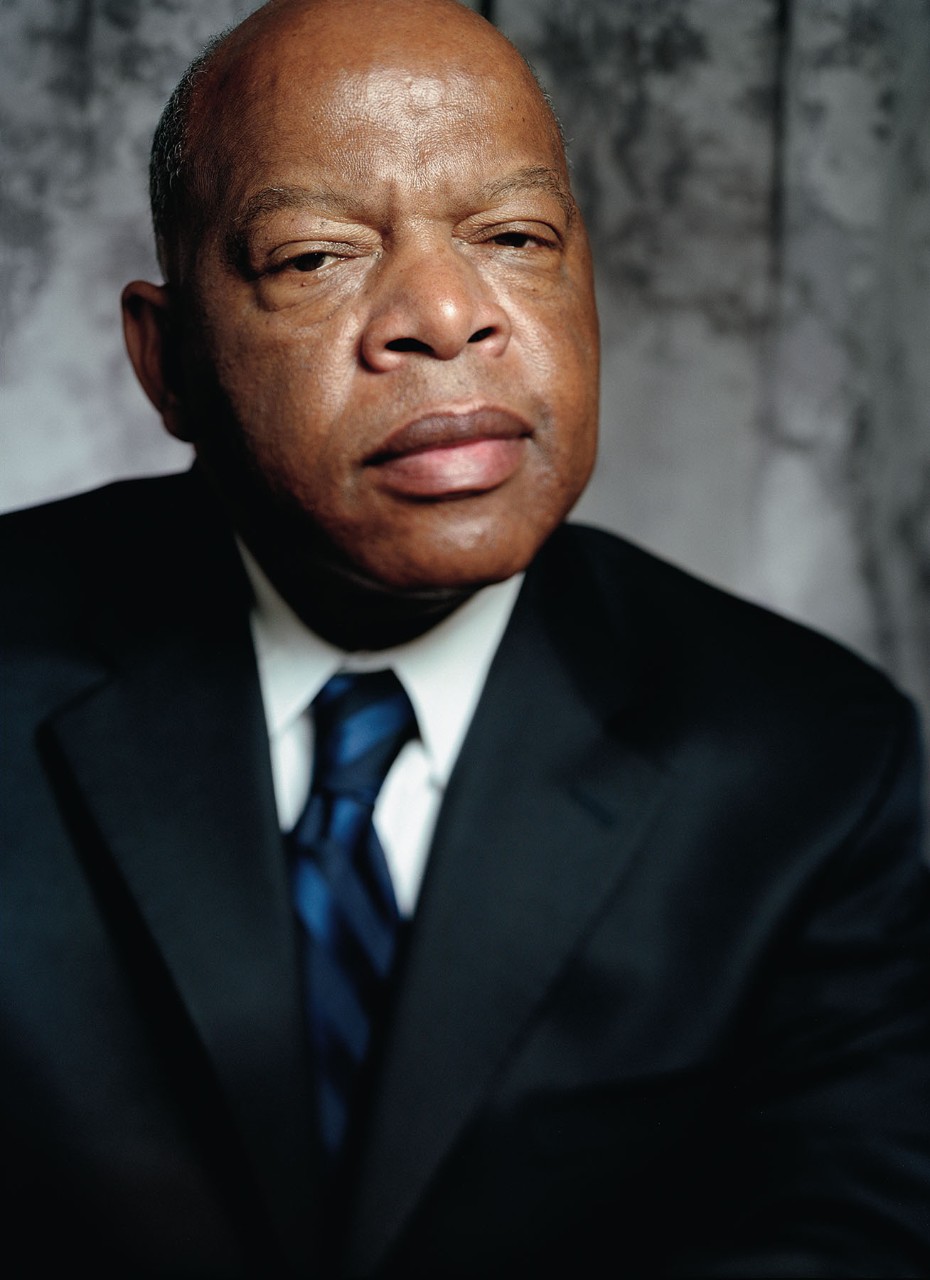 Rep. Lewis shared his experiences and message at Boston College on several occasions, including in 1990 when he delivered the keynote address at the annual Martin Luther King, Jr. Scholarship Banquet.
"Yes, we have come a distance," he said in his remarks at the event. "But as we move toward the 21st century, as a people and as a nation, we must find a way to inject the love, the essence, the morality, the discipline and the commitment of the early civil rights movement into the political arena. We must find and recruit a new breed of candidate for public office, men and women of vision, politicians with the moral capacity of a Martin Luther King, Jr."

Having grown up in segregation-era Alabama, he said, "it was one of my greatest privileges to witness in 1955 a bright ray of hope: the birth of the civil rights movement. I saw Martin Luther King as a young minister, who was trying to make his religion relevant to the needs of his people. In my mind, this man was a modern-day Moses, using organized religion and emotionalism within the black church as an instrument, as a tool for freedom."

"If someone told me 30 or 40 years ago that I, the son of a sharecropper from rural Alabama, would be standing here at Boston College as a member of Congress, I would have said they were crazy. So change is possible. I say to the young people tonight, don't give up. Keep your eyes on the prize. Hold on to the dream."
In 2004, as keynote speaker for Diversity Month at Boston College Law School, Rep. Lewis delivered one of the most powerful and moving speeches ever heard at the school, according to professors Robert Bloom and Ruth-Arlene Howe in a BC Law report on the event.

"He repeatedly challenged students to use their legal skills, with passion, to make the kind of difference and impact that will enable this country and its diverse populations to realize the promise of the founding fathers," Howe said at the time. "He charged the students at the end of his talk to come together as one, to appreciate that although folk and their ancestors may have arrived in different boats and in different circumstances, that today we are all in the same boat.
"John Lewis's courage and commitment to equal treatment was an important lesson for us all," said Bloom.
Rep. Lewis also participated in a 2006 symposium, "Retracing the Struggle: The Legacy of the Voting Rights Act of 1965," organized by the Massachusetts Foundation for the Humanties and held in Robsham Theater.
An excerpt from his remarks was published in Boston College Magazine:
Sunday March 7, 1965, about 600 of us lined up in twos with the intention to walk in an orderly, peaceful fashion from Selma to Montgomery, to dramatize to the nation that we wanted the right to register to vote. We came to the edge of the Edmund Pettus Bridge and were about to cross the Alabama River. A young man from Dr. King's organization, Hosea Williams, looked at me and said, "John, can you swim?' I said, "No. Hosea, can you swim?' He said no. I said, "There's too much water there. We're not going to jump and we're not going back. We're going forward."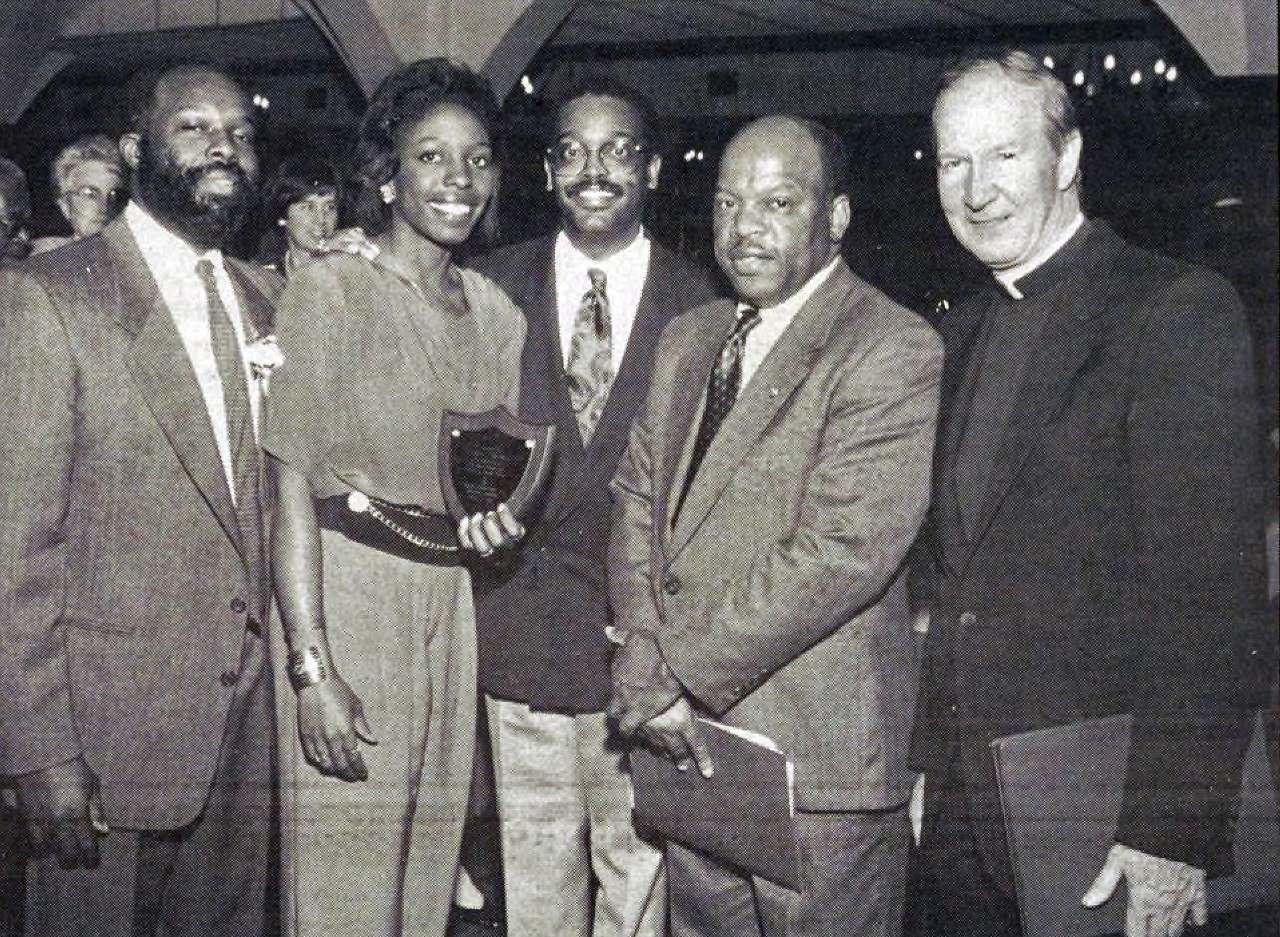 When we got to the top of the bridge, down below we saw a sea of blue—Alabama state troopers. We continued to walk, until we came within hearing distance. A man identified himself. He said, "I'm Major John Cloud of the Alabama state troopers. This is an unlawful march, and it will not be allowed to continue. I give you three minutes to disperse and return to your church." In less than a minute, he said, "Troopers, advance." And these men came toward us, beating us with nightsticks and bullwhips, trampling us with horses, and releasing their tear gas. Several of us were hurt and hospitalized that day. I was hit on the head by a trooper with a nightstick and suffered a concussion. I gave a little blood on that bridge for the right to vote, for the right of all of us to participate in the democratic process.
Joe Smitherman was mayor of Selma from 1964 to 2000. He used to call me a troublemaker, an outside agitator. But as black people started registering and voting, he came to call me one of the bravest men he'd ever known, and one of his closest friends.
Smitherman was ultimately defeated by a young African-American named James Perkins. The Selma city government now is biracial.
"Congress is going to reauthorize those sections of the Voting Rights Act that need to be reauthorized. We're going to do it because it is the right thing to do and the necessary thing to do. There may be some debate. But we've come too far to turn back now. America is in the process of laying down the burden of race, but we still have a great distance to go, far to go. We need the Voting Rights Act—we need Section 5—to move us faster and further down the road. And I think we will make it.
---
University Communications | July 2020