For Boston College students like Morrissey College of Arts and Sciences doctoral candidate Tyler Parker and Lynch School of Education and Human Development sophomore Faith Drescher, the Middle East is a locus for researching compelling historical, political, and social issues—and the availability of grants and fellowships through BC and elsewhere are enabling them to go right to the source.

Parker, whose area of interest is international politics, journeyed to Qatar and the United Arab Emirates last summer to work on his dissertation on why the six Gulf Cooperation Council member states—Qatar, UAE, Bahrain, Kuwait, Oman, and Saudi Arabia—have materially and rhetorically supported United States foreign policy plans in the Middle East and North Africa since the 1990s.

Drescher, a student in the Gabelli Presidential Scholars Program, conducted research on Arab mental health during her two weeks last July in the Hashemite Kingdom of Jordan, located at the crossroads of Asia, Africa, and Europe.  

The pair were recipients of Omar A. Aggad Travel and Research Fellowships, a program established in 2017 by Tarek O. Aggad, executive director of the Aggad Investment Company, chair of the Arab Palestinian Investment Company, and the father of a Boston College alumnus, to support undergraduate and graduate study in the Middle East, with the express purpose of addressing misunderstandings about the region and its people.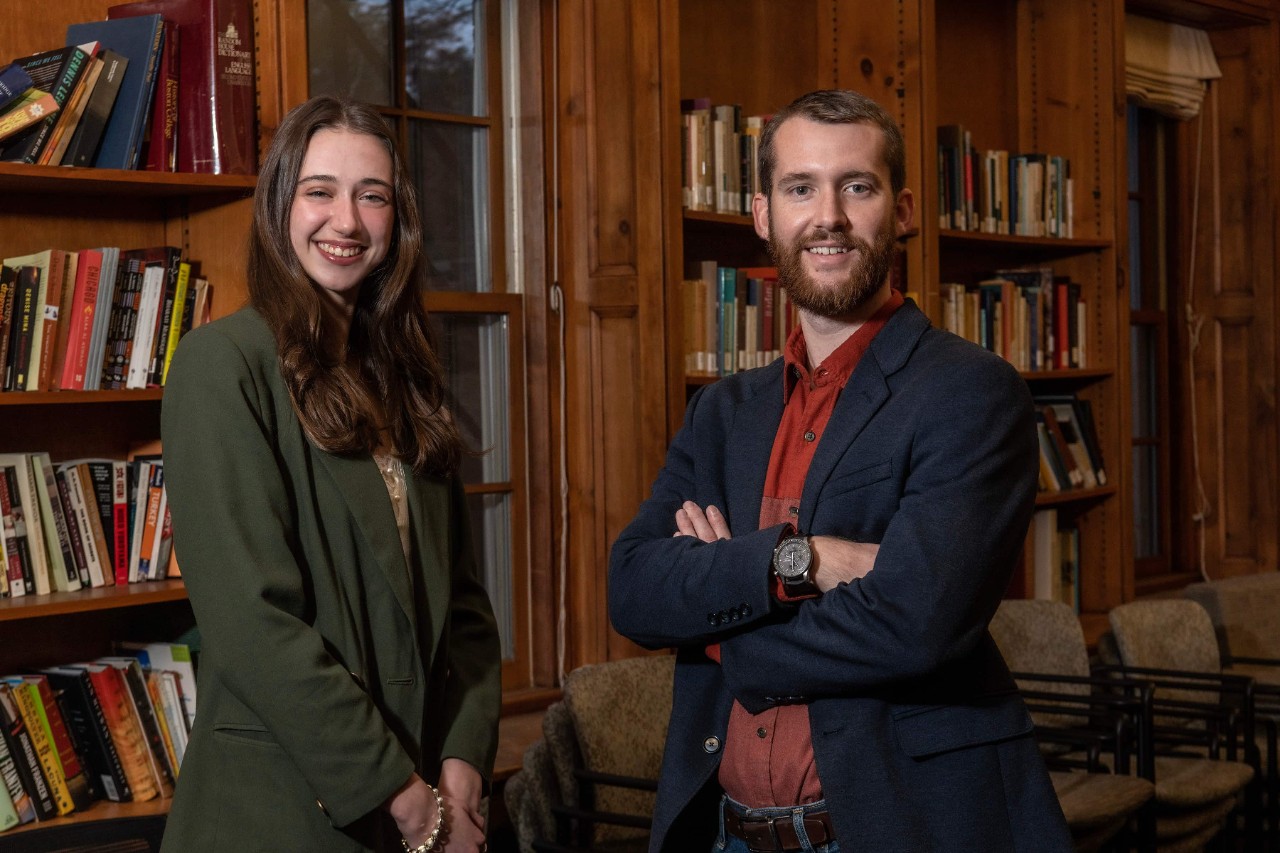 Faith Drescher '25 and doctoral student Tyler Parker pursued research projects in the Middle East through the Omar A. Aggad Travel and Research Fellowship program. (Lee Pellegrini)
Parker and Drescher shared their experiences as part of a student panel on Middle East study and research on Tuesday at Hovey House, an event co-hosted by the Office of Global Education and the Islamic Civilization & Societies Program. Isabella Nassar, a Morrissey College senior studying this semester at the American University of Sharjah, UAE, participated in the event remotely.

BC study-abroad administrators and students who have gone to the Middle East recently reflected on the importance of Aggad Fellowships, as well as other sources of support for international research: BC's Mizna Fellowship Fund, established through a generous alumnus gift to create opportunities for undergraduate research, language study, internships, and service-learning initiatives throughout the Islamic world; federally funded Boren Awards that subsidize undergraduate study-abroad scholarships and graduate research fellowships in regions critical to U.S. interests; and the U.S. Department of State Critical Language Scholarship Program, which offers approximately 600 undergraduate or graduate students the opportunity to participate in an intensive language study abroad.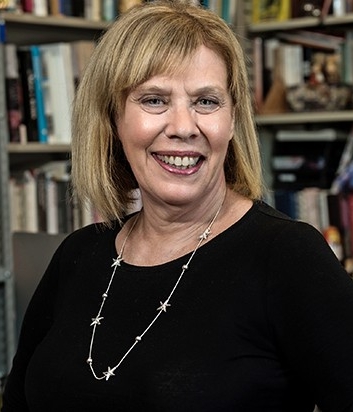 "Faith and Tyler's Middle East research admirably represents the purpose and spirit of the Omar Aggad Fellowships," said Kathleen T. Bailey, a professor of the practice in political science, and director of the Islamic Civilization & Societies Program. "The fact that students are expected to spend time in the Middle East to conduct deep research, derived from conversations with local experts and citizens, is an invaluable aspect of the grants."

That is what Aggad had in mind when he made the gift establishing the fellowship program named for his late father, which has underwritten the investigations and study abroad for nearly 30 BC students since 2016. Aggad, who along with his wife Shirine are members of the BC Board of Regents, was particularly interested in helping students understand the long-running Palestinian-Israeli conflict, and supporting research and activities designed to promote peace in the region.

"There are significant misconceptions in the U.S. about Arabs and Muslims, so encouraging students to travel to countries in the region will hopefully change this, one small step at a time," said Aggad in announcing the gift.  "Nothing is more valuable than highlighting commonalities between the people of this world."

Available to undergraduates and graduate students, Aggad Fellowships provide funds for summer or winter-break travel in the Middle East for research, language study, and skill acquisition. Freshman and sophomore project proposals are judged on whether they deepen knowledge in a given field related to Middle Eastern and Islamic Studies; proposals from juniors and seniors are designed to contribute to a thesis project, and can be used to gather data, conduct interviews, and for archival research. Proposals with a language component are preferred.

Parker said his findings show that GCC governments have varied considerably in their backing of specific U.S. strategies over the last three decades, though he emphasized they are "strategic partners of the U.S. whose cooperation is often essential to the formation and functioning of American foreign policy initiatives.

"I was fortunate to receive the Aggad Fellowship," he added. "Travel through the Aggad grant helped me conduct interviews through which I gained invaluable insights for my Qatar and UAE chapters."

Drescher, whose research is titled "A Mental Health Study in Jordan: Come So Far, Yet So Far to Go," said, "Jordan has long maintained its central role in Middle East geopolitics, and regional conflicts have significantly impacted its social demographics ever since the 1990-1991 Gulf War. There is political and economic stress, and increasing levels of domestic violence, which are reflected in the inhabitants' mental health."

The World Health Organization estimated that prior to the COVID-19 pandemic, 20 percent of Jordanians—approximately 2.06 million people—suffered from mental illness, and according to her research, 40 percent of the population demonstrated some degree of anxiety during the epidemic's quarantine.  

"Most collectivist countries like Jordan that emphasize the group's necessities and goals versus individual needs and desires tend to stigmatize mental health disorders as taboo," said Drescher, who also received financial support from BC's University Fellowships Committee for Advanced Study.  "My investigation determined that although the internalized public and personal mental health shame is fading, it needs increased attention."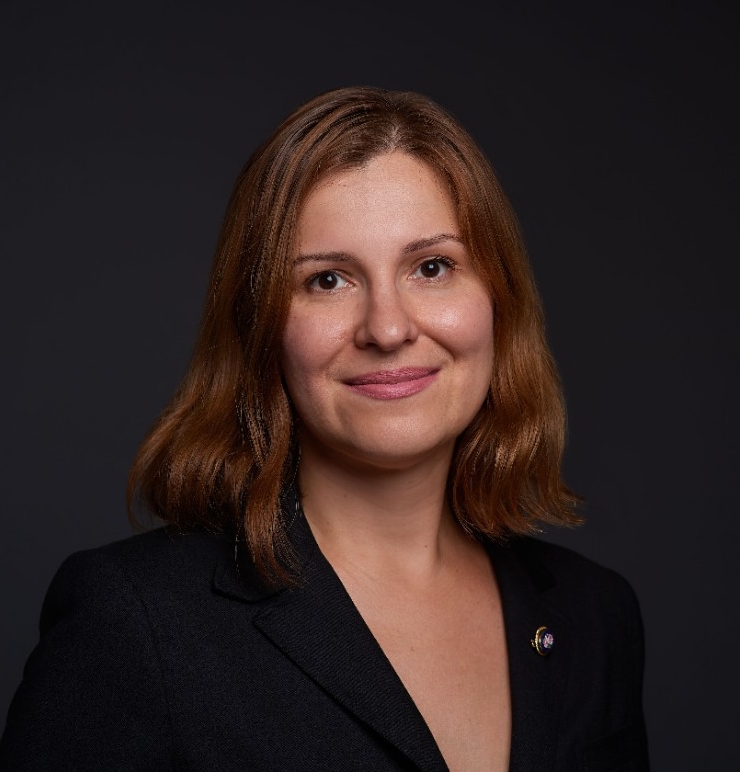 "Study abroad has been a very important part of the formative experience for BC students for many years," said Christina D. Hatzipetros, associate director of health, safety, and communications for the Office of Global Education. "We are aware that many students come to BC specifically for the foreign education experiences we offer. Among the many benefits are the opportunity to develop skills that are highly valued in both the public and private sector careers, such as intercultural competency, global awareness and perspectives, foreign language proficiency, adaptability, problem-solving and communication skills, and increased confidence and initiative.

"Students are also drawn to experiential learning abroad, including internships and research opportunities, in addition to the more traditional semester, academic year, and faculty-led summer programs. Perhaps the biggest benefit to students is the opportunity to explore parts of the world they have not yet learned about or experienced."
Phil Gloudemans | University Communications | December 2022