Beirut, Lebanon (Alain Abou-Atmeh)

It was only 12 degrees above freezing on a late November day in Boston when Kyle Costa '20 shared his story of studying Arabic this past summer at the American University of Beirut's Center for Arab and Middle Eastern Studies. Nonetheless, he quickly warmed to his topic during the student panel on research and study in the Middle East, an annual event co-sponsored by Boston College's Islamic Civilization and Societies Program and Office of International Programs.
"Beirut shines on its own; a place swirling with problems as vibrant as its diversity, and enigmatic in the most beautiful way," Costa said as he related his experiences and impressions of the city with the audience in McGuinn Hall.
Costa, who in is studying Islamic Civilization and Societies and political science in the Morrissey College of Arts and Sciences, was awarded Mizna and Omar A. Aggad Travel and Research fellowships for his Arabic language study in Beirut. While there, he volunteered to aid Syrian refugees and wrote a report, "A Summer in Beirut: Change, Hope and Confusion."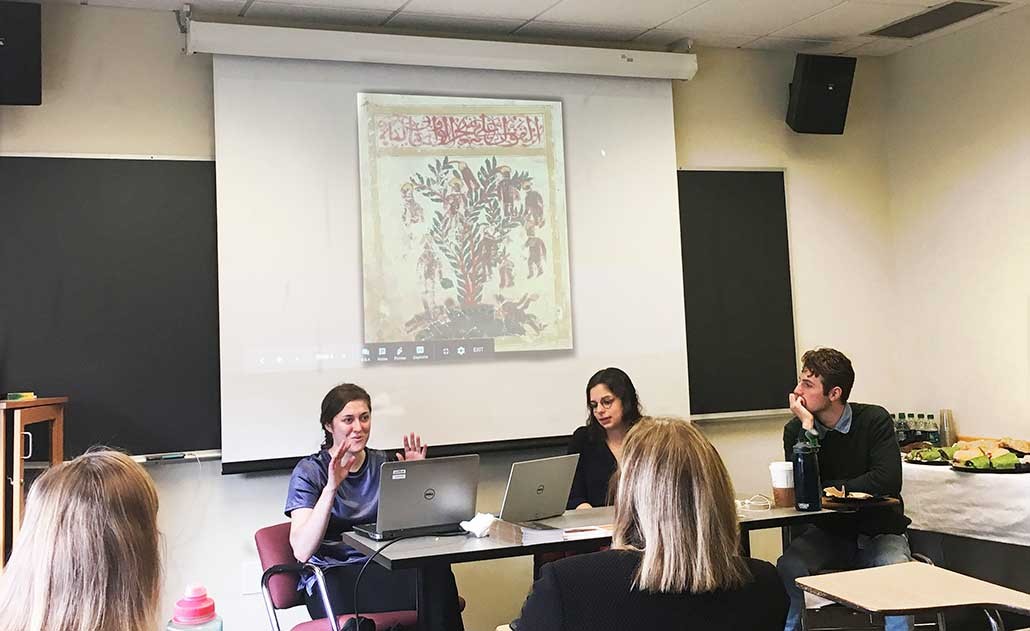 The fellowships that supported Costa and his fellow student panelists were established through gifts from Boston College alumni and friends to inspire BC graduates and undergraduates to expand their understanding of Arab societies and the Islamic world. Fellowship recipients write reports on their experiences abroad; these are available online through the Islamic Civilization and Societies website.
The number of BC students studying within the Islamic world—through BC and approved external programs—has steadily hit double digits of late, with more than 20 students learning, interning, and conducting research in the region this past summer and during the 2018-19 academic year, according to Christina D. Hatzipetros, OIP associate director for health & safety and communications.
"I think the reason there's so much interest in the MENA region [Middle East and North Africa] is that it's intrinsically an interesting place with a rich history and tradition of hospitality and generosity," said Political Science Professor of the Practice Kathleen T. Bailey, co-director of the Gabelli Presidential Scholars Program. "However, it was such a foreign place for so long and largely so misunderstood that students didn't consider studying there, but now that we have an ICS program, and a long list of students who have  traveled there, it's become much more desirable.
"Our students are more curious and willing to explore outside of their comfort zone than ever before," added Bailey, who has organized and led numerous MENA study-abroad experiences. "They can have an immersive experience in the language and culture, and really feel that they are experiencing something different and unfamiliar, which broadens their horizons. Plus, we offer several fellowships for travel, research, and language immersion that make it financially possible for students to go."
Senior Rebecca Reilly, also an Aggad Fellowship recipient, used her Arabic skills to conduct preliminary research for her Scholar of the College thesis on the Third Crusade, an attempt by European Christian leaders to reconquer the Holy Land in 1187.
"I studied at the Qasid Institute for Arabic in Amman, Jordan, and simultaneously used my Arabic skills for my research," said Reilly, a history and International Studies major. "The Aggad Fellowship has been invaluable in giving me the language skills to access historical sources I could not have otherwise."
The third panelist, Islamic Civilization and Societies major Sarya Baladi '19, was an Aggad Fellow for her 2017 summer study in Beirut, where she studied Lebanon's Syrian refugee crisis and volunteered with Jusoor ("bridges"), a non-profit refugee education program, in addition to completing the Arabic Language and Culture course at the American University of Beirut.
"The course is designed for Arabic learners from around the world to immerse themselves in an Arabic and Lebanese environment," said Baladi. "The program also has a strong emphasis on exploring the culture, including multiple lectures about Middle East society, art, and politics, Lebanese movie screenings, and outings in Beirut, as well as trips to Byblos, the Chouf, and the Beqaa region. AUB is one of the region's most prestigious universities, and they made sure that all students felt welcome and safe in and outside their gates. "
Costa provided a coda for the event by quoting the late chef, author, and travel documentarian Anthony Bourdain, whom he cited as an inspirational figure: "'Travel isn't always pretty; it isn't always comfortable; sometimes it hurts, [and] even breaks your heart, but that's okay. The journey changes you; it should change you. You take something with you; hopefully you leave something good behind.'"
—Phil Gloudemans | University Communications | February 2019