Canisius Professor of Theology James Keenan, S.J., director of the Boston College Jesuit Institute, has been named vice provost for global engagement—a key leadership position in Boston College's efforts to enlarge its international presence and impact.

An internationally renowned moral theologian who also co-directs the University's Gabelli Presidential Scholars Program, Fr. Keenan succeeds Alberto Godenzi, the inaugural vice provost for global engagement, who died last fall.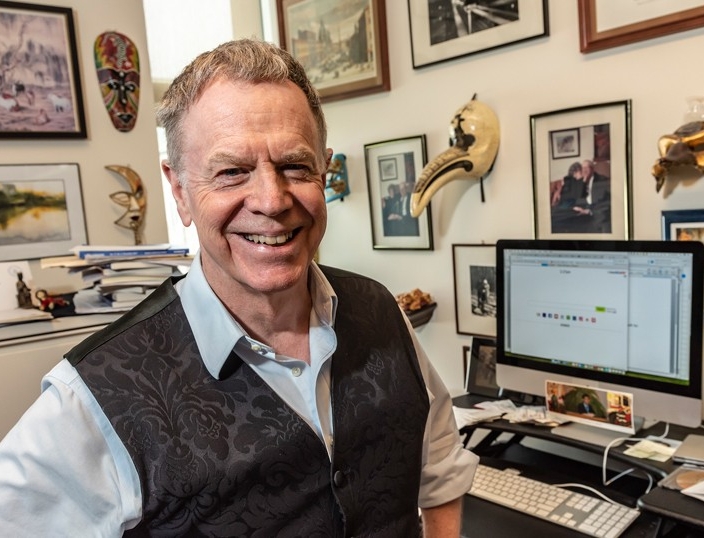 In his new role, Fr. Keenan will oversee the University's commitment to global engagement, as inscribed in BC's Strategic Plan, which among other objectives calls for incorporating greater attention to global issues in the undergraduate curriculum and among graduate, professional, and faculty programs, and educating leaders for the Catholic Church around the world.

The blueprint for BC's global engagement came from a 25-member committee—co-chaired by Godenzi prior to his appointment as vice provost—which during its yearlong (2017-18) study identified areas critical to internationalization, such as pursuing global partnerships and alliances; integrating global education into curriculum, research, and outreach programs; formulating policies and practices to help faculty thrive in global settings; attracting high-achieving students around the world while providing a wide range of international learning opportunities for all students; and emphasizing the academic, faith, and formational characteristics that distinguish BC—especially its Jesuit, Catholic heritage.

A website, bc.edu/global, created in 2018 provides an overview of BC's progress in global engagement, including news of BC partnerships with colleges and universities abroad or organizations such as the Jesuit Refugee Service, research and teaching with an international dimension, and students' educational and formational activities in other countries.

"I am delighted to follow up on the insightful initiatives that Alberto Godenzi developed," said Fr. Keenan last week. "He launched a University-wide conversation on global engagement and took noteworthy steps with the International Federation of Catholic Universities, the International Association of Jesuit Universities, and other networks that furthered BC's role in the global community. Over the past few days, I have been able to track some of these developments, and I have also discovered how the deans of BC's schools have engaged other parties across the globe. This conveys to me an extensive and compelling BC interest in being more present throughout the world through recognizable relationships."

Provost and Dean of Faculties David Quigley said he and University President William P. Leahy, S.J., "look forward to working with Jim Keenan in his new role as vice provost for global engagement.  His wide-ranging, international collaborations as a moral theologian position him especially well to lead the University's efforts to expand opportunities for students and faculty to study, research, and serve in and with communities around the world."

A centerpiece of Fr. Keenan's international experience is Catholic Theological Ethics in the World Church, a worldwide network of some 1,600 theological ethicists and practitioners he founded in 2002. The organization has transformed the field by bringing together thousands of Catholic theological ethicists from more than 70 countries to learn from one another and speak out on pressing issues, such as climate change and migrants and refugees. Fr. Keenan served as chair of the CTEWC from its founding until he stepped down in 2018. Under his leadership, the CTEWC convened several conferences around the world, published a book series, and launched a scholarship program to support the next generation of ethicists.

"Over the past 18 years of working in a global network, I learned to collaborate with others interested in networking," said Fr. Keenan. "Anyone who gets others connected is already an enormous asset for a top-tier research university with an international reach.  More specifically, having taught in Rome, Bangalore, Pune, and Manila, I have also learned firsthand that students, faculty, and administrators elsewhere want to be better acquainted with BC. Finally, within the Jesuit network itself, BC has an integral leadership role. I look forward to collaborative endeavors with those institutions that can help BC live its mission and attain its well-defined strategic goals."

Fr. Keenan came to the University in 2003 from the Weston Jesuit School of Theology as the Gasson Professor, a post he held for two years before joining the Theology Department. His research interests include fundamental moral theology, history of theological ethics, Thomas Aquinas, virtue ethics, HIV/ AIDS, genetics, and Church leadership ethics.

In 2018, Fr. Keenan was selected as recipient of the John Courtney Murray Award, presented by the Catholic Theological Society of America in recognition of a lifetime of distinguished theological achievement. The award is the highest honor bestowed by the CTSA, the principal association of Catholic theologians in North America and the largest professional society of theologians in the world.

That same year, he received the Phi Beta Kappa Teaching Award, presented annually by BC students in the national honor society.  

This year, he became president-elect of the Society of Christian Ethics.

Fr. Keenan is an accomplished scholar who is the author/co-author or editor/co-editor of numerous books, including Moral Wisdom: Lessons and Texts from the Catholic Tradition; University Ethics: How Colleges Can Build and Benefit from a Culture of Ethics; Catholic Ethicists on HIV/AIDS Prevention, which won an Alpha Sigma Nu Book Award, and The Bible and Catholic Theological Ethics, which received recognition from the Catholic Press Association. For 20 years, he was the editor of Georgetown University Press' Moral Traditions series, which produced more than 50 titles.
Sean Smith | University Communications | January 2020