Patricia Weitzel-O'Neill, executive director of Boston College's Barbara and Patrick Roche Center for Catholic Education and a nationally recognized leader in Catholic education, announced she will retire from her post effective July 31.
The former superintendent of schools for the Archdiocese of Washington, D.C., and one-time vice president for academic affairs at Trinity Washington University, Weitzel-O'Neill has led the Roche Center, an affiliated center within the Lynch School of Education and Human Development, since July 2010.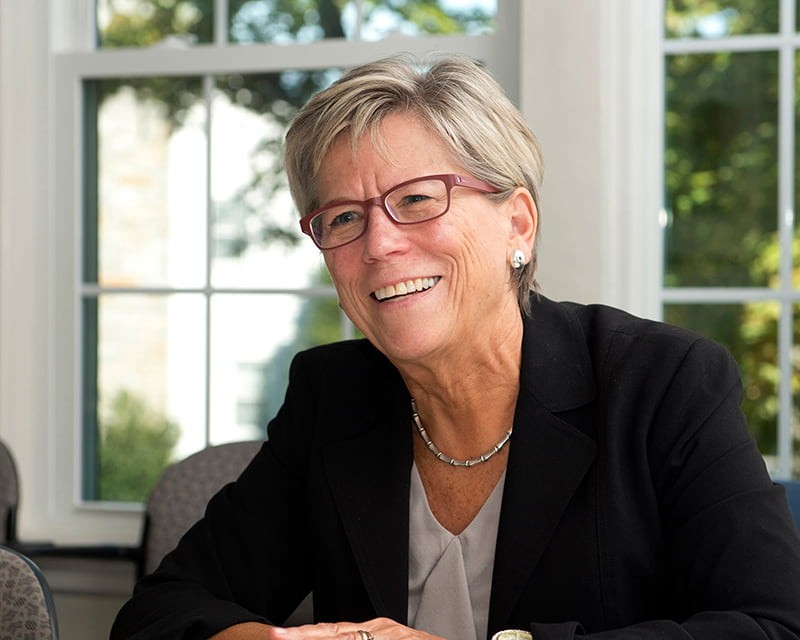 "Patricia Weitzel-O'Neill has made enormous contributions to the Roche Center and Boston College over the past decade," said Stanton E.F. Wortham, the Charles F. Donovan, S.J., Dean of the Lynch School of Education and Human Development, who will serve as interim director of the center until a new executive director is appointed. "She has worked collaboratively to create a center which is a catalyst for transformative Catholic education and applied research. Her vision, experience, and professional networks have allowed her to move the Roche Center forward and position BC as a leader in Catholic education."
Founded in 2007, the Roche Center is named for the late Patrick E. Roche '51, H '01, co-founder of the Wellesley, Mass.- based Roche Brothers supermarket chain, and his wife, Barbara, who donated a $20 million endowment to the center in 2010. 
"I am very grateful to the Roche family for their vision, insight, and unprecedented support in establishing this center, which has permitted and encouraged the professional team to grow and advance transformative initiatives serving Catholic schools across the nation, and to expand the role of Boston College as a leader for excellence, equity, and faith formation in Catholic education," said Weitzel-O'Neill. "I am also thankful for the privilege of working with outstanding colleagues in the center, the Lynch School, colleagues across campus, and at other Catholic institutions of higher education, as well as the many school leaders in our programs and in the Archdiocese of Boston."
While at the Roche Center, Weitzel- O'Neill co-founded the Two-Way Immersion Network for Catholic Schools, which supports the implementation and assessment of dual-language immersion models in Catholic school classrooms throughout the U.S. Since 2012, she has also overseen the Emmaus Leadership Series, with collaborative contributions from the Lynch School, the School of Theology and Ministry, and the Carroll School of Management. This national cohort program provides executive leadership development for Catholic school presidents, principals, and heads of school to strengthen them for the demands of today's education governance. 
In 2017, Weitzel-O'Neill received the C. Alfred Koob Presidential Merit Award for distinguished service to Catholic education from the National Catholic Educational Association, an organization of more than 200,000 educators in Catholic schools, universities, and religious education programs.
She is a co-author with STM Associate Professor Hosffman Ospino of the 2016 report "Catholic Schools in an Increasingly Hispanic Church," based on the first National Survey of Catholic Schools Serving Hispanic Families. Also in 2016, she and Ospino hosted the first-ever National Summit on Catholic Schools and Hispanic Families, which engaged 200 recognized national thought leaders in focused conversations. 
Weitzel-O'Neill is a co-editor of the National Standards and Benchmarks for Effective Catholic Elementary and Secondary Schools, which have been adopted nationally and implemented at the school, diocesan, and state levels. Weitzel-O'Neill continues the work, along with co-editor Lorraine Ozar of Loyola University Chicago, focusing on research, publications, and new digital resources. She serves on multiple boards, including the Governing Board for the Journal of Catholic Education, and the Center for Applied Research in the Apostolate at Georgetown University.
During her eight-year tenure as the Archdiocese Diocese of Washington, D.C., superintendent, she was responsible for 29,000 students in 96 early-learning, elementary, and secondary schools, the largest non-public school system in the area. She was credited with strengthening the schools' academic programs, introducing a standards-based curriculum, and enhancing professional development standards. Additionally, she was instrumental in efforts to secure the D.C. Opportunity Scholarship Program, a federally funded initiative that enabled thousands of low-income children to attend non-public schools in the nation's capital. 
—Phil Gloudemans | University Communications