The Boston College Roche Center for Catholic Education and School of Theology and Ministry hosted a groundbreaking conference this fall on the role of Hispanic educators in Catholic schools, drawing more than 125 Catholic school leaders, theologians, and researchers.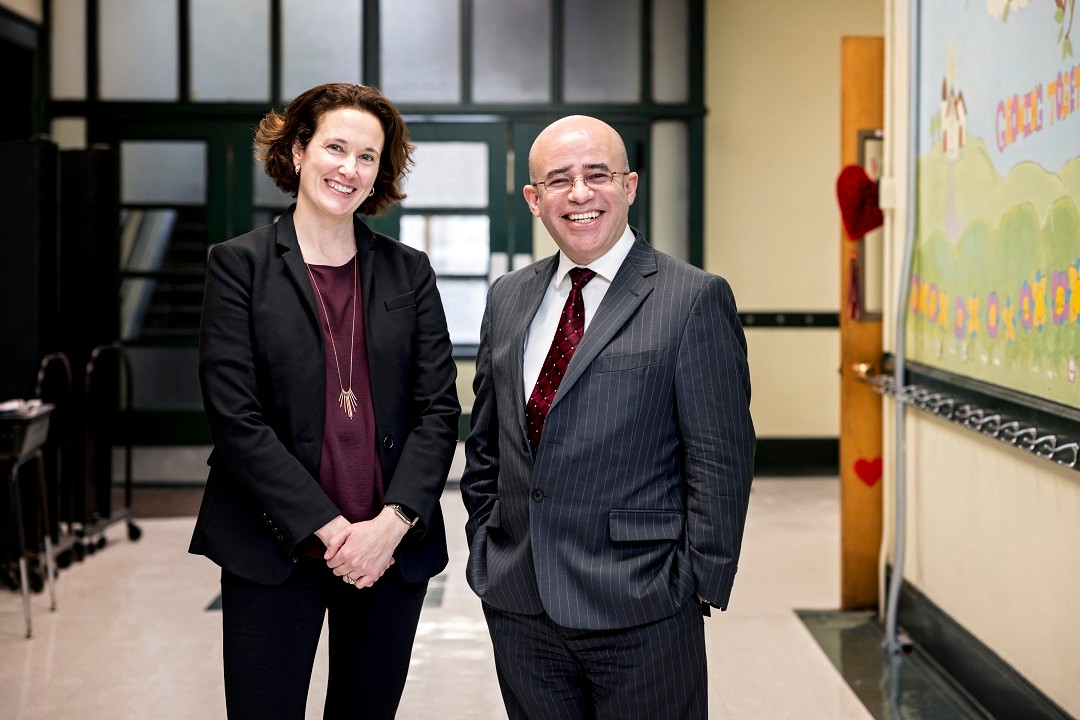 "Cultivating Talent: A National Summit on Hispanic Educators in Catholic Schools," held October 2-4, was the first major initiative stemming from a report co-authored by Roche Center Executive Director Melodie Wyttenbach and STM Associate Professor Hosffman Ospino, chair of the school's Department of Religious Education and Pastoral Ministry, and supported by the Crimsonbridge Foundation.

The pair and their team conducted a comprehensive, yearlong study of Hispanic leaders and teachers in United States Catholic schools which detailed the context, framework, process, findings, and results of a pioneering overview of a critically important sector of the Catholic education workforce. With more than 29 million Hispanic Catholics in the U.S.—who represent 42 percent of the nearly 70 million Catholics in the nation—the future of Catholicism and the Catholic schools that serve the Church will be significantly defined by the Hispanic population, said Wyttenbach.

"This summit brought together various stakeholders in the world of Catholic education to review and discuss the results and analysis of the national study," she said, "and to envision strategies to support Hispanic teachers and leaders, as well as the Catholic schools where these educators serve."

Participants heard from leaders in the field and engaged in meaningful dialogue on topics including the value of affinity mentoring programs, the role of Hispanic ministry partnerships, vocational calling and theological grounding of Hispanic educator discernment, and the assets immigrant educators bring to their role strengthening the Catholic school system.

Opening day keynote speaker Amanda Fernandez, the chief executive officer and co-founder of the Belmont, Mass.-based Latinos for Education—the first Latino founded and led national organization solely dedicated to creating leadership pathways for emerging Latino leaders in education—said that Latino educators "tell us that when they feel isolated as teachers of color in their schools, they begin to doubt their purpose and value.

"This often makes them either leave the profession or move on to schools where they can see themselves and feel seen," she said. "Establishing professional learning networks and affinity groups for Latinos and other teachers of color are critically important tactics that can be done immediately to create a system of support."

One example of cultivating Hispanic talent was presented by Elena Sada, director of the Roche Center-based TWIN-CS Network, a national collaboration of 24 dual-language Catholic schools that share research, ideas, techniques, and resources to support students in becoming bilingual, biliterate, and bicultural.  In consultation with TWIN-CS regional coaches, school leaders, and teachers, Sada guides the design and refinement of curriculum and assessments; develops the program's annual summer dual language academy; and works to strengthen the schools' Catholic identity, school culture, academic excellence, and operational vitality.

"Our TWIN-CS Network allows students' identities to thrive with Spanish as the dominant language of instruction in primary grades, and where multilingualism and multiculturalism are celebrated," she said, noting that the network's popularity is rising nationally, particularly due to the opportunity for students to connect more authentically and broadly in an increasingly globalized world.

"

Boston College plays a leading, national role in the transformation of our Catholic school system. Recognizing the shifting demographics of our country, we have a great opportunity to embrace the cultural and linguistic richness of this community and create pathways for Hispanic educators to thrive.

"

The second day's keynoter, Philadelphia Archbishop Nelson J. Pérez, shared personal stories of encountering racism and discrimination, but underscored how the Hispanic Catholic community has endured and flourished. He emphasized that Catholic parishes and schools should be authentic places of welcome for this thriving, faith-filled community, where languages of diverse backgrounds are centered, and cultural traditions celebrated, but that more could be done.

Ospino said that strengthening the presence of Hispanic children and families is a priority for Catholic schools, as well as increasing the presence and support of Hispanic teachers and leaders in these institutions.

"Evidence suggests that Hispanic teachers and leaders play a significant role in transforming school culture, making Catholic schools places where Hispanic children thrive and find themselves at home. However, when Hispanic teachers and leaders were asked who had motivated them to become Catholic school educators, it was their friends, relatives, and teachers who were far more frequently cited than pastors and other church leaders. We must change that if we really believe that Catholic schools are at the service of evangelization. Pastors, bishops, and other ecclesial leaders need to be more proactively cultivating Hispanic teachers and leaders to serve in these institutions."

Wyttenbach said the Roche Center and STM will continue to collaborate on researching the diversification of Catholic educator pipelines, and expand programming to support teacher and leadership development of culturally sustaining schools.

"Boston College plays a leading, national role in the transformation of our Catholic school system. Recognizing the shifting demographics of our country, we have a great opportunity to embrace the cultural and linguistic richness of this community and create pathways for Hispanic educators to thrive."
 
Phil Gloudemans | University Communications | November 2022