Reclaiming Accountability in Teacher Education, whose nine authors are all BC Lynch School of Education and Human Development faculty or alumni, was named this year's Outstanding Book by the American Association of Colleges for Teacher Education.

The co-authors, led by Marilyn Cochran-Smith, the Cawthorne Professor of Teacher Education for Urban Schools at the Lynch School, were honored at AACTE's 72nd annual meeting on February 28 in Atlanta, Georgia.

According to AACTE, Reclaiming Accountability in Teacher Education "provides the field with a paradigm-shifting take on accountability, a central issue to the theory, policy, and practice of teacher education."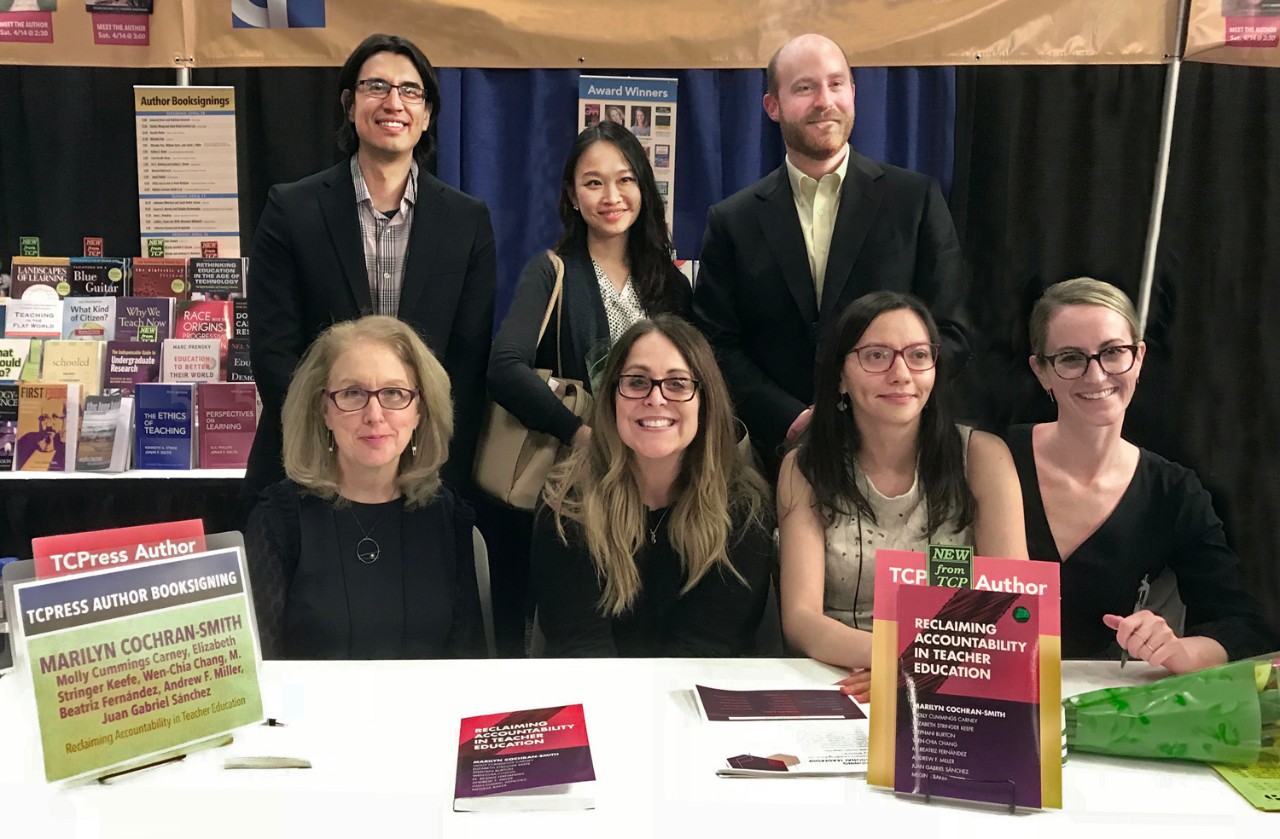 "The book's insights and arguments are supported by rigorous scholarship regarding the historical, sociopolitical, and policy contexts of teacher education accountability," according to AACTE. "The authors created an eight-dimensional framework to critically examine the current dominant accountability paradigm, to deconstruct four influential accountability initiatives, and finally, to envision a new paradigm of democratic accountability."

"For 24 years, AACTE has honored its member institutions, leaders, and individuals who make bold, exceptional, and revolutionary contributions to our field," said AACTE President and CEO Lynn M. Gangone. "As the recipients of a 2020 AACTE Award, these authors exemplify the continuing need for us to reexamine and reevaluate our work in light of the needs of our contemporary students."

Cochran-Smith's co-authors are:
Andrew F. Miller, Ph.D. '17, assistant professor, Educational Leadership and Higher education Department, Lynch School; Juan Gabriel Sánchez, Ph.D. '19, an instructor and Tang Fellow at Phillips Academy and a visiting scholar at the Lynch School; Molly Cummings Carney, Ph.D. '19, educational researcher and board member, Scholarship for Advanced Guyanese Education; Elizabeth Stringer Keefe, Ph.D. '18, associate professor of education/director of graduate education, Stonehill College; Stephani Burton '06, M.Ed. '07, Ph.D. '18, assistant professor of practice, Teaching and Learning Department, University of Miami; Wen-Chia Chang, Ph.D. '17, postdoctoral fellow, Nanyang Technological University/National Institute of Education, Singapore; M. Beatriz Fernández, Ph.D. '16, assistant professor, Instituto de Estudios Avanzados en Educación, Universidad de Chile, and Megina Baker, Ph.D. '17, lecturer in early childhood education, Boston University's Wheelock College of Education and Human Development.
AACTE's Outstanding Book Award is presented annually to recognize a text that significantly contributes to the knowledge base of educator preparation. Overseen by the AACTE's Committee on Research and Dissemination, the honor acknowledges well-written publications that offer a fresh lens on current assumptions or practices, reorients thinking in the field, and shows potential for meaningful impact on policy or practice in educator preparation.

Montclair State University College of Education and Human Services Dean Tamara Lucas, a nominator for the book's award, noted: "Their framework is powerful as a tool used not only for critique, but also for providing a structure for envisioning an entirely different accountability paradigm—one that values democracy, equity, professional responsibility, and deliberative and critical democratic education."

Published by Teachers College Press in 2018, the book has also been selected for the 2019 American Education Research Association/Division K Exemplary Research in Teaching and Teacher Education Award; the 2019 Society of Professors of Education Outstanding Book Award; and the 2018 American Educational Studies Association Critics' Choice Award.  

The Washington, D.C.-based AACTE, the leading voice on educator preparation, represents more than 800 postsecondary institutions with educator preparation programs dedicated to high-quality, evidence-based training that assures educators are ready to teach all learners.
Phil Gloudemans | University Communications | March 2020