Through a collaboration with the Brazilian Jesuit Network, the Lynch School of Education and Human Development recently conducted a series of fully subscribed online professional development modules for teachers and faculty at universities throughout South America's largest country.
The Lynch School partnered with Rede Jesuíta de Educação Básica (Jesuit Basic Education Network) and the Instituto para Inovação em Educação at the Universidade do Vale do Rio dos Sinos (Institute for Innovation in Education — Unisinos University), to offer a webinar and asynchronous mini-course in English and Portuguese to support the professional development of teachers and faculty at Jesuit schools throughout Brazil, which ran from May 1-31.
The webinar, titled "The Mindful Teacher," which drew over 250 participants, was led by the Lynch School's Duganne Faculty Fellow and Professor Dennis Shirley, and moderated by Professor Gustavo Severo de Borba of Unisinos University, a 31,380-student Jesuit college located in São Leopoldo.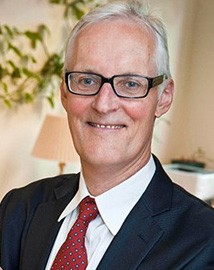 The four professional development modules, titled "The Intercultural Teacher," addressed themes of interculturality in the classroom through the topics of global citizenship, racial identity, bilingualism, and literacy. Each was guided by a Lynch School professor, including: "Global Citizenship, Social Justice, and Educational Change: Igniting the Transformative Power of Jesuit Pedagogy" led by Shirley; "Supporting Students' Racial Identity and Critical Consciousness Development for Thriving and Transforming the World," taught by Associate Professor Scott Seider and Simmons University Associate Professor of Education and Social Work Daren Graves; "Understanding Bilingualism to Expand Instruction," led by Professor C. Patrick Proctor; and "Literacy Instruction to Support Writing Development," directed by Professor Emeritus Maria Estela Brisk.  Teachers from 17 schools participated in the program.
"Interculturality is a lifestyle; it's a way of being," said Shirley. "It's an expression of curiosity and openness to different cultures, and an acknowledgment of historical wrongs that legacies like colonialism and racism have perpetrated, and it's also a commitment to a future of human solidarity, equity, and freedom. We're working on developing similar collaborations with institutions around the world. Educators in the United States can learn so much from our international colleagues, and I'd like to think that the reverse is also true."
Kaitlyn Solano, programs administrator for the Lynch School's Office of Strategic Initiatives and External Relations, who managed the logistical issues necessary to bring the course to fruition, noted:  "Our role in the Lynch School's Professional and Continuing Education Office is to match our faculty's research and academic expertise with the specific needs of an organization. All of our programs are designed to be as accessible as possible, and in this case, we provided a customized offering to teachers and faculty across Brazil." 
Phil Gloudemans | University Communications | July 2021