Thomas Miller, a special education professional with nearly 50 years of experience and a longtime instructor in the University's Severe Special Needs and Multiple Disabilities graduate program, has been named interim director of the Campus School at Boston College, Stanton E.F. Wortham, the Charles F. Donovan, S.J., Dean of BC's Lynch School of Education and Human Development, has announced.

Located in the Lynch School and founded in 1970, the publicly funded Campus School currently enrolls 32 special education students, ages three to 21, who face complex challenges and have unique learning needs.

"It's exciting to become part of the Campus School team of staff committed to providing comprehensive and specialized services to the students and their families," said Miller.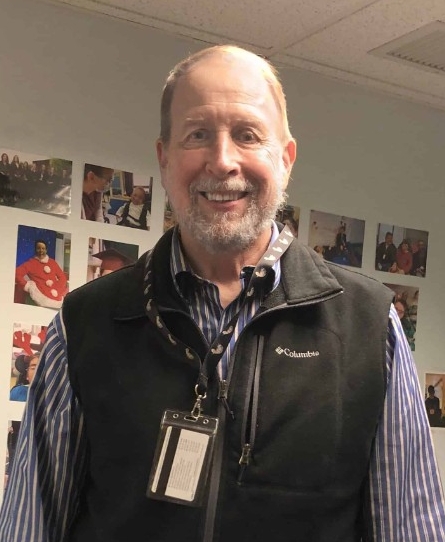 Since 2018, Miller has supervised BC graduate students' practicums in addition to serving as an independent special educational consultant, providing trainings, program evaluations, and service advocacy for students with visual impairments, multiple disabilities, and/or deafblindness. The Lynch School's Program in Severe Special Needs prepares teachers to work with students who have moderate to severe intellectual disability, autism, and additional disabilities, such as visual impairment, deafness, cerebral palsy, and medical conditions. The program leads to eligibility for the Massachusetts teaching license in severe disabilities.

Miller was a teacher and program director at the Perkins School for the Blind for nearly 29 years, most recently serving as director of the school's Educational Partnerships Program, which provides statewide services to infants, toddlers, and school-age students with visual impairments, deafblindness and/or multiple disabilities, and their families.  Located in Watertown, Mass., Perkins is the nation's oldest school for the blind and an international leader in blindness services.

He also served as program director at the Kevin O'Grady School, part of the Beverly, Mass.-based Northshore Education Consortium, for more than seven years. The Kevin O'Grady School serves students ages three to 22 with moderate or severe special needs, including complex medical needs, physical disabilities, multiple disabilities, visual or hearing impairment, autism, and intellectual disabilities.

Miller began his career at the New York Institute for Special Education, a private nonprofit school in The Bronx, founded in 1831 as a school for blind children, where he served as a teacher assistant, teacher, and program director for nearly 11 years.

He earned a bachelor's degree in philosophy from Cathedral College in Queens, N.Y., a master's degree in special education from Manhattan College, and an administrative certification through Columbia University.

"We are very pleased to welcome Tom Miller as the leader of the Campus School," said Wortham. "He has decades of experience working with the children we serve, and he has been involved with our students and our program in particular for many years. Under his leadership, we will continue to support the development of our children and to offer opportunities to BC students and staff to be inspired by interactions with these exceptional young people."

Students at the Campus School face complex physical and developmental challenges that may affect their communication, vision, cognition, sensory processing, movement or fine motor skills. The school, which serves students from 19 Massachusetts communities, develops age-appropriate thematic units that align with the Massachusetts General Education Curriculum Frameworks and addresses their specialized needs.
Phil Gloudemans | University Communications | January 2021