Kate Herlihy M.B.A. '13 outside the Institute of Contemporary Art in Boston. (Photos by Lee Pellegrini)
In the eight years since Kate Herlihy earned an M.B.A. from the Carroll School of Management at Boston College, she's made her mark professionally at some of Boston's premier cultural institutions: the Museum of Fine Arts, the Isabella Stewart Gardner Museum, and currently the Institute of Contemporary Art.
The ICA was chosen as the commissioner of the 59th International Art Exhibition of La Biennale di Venezia (April 23-November 27, 2022), and will present the work of sculptor Simone Leigh in cooperation with the U.S. Department of State's Bureau of Educational and Cultural Affairs. Herlihy--the ICA's project manager for the Venice Biennale Commission--has an integral role in the high-profile exhibition which will represent the United States at the internationally renowned event, considered the most prestigious contemporary art exhibition in the world.
Having studied liberal arts at Bowdoin College, where she majored in art history and discovered her passion for the field, Herlihy's pursuit of a Carroll School business degree allowed her to hone her professional skills and forge a successful art world career.
Though Herlihy's path may seem a non-traditional one, Carroll School Associate Dean of Graduate Programs Marilyn Eckelman said it underscores the many avenues open to graduates. "Kate exemplifies how the BC M.B.A. program, with its personalized career focus, supports students from all backgrounds in transitioning to the next stages of their careers. Her background in art history and focus on a career in the arts was enhanced by her M.B.A. studies, where she learned to think critically and develop the quantitative and qualitative skills to support being strategic and tactical."
Eckelman added that Herlihy—the daughter of longtime University Counsel Joseph Herlihy, who retired earlier this year—continues to give back to others in the M.B.A. program through networking and mentoring and is an outstanding example of a BC community member and an M.B.A. alumnus.
Prior to a December trip to Venice to continue prearations for the global debut of the groundbreaking U.S. exhibition, Herlihy discussed the opportunities and challenges inherent in her distinctive position in an interview with Rosanne Pellegrini of the Boston College Chronicle.

Given your interest and background in art history, why did you decide to pursue an M.B.A. at BC?
My first job out of college was as a curatorial assistant at the Bowdoin College Museum of Art. I thought I wanted to be a curator, but found myself gravitating towards planning and operations. Whether an exhibition or a building renovation, I am always asking "How are we going to pull this off?" Getting an M.B.A. seemed like a smart next step; I wanted more tools to help run museums like the businesses they are, including budgeting, cost controls, and project management. I chose to concentrate in finance because it felt like my greatest blind spot. I have nothing but positive things to say about my undergraduate experience, but as an art history major I had no financial or management experience. This is also why I didn't opt for a nonprofit M.B.A. program. I knew understanding balance sheets and budgets, project timelines, and getting the broadest management education, would push my arts career forward. I could not have anticipated how much I would learn at BC, from my professors but also from my peers.
How has your M.B.A. enhanced or facilitated your career and professional trajectory?
The nonprofit career path is not always linear. I've had to carve out my own path and take risks. I feel lucky that I've been able to build my career in Boston at these institutions that I love. At most museums, there are creative departments and administrative departments; my niche has been joining those two sides, because I speak both languages. I love bringing the rigor I learned at BC's M.B.A. program in such areas as operational planning, project management, and financial management, to a creative environment.
You play an integral role in this prestigious international art event. What does that mean to you?

Just attending the Venice Biennale would have been a dream come true; working on it is beyond my wildest dreams. Simone Leigh is an incredibly talented artist and I can't wait for the world to see her installation. Working with an artist at a critical moment in her journey is so special. Working with the ICA, too, has been fantastic—it is an institution with so much spirit and energy, I feel privileged to be part of their team. The Venice Biennale project is quite large and international; everyone is an expert in their field. The talent is very reassuring, especially when navigating challenges like a pandemic and major supply chain issues! I am still reflecting on what this means for me; but I feel privileged to be gaining this experience in running a major, high-profile international exhibition in the contemporary art field. It's challenging in a really invigorating way.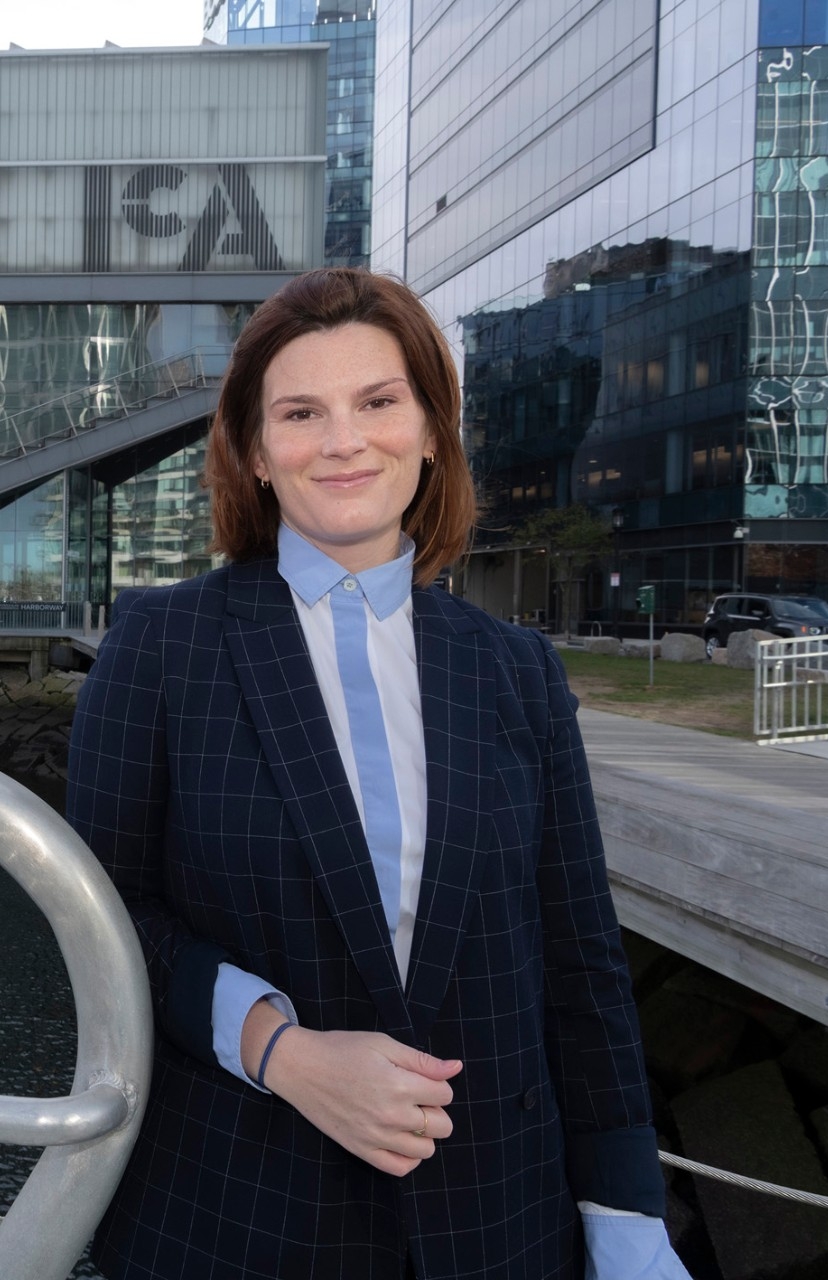 It's a mark of distinction that the ICA was selected for this role.

It's an incredible honor for any institution to be selected to commission the U.S. exhibition at the Venice Biennale. Simone Leigh is the first Black woman to represent the U.S., and the ICA is deeply proud to be a part of this history-making exhibition, as am I. It's like lightning striking: Leigh is the moment; the ICA recognized that moment and submitted a winning proposal. It's history being made.
What kind of preparation and logistics are involved in your role as project manager?
I am overseeing every aspect of the project including exhibition design, build-out of the gallery spaces, shipping of artwork, installation, event planning, marketing efforts including website design, and fundraising support. The Biennale is a complex project with a short runway—about a year of planning. I am lucky to be managing such talented teams both in the U.S. and in Italy. The Guggenheim in Venice owns the U.S. Pavilion, and they are fantastic partners. I traveled to Venice in June with Eva Respini, chief curator and co-commissioner, to meet our Italian colleagues and see the U.S. Pavilion. Although I had been to Venice, this was my first time visiting the Giardini, where the U.S. Pavilion is located, along with many other Pavilions representing countries from around the world. Simone Leigh is currently producing artwork for the show—all the work will be new--and the logistics of transporting and installing the artwork is a major focus of mine at the moment. We will travel to Venice in December with Leigh to finalize plans, and I will spend five weeks on site, from mid-March through the end of April, installing and opening the exhibition in Venice.
What are some examples of the ways in which your M.B.A. has prepared you for your museum work?
In my seven years at the Gardner Museum I created an exhibition planning process and built a department to plan and execute sophisticated exhibitions. The culmination of that work is a show now on view through January 2, Titian: Women, Myth and Power. This is an internationally touring exhibition and a once-in-a-lifetime opportunity to reunite Titian's Poise series. The exhibition opened for previews at the National Gallery in London on March 10, 2020, and shut down before even opening to the public due to the COVID-19 pandemic. We re-negotiated and re-budgeted the tour, and it was so gratifying to see the show open at the Gardner in August.
I'm grateful for both the problem-solving and presentation skills I learned at BC because I rely on them every day. With high-profile international art projects, the stakes are very high because the paintings are often valued in the millions of dollars, and you can count on almost everything going not according to plan. You have to be able to identify a path forward and pitch it convincingly. My M.B.A. gave me the confidence to run the scenarios and negotiate my position.
Who were some of your BC faculty mentors?
My biggest mentor was Bob Taggart, a renaissance man and an art lover. He frequently came to see my shows at the Gardner. His Introduction to Finance class resonated with me; I could really understand how it connected to my work. I worried about declaring a concentration in finance, but Bob convinced me I could handle it. I knew I picked the right concentration when, within the first week at the Gardner Museum, I was asked to provide administrative support for the Finance, Investment and Building & Grounds board committees. Building off my education at Boston College, I learned so much about how institutions are fiscally managed. Just a few years later I was making presentations to these teams on exhibition and operational strategy, and more recently on COVID protocols.
What advice would you offer prospective BC M.B.A. students with liberal arts backgrounds and interests, who may also want to pursue a less traditional career path?
I would recommend a Boston College M.B.A., especially to those candidates considering a non-traditional career path. Speaking from a nonprofit perspective, I think the field is really hungry for these skills. The pandemic has been a cultural reset in the museum field; everyone is looking at their operations and wondering how to create efficiency and bring a nimble mindset to their operating model, while keeping new audiences engaged. This takes creative thinking backed up by solid business acumen, which exactly what I gained at BC's M.B.A. program.
University Communications | December 2021