Lately, I've been missing a man I never met. John L'Heureux died on April 22, 2019, in Palo Alto, California. He was a prolific writer, a beloved teacher, and a former Jesuit priest. My first email exchange with him came in the spring of 2016, as I was nearing the end of my term as chair of Boston College's English Department. John, who had earned a master's in theology at BC in 1963, was circling back to his alma mater after a lifetime of achievement—as a contributing editor at The Atlantic; an author of more than twenty books of poetry, memoir, and fiction; and a longtime professor at Stanford University, as well as director of the school's creative writing program. Now as he faced late-stage Parkinson's disease, he and his wife, Joan, were planning a bequest earmarked for creative writing at Boston College.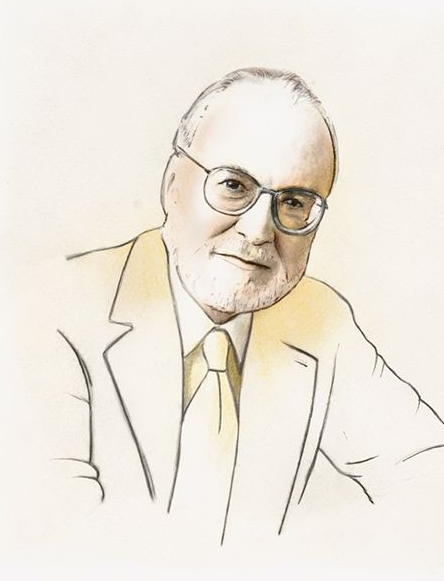 Our initial exchanges made clear not only John's intentions—to focus on what would directly benefit our students—but his sly wit: "Your Boston College writing concentration sounds wonderful and I hope that, dead, I'll be able to do something useful for a student."
In my opening letter to him, I praised his recent New Yorker short story, "Three Short Moments in a Long Life." Before responding, John read one of my earlier novels so he could comment. Thus began our conversation, writer to writer. In an early letter he wrote, "Dying is easy; writing is hard." I didn't believe for a minute that dying was easy, but on display in that quip was his determination to face it with bravado and elegant sentences.
He spoke of the struggle to continue with his craft to the end, writing: "I'm working on a new thing for which I'm entertaining hope. The problem is that I'm in Hospice now, going on two months. Not long ago we had an invasion of health workers when the whole Hospice team showed up together: the doctor, the case nurse, the social worker, the physical therapist, and the spiritual adviser. Ten minutes into the gala, the doctor said, with surprise, 'You're very alert.' In any case, my life is transformed and so is the living room…the whole set-up screams, 'The End Is Coming!' I refer to it now as the Departure Lounge." 
Several months later, the "new thing" John mentioned appeared as another fabulous story in The New Yorker, "The Rise and Rise of Annie Clark." I wrote him with admiring congratulations, and he replied: "What a lovely response to my Annie Clark. You'll be interested to know that I was 8 pages into the story before I had any idea how to deal with her. And then as I was falling asleep around 3 a.m.…I found myself thinking, what will I do? What will I do? and then, as if I heard myself saying it: I will give her what she wants, but she'll never know it. I know this sounds crazy, and you must remember I take 19 pills each day, but it's the closest I've come to what some writers say about their writing coming automatically to them."
"

Your Boston College writing concentration sounds wonderful and I hope that, dead, I'll be able to do something useful for a student.

"
How I enjoyed John's humor, which somehow acknowledged deep feeling rather than deflecting it. He looked at death forthrightly, and allowed me to explore that mystery with him. He constantly and tenderly referred to Joan. We talked books, publishing, and dogs. Very near the end he gave me the greatest gift possible when he said, "I would so very much have liked to have you for a colleague…I like to think we would be close friends…I hope this spring is good for you and that you'll find time to write. It's a vocation and a demanding one."
Last April, on Easter Monday, we lost this kind and courageous man. We retain the abundant legacy of his words, the example of his generous deeds, and the memory of his indomitable spirit. Lucky us.
Suzanne Matson is an English professor at Boston College; her latest novel is Ultraviolet.
---
Share your thoughts: bcm@bc.edu