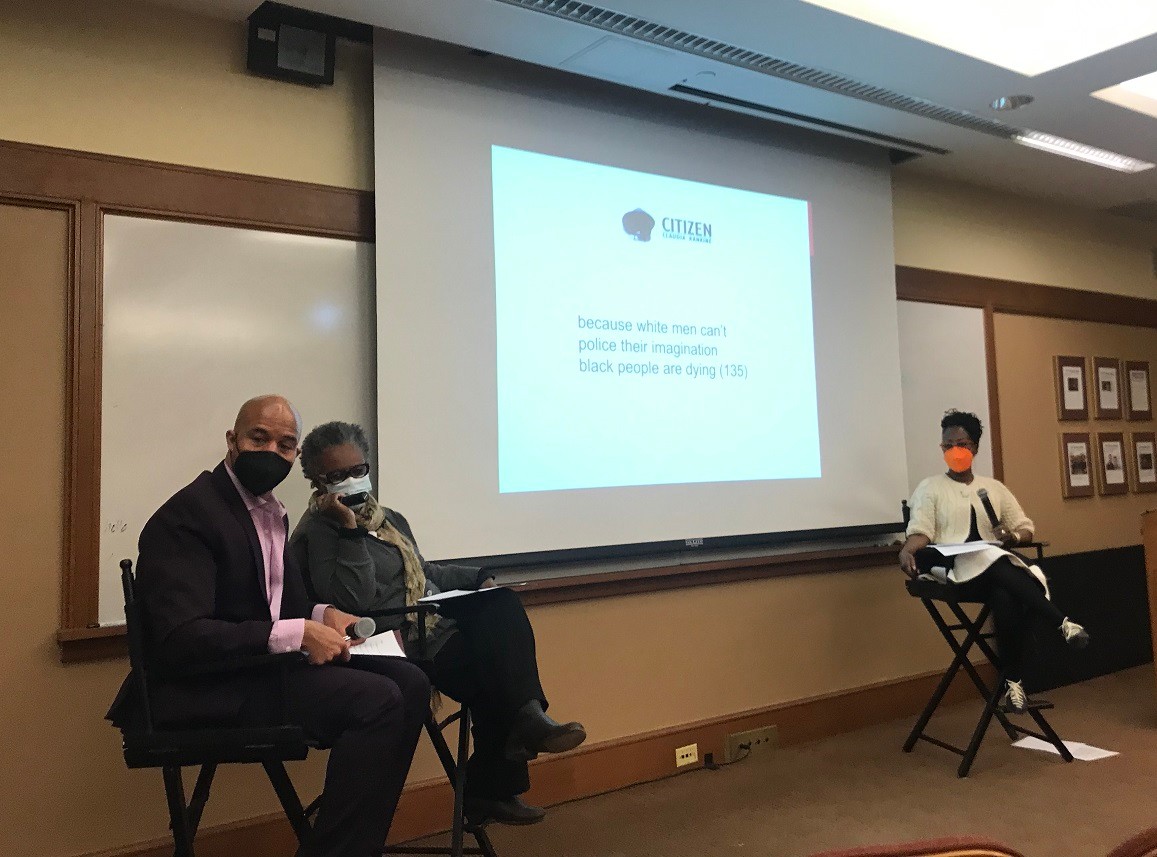 Claudia Rankine, one of America's premier poets and thinkers on race and interiority, met with Boston College students, faculty, and staff during a two-day residency earlier this month.
At a Lowell Humanities Series lecture on March 2, she read from her award-winning fifth book, Citizen: An American Lyric, which turns a microscope on the daily experience of being a Black woman in the United States.
"The idea of intimacy is at the heart of this book," Rankine told an online audience of more than 300. "You can't take away the brutality of racism, but as the writer, I was thinking about smaller moments that break intimacy, and about how you feel in the relational dynamic with colleagues and friends when you're suddenly thrown out of the intimacy you believed existed."
Her lecture echoed the innovative style of her book, which moves fluidly between lyric poetry that is focused on Rankine's interior experience and essayistic passages on figures such as Serena Williams, Zinedane Zidane, and Trayvon Martin.
Rankine was introduced by fellow poet Allison Adair, associate professor of the practice of English, and her reading was followed by a Q&A moderated by Professor Prasannan Parthasarathi, chair of the History Department, and Assistant Professor of Sociology and Environmental Studies Lacee Satcher.
In response to a question about Citizen's ending, Rankine emphasized that she wanted to write a text that would be true to the continuing realities of racial prejudice. "I didn't want the book to communicate any kind of catharsis or change. It is a book about a dynamic that is ongoing."
Nevertheless, Rankine does not believe we are without the means to respond and resist. Asked about whether writing energized or exhausted her, she offered a vision of the act of writing as a means of personal inquiry and cultural intervention.
"[Writing] energizes me, because it engages my history, my memory, my smarts, and whatever tools I have and puts them toward figuring out the best way to say something. It's an activity of making, and as soon as you're making, you're making an intervention into the cultural consciousness."
During her residency, Rankine held Meet-and-Greet sessions with BC undergraduates, graduate students, faculty, and other members of the University community.
On the evening of March 3, Rankine convened with Associate Professor of English and African and African Diaspora Studies Rhonda Frederick and Associate Professor of Sociology and African and African Diaspora Studies C. Shawn McGuffey for an Artist-Meets-Critics discussion on media, racism, and belonging in America.
The Rankine residency was co-sponsored by PULSE, African & African Diaspora Studies, American Studies Program, Creative Writing/Poetry Days, English Department, History Department, Institute for the Liberal Arts, Lowell Humanities Series, Sociology Department, and Theatre Department.
The Lowell Humanities Series is sponsored by the Lowell Institute, the Institute for the Liberal Arts, and the Office of the Provost and Dean of Faculties.

John Shakespear | University Communications | March 2022