File photo: Tracy Wigfield '05 on set at Universal Studios in Los Angeles. (Gary Wayne Gilbert)

Primetime Emmy Award winner Tracey Wigfield '05 "returned" to Boston College via Zoom for an hour-long discussion with 40 students and Communication Department faculty members on May 12, covering topics that ranged from ways to break into the entertainment industry to navigating the historically male-dominated comedy scene to the thrill of winning television's highest award.

"Given the tough times our students faced this semester, and the intensity of finals week, we thought it was a nice hour-long diversion that brought a few smiles to our students' faces," said Associate Communication Professor Michael Serazio.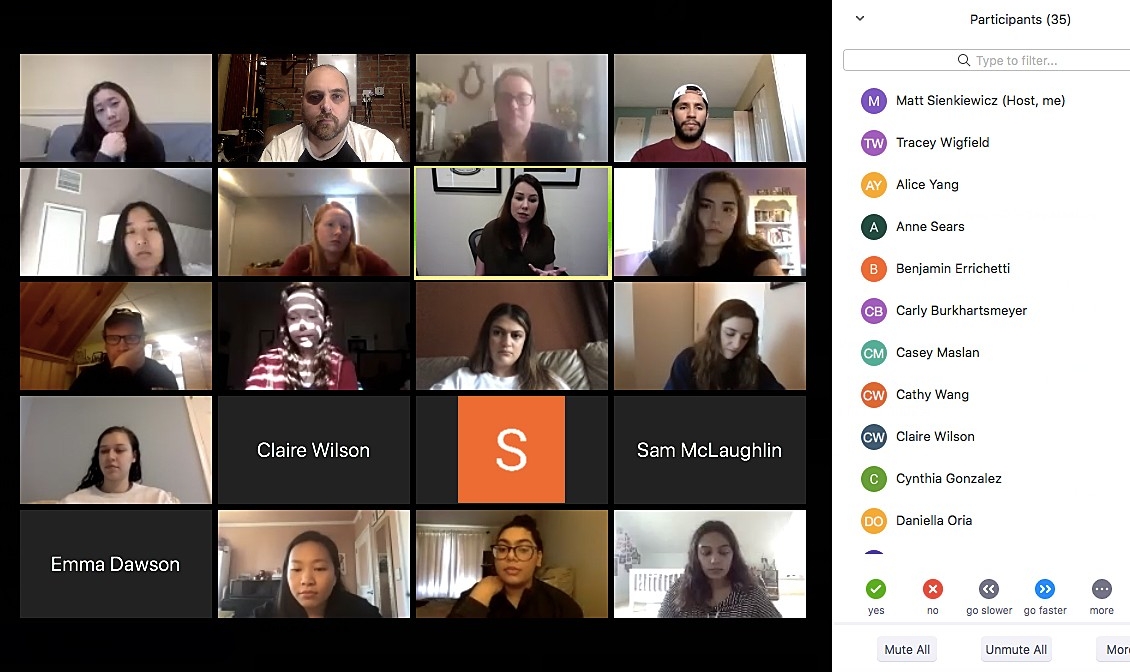 Wigfield, whose Emmy for Outstanding Writing in a Comedy Series was won with Tina Fey for NBC's "30 Rock" in 2013, started as an intern at CNN, but her break into the entertainment side came as a production assistant on the TV sitcom "Knights of Prosperity."  Soon after, the N.J. native was hired as a writer's assistant for "30 Rock" during the show's second season, and she advanced to staff writer and then producer.

After "30 Rock" ended, she wrote for "The Mindy Project," for which she and Mindy Kaling were co-executive producers; she also appeared on the show as Dr. Lauren Neustadter. Wigfield also created the NBC sitcom "Great News," her first pilot, for which Fey is an executive producer. The series follows a TV news producer whose mother takes an internship at the station.

"We thought it would be a nice event for students since the school closure forced us to cancel much of our department's live-event slate this semester," said department chair and Associate Professor Matt Sienkiewicz, who invited Wigfield. 
Phil Gloudemans | University Communicatons | May 2020