Assistant Professor of Theology and African and African Diaspora Studies Amey Victoria Adkins-Jones is the recipient of two awards in support of her research project, "See No Evil: Technology, Violence, and the Future of Black Being," which considers how technology mediates a vision and experience of shared humanity and Black life.

Adkins-Jones, a theologian and Black studies scholar, is working on a monograph project that asks how seeing race is tied to racial belief, how anti-Blackness in the United States must be accounted for through not only technological advancement but also theological admonition, and how the legacies of racial formation and white supremacy of the American Christian theological project is critical to a broader intervention in Black study.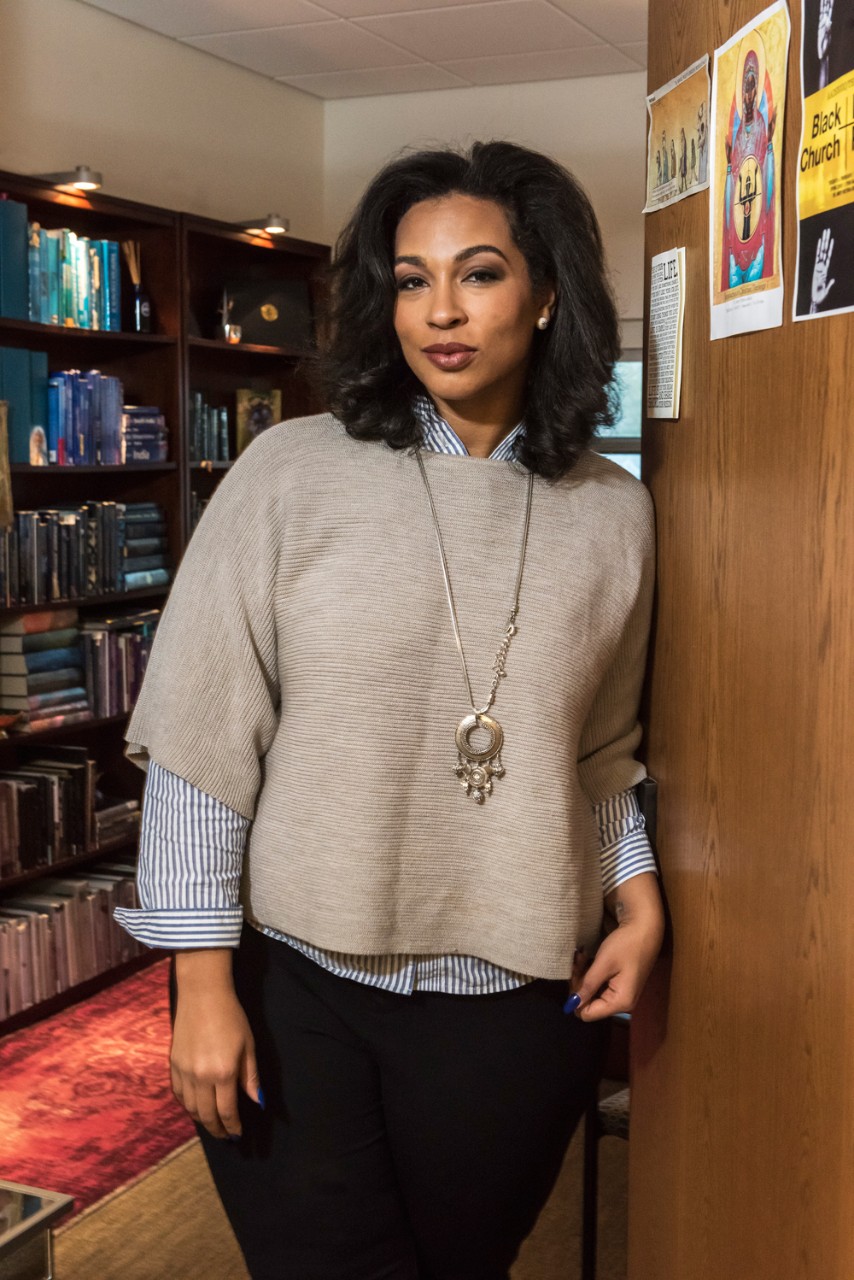 Her project has received support from the American Association of University Women, a nonpartisan, nonprofit organization that is one of the world's oldest supporters of graduate women's education. Adkins-Jones, who was awarded an AAUW American Postdoctoral Research Leave Fellowship, was one of 320 scholars and community projects that were recipients of an unprecedented $6 million in AAUW fellowships and grants for the 2022-2023 academic year.

Adkins-Jones is also a recipient of a Sabbatical Grant for Researchers from the Louisville Institute. Funded by the Religion Division of Lilly Endowment, Louisville Institute awards grants and fellowships to those who lead and study North American religious institutions, practices, and movements, advancing scholarship to strengthen church, academy, and wider society. The grants assist research and writing projects that will advance religious and theological scholarship in ways that also address practical issues concerning Christian faith and life, pastoral leadership, and/or religious institutions.

"I'm extremely honored to find continued support for my work, especially for a project that considers the questions of Black life, joy, and possibility, despite a persistent climate of Black death in the United States," said Adkins-Jones. "I'm thrilled to be working on a project that considers the questions of Black life, joy, and possibility, despite the anti-Blackness and racialized violence we continue to see in the United States. I'm exploring what else is possible when, in terms of injustice, seeing is not believing, and bearing witness is not enough to challenge the chokehold of death. This leave is a tremendous opportunity, and I'm excited for the ways this time will enhance my scholarship and teaching."

Adkins-Jones' scholarship is in Mariology, theological anthropology, and womanist and Black feminist thought. She specifically considers Black madonnas and iconography, human trafficking, the prison industrial complex, racial justice, visual culture, and artificial intelligence. She teaches both undergraduates and graduate students, her courses including Introduction to Christian Theology; Black Church, Black Protest; Christianity and Colonialism; and Womanist and Black Theologies.

Kathleen Sullivan | University Communications | November 2022