A student financial aid fund has been established to honor the legacy of former Boston College School of Theology and Ministry Dean Thomas Stegman, S.J., whose leadership and commitment to promoting academic excellence within a nurturing community inspired students, faculty, and alumni across all corners of the University.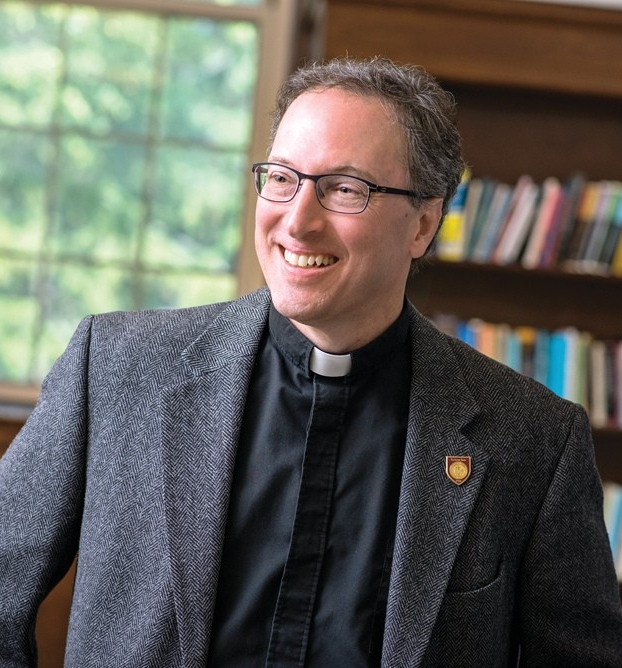 The Dean Thomas D. Stegman, S.J., Financial Aid Fund was established through a lead gift from Carroll School of Management graduates Kenneth "Ken" Mostello '79, M.S. '93 and Michelle Maglaty Mostello '79, and four other families who have contributed anonymously. Once the fund has secured $250,000 in cash gifts, it will begin to provide a graduate fellowship for an STM student each year.
The fellowship addresses a key priority for Fr. Stegman, who during his six years as dean sought to make the STM experience accessible to all qualified students, regardless of financial need. Currently, 100 percent of the STM's master's degree students receive some level of financial aid.
The graduate fellowship also fulfills a desire of the Mostellos to support a school that they call "the soul of the University," by adding an endowed fellowship to the Mostello Family Financial Aid Fund they established in 2010.
"As Michelle and I look back at our years at Boston College, the education we received was invaluable, but the faith formation we were blessed with was priceless and everlasting," said Ken Mostello. "We have the Jesuit community and spiritual luminaries like Tom Stegman to thank for continuing that tradition for a new generation.  
"Knowing how selfless Tom is, it is important to us that he have a legacy, but it is equally important for the STM and for the University.  As I recall from my years at the Heights, it is ultimately a very few special people who inspire you and that is what you take away and recall years later.  So, we are happy to lay the cornerstone on this scholarship in Tom's honor."
STM Dean Michael McCarthy, S.J., said that the graduate fellowship will be of great assistance to STM students, while also honoring the legacy of his friend and predecessor.
"From my first conversations with Tom about the STM, he stressed the importance of finding ways to increase financial support for lay students, ensuring that access to graduate theological and ministerial studies is within reach for all applicants," said Fr. McCarthy. "Since I was named dean, it has become more clear to me how much the future of the Church depends on the formation of dynamic lay leaders. So I'm delighted at the creation of the Dean Stegman Financial Aid Fund, not only as a way of advancing the work of the STM but establishing Tom's legacy and honoring his clear intentions." 
Director of Development for Schools and Programs Amanda Angel, who has led the school's fundraising efforts, said that individuals can contribute to the Stegman Financial Aid Fund as a way of paying tribute to a beloved dean.
"Fr. Stegman was made aware of the establishment of the fund at a dinner this summer, and I know he was moved by the news," said Angel. "We can begin offering the graduate fellowship once we reach $250,000 in contributions received. Our goal is to continue to raise money so that one day we will be able to offer multiple Stegman Fellowships each year."
Fr. Stegman, who served as dean from 2016-2022, is an internationally respected New Testament scholar and expert on the Pauline letters. A popular dean and teacher and the author of six books, he is credited with building a close knit, caring academic community of students, faculty, and staff while elevating the STM to the upper echelons of global rankings. He stepped down from the deanship in June due to complications from glioblastoma, an incurable form of brain cancer.
"I am honored that this fund has been established to assist students at the STM, and grateful to the Mostellos and the other donors for their friendship and generosity," said Fr. Stegman.  "Providing access to an STM education for people from all socioeconomic backgrounds has been a priority for me and all of the school's deans.  I am pleased that this fellowship will help present and future generations of STM students."
Information on how to contribute to the Dean Stegman Graduate Fellowship fund can be found at bc.edu/honorstegman.

Jack Dunn | University Communications | November 2022