An annual end-of-the-academic-year tradition at the School of Theology and Ministry is its Rite of Sending Forth. The STM community, which gathers together every Thursday for Mass, includes in its final Thursday Mass of the school year a recognition of and blessing for the graduating students who are being sent forth to serve the Church.
Massachusetts's stay-at-home advisory and the suspension of in-person Masses in response to COVID-19 altered—but did not deter—STM's recognition of graduating students in this special way.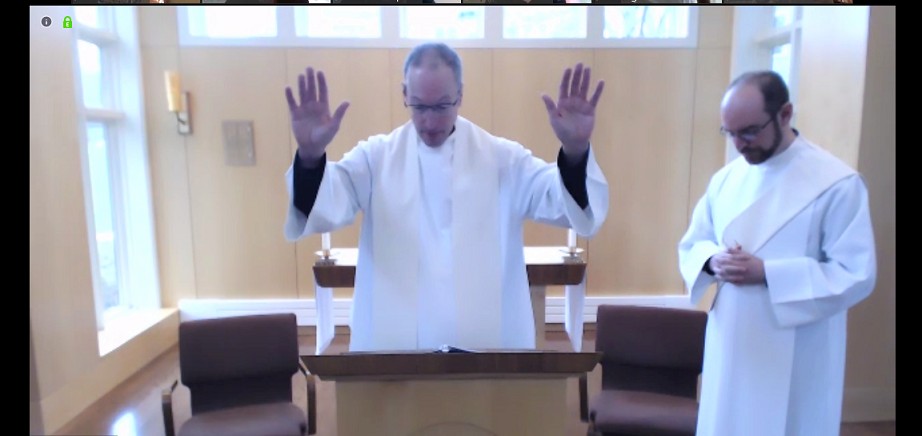 Members of the entire STM community joined online for the 2020 Rite of Sending Forth to celebrate the 120 graduating students who will be serving as ordained and lay ecclesial ministers in the Church, teachers, scholars, counselors, and social workers, among other roles.
STM Dean Thomas D. Stegman, S.J., led the virtual closing liturgy from the Faber Jesuit Community chapel, accompanied by Deacon David Romero, S.J., from the Class of 2020. Singers for the liturgy were graduating students Matthew Stewart, S.J., and Vanessa Miranda.

"Undeniably Zoom presents many challenges, but moments like the liturgy highlight something else for me—an intimacy as people welcome one another into their homes to pray together," said Sam Scheidt, who graduated with a master of theological studies. "I felt a wave of emotion from the moment that I saw everyone's faces start to populate across my screen."
"Being connected with the students and faculty in the STM community at the Sending Forth liturgy, even if only virtually, helped bring some closure to a challenging year," added Kelly Clark, who graduated with a master of arts in theology and ministry. "I thought the liturgy was prayerful and meaningful, something that can be difficult to achieve in a remote environment. Dean Stegman's reflection acknowledged the accomplishments of the graduating class with a sense of pride, encouraging us to continue our educational and ministerial pursuits with prayer and humility. His gentle reminder has stayed with me:'you can't give what you haven't received.'"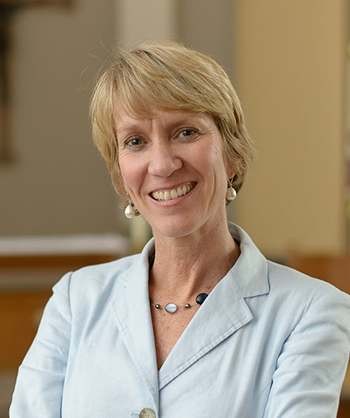 For Scheidt, the most poignant part of the liturgy was the music.
"I love music, and I did not realize how much I missed singing in a community until we were doing it together—muted, in our own homes," Scheidt said. "Listening to the music from our cantor, watching the animated—though silent—community of singers, I felt a familiar surge of community."
"Liturgy is part of the fabric of the STM," said Jacqueline Regan, associate dean for Student Affairs and Career Services. "After the move to remote instruction in March, we continued to offer daily written scriptural reflections as a way for our community to remain united in prayer. We especially appreciated the opportunity to come together virtually and bless our graduating students. This liturgy proved to be a powerful reminder of the importance of ritual in our lives."
For graduating students, the Rite of Sending Forth provided a final moment to enjoy the sense of community STM has cultivated throughout their time at BC.
"I will never forget the community at the STM," said Scheidt, who served as a co-leader of the STM Interreligious Engagement Group. "The faculty, staff, and students at the STM bring life to the top-notch theological education. I know that I will miss many aspects of my time at the STM, but I will miss especially the times when the community came together to share gifts with one another: liturgy, Night of the Arts, STM Dialogues, trivia with Fr. [Professor of Systematic Theology and Professor Ordinarius Richard] Lennan, and many more."
For Clark, director of music ministry for the St. Anne-St. Catherine Collaborative Faith Community in Littleton and Westford, Mass., and a self-described "older student," the STM brought her in contact with millennials "whose zeal for ministry, justice, and faith brings a fire of hope to our church and weary world."
Clark praised her fellow students and the STM faculty for bringing her a global experience and understanding of the Church. "I've very much enjoyed the perspectives of lay and religious students from throughout the world in my classroom encounters. The STM faculty especially brings a wealth of voices to their syllabi, adding diverse and imaginative perspectives to their subject areas."
She added that "the STM has consistently called out social injustice, addressing oppressive systems through dialogue, prayer, and action. This is a model that I will take with me into my professional circles."
This fall, Scheidt will teach religion and serve as a campus minister at Fontbonne Hall Academy in Brooklyn. "I remain inspired by all of the good people that I met at BC, and I hope to enrich others in the same way that those at BC enriched me."
Kathleen Sullivan | University Communications | June 2020