Statistics suggest that Americans on average can expect to spend 22 years in retirement. A new program hosted by Loyola University Chicago, Boston College, Santa Clara University, and Georgetown University seeks to use an Ignatian lens to help retirees discern an intentional and meaningful retirement where their gifts can be used in service to their families, communities, and the world at large.
The Ignatian Legacy Fellows Program brings a small group of retirees and soon-to-be retirees together in a learning community where they embark on a journey that is both interior and global. For the interior work, the Fellows read selected books, learn about the four universal apostolic preferences guiding the mission of the Society of Jesus, engage in the Spiritual Exercises, and reflect and share with other members of the cohort. They each write a spiritual autobiography that provides a basis for their statement of desire—a personal mission statement for what the Fellow sees as his or her plan of action for retirement.
"This is a contemplative program," said Ignatian Legacy Fellows Program Co-Director John Fontana. "We want the participants to slow down and engage in this new vocational moment. We are focused on interiority but doing so in accompaniment with others."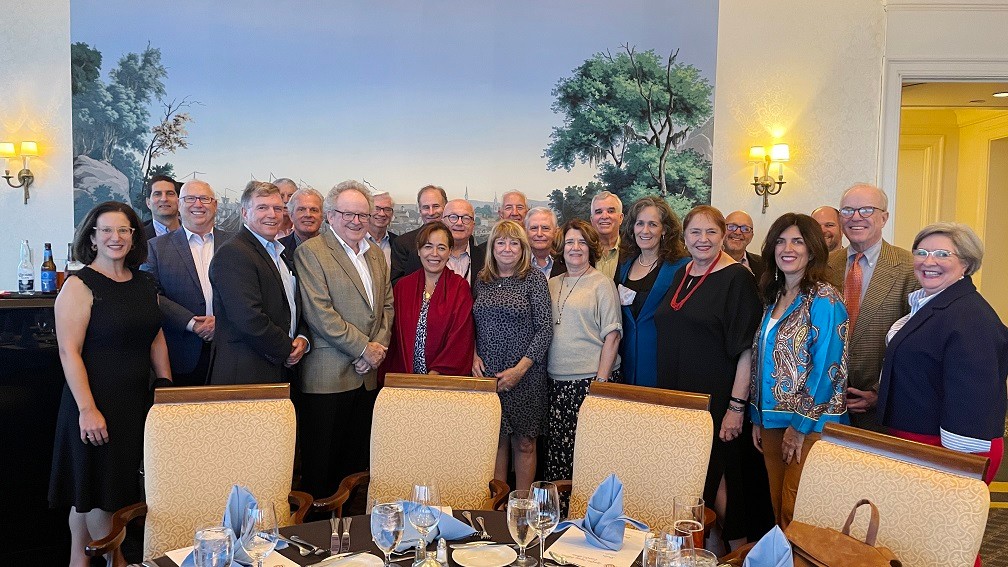 The Fellows' global journey brings them to sites in the U.S. and beyond to witness the works of the Jesuits and their partners in areas of higher education, secondary education, healthcare, and social services.
Over the course of the yearlong program, the Fellows—who have had highly successful careers as C-suite executives, organizational leaders, and nonprofit executives—visit each of the four Jesuit higher education host institutions to learn from and engage with Jesuits, administrators, faculty, and students.
The inaugural cohort—15 Fellows, ranging in age from 58 to 80 and representing all regions of the country—spent a week at Boston College in late September. They met with University President William P. Leahy, S.J., School of Theology and Ministry Dean Thomas D. Stegman, S.J., and other BC faculty, administrators, and undergraduate and graduate students.
"Everything at Boston College was so special, so meaningful," said Ignatian Legacy Fellows Program Co-Director Mariann McCorkle Salisbury, who expressed gratitude to Fr. Stegman and STM Associate Dean Maura Colleary for organizing the sessions and events for the BC residency. "We were so moved by the hospitality and the excellence in everything. There was great intellectual and spiritual content."
"BC really shined," echoed Fontana.
In addition to Fontana and Salisbury, other members of the Ignatian Fellows leadership team are Jim Briggs, co-founder of the Companions in Ignatian Service and Spirituality at Santa Clara University; Ignatian Colleagues Program Executive Director Joseph DeFeo; and Michael Garanzini, S.J., president of the Association of Jesuit Colleges and Universities, secretary for higher education of the Society of Jesus, and chair of the board of directors for the International Association of Jesuit Universities.
"STM was pleased to facilitate the Fellows' visit to Boston College and to host them for a day," said Fr. Stegman. "There were a number of profound exchanges. I look forward to seeing how this relationship develops and evolves."
Fr. Stegman had been introduced to the participants months earlier when he delivered a virtual talk on the Gospel of John based on a chapter from his book Opening the Door of Faith, which was assigned reading for the Fellows. (The first year of the Ignatian Legacy Fellows Program was interrupted by the pandemic; programming went virtual and on-site visits were suspended for 15 months.)
When the Fellows visited STM, Fr. Stegman shared a personal story about his life-threatening diagnosis, treatment, and Ignatian spirituality.
"I'm not the God of my life. I'm not in control," said Fr. Stegman, who daily prays the Prayer of Surrender, adapted from the writings of Walter Ciszek, S.J.
He cited how he has had to depend on his medical team and the STM leadership team. "In an odd way, I find myself more grateful than I was before. Life is a gift."
"Fr. Tom's attitude in the face of his health situation is inspirational, not only during those times when/if there is a major problem in our lives but also when there is no major problem in our lives," said Fellow John Dewan. "His message is to see God in all things and always be grateful, regardless of life's hardships."
"We're trying to form wisdom leaders. Part of what a wisdom leader is, is a purveyor of hope. What [the Fellows] saw at BC was hope."

Associate Professor of Moral Theology Daniel Daly spoke to the Fellows about the ethical and religious directives that guide the mission of Catholic hospitals. He presented a case study on a decision an ethics committee of a Catholic hospital in New England faced regarding surgery for a man with heart valve damage due to intravenous drug use. 
After joining the STM community for Mass and repast, the Fellows heard from part-time faculty member Walter Smith, S.J., a clinical specialist in palliative and end-of-life care who has held a variety of positions over the course of his 59 years as a Jesuit.
He said one of the reasons he is still happy as a Jesuit is because he is able to open himself up to another experience, "even one you don't choose." He said all of his past jobs have been interesting, but they recede in importance and become part of the narrative.
"To be able to be fully in the moment and engage with that moment and not to be pulled in and distracted by 'what ifs'—that's an inner freedom and a gift," he said.
"His talk was magical," said Fellow Thalia Doherty, who is retired from Turner Broadcasting. "He's a role model for all of us. Your life is going to throw you lots of curveballs and how you pick them up and run with them is going to make the difference in your life, your happiness, your growth."
Associate Professor Andrew Davis and Professor Emeritus Richard Clifford, S.J., gave a presentation on Wisdom from the Old Testament. The Fellows' day at STM ended with a guided examen in the STM chapel, led by Professor of the Practice Colleen Griffith.
"It was a gift to be able to hear from so many Jesuits at Boston College," said Doherty, who conducts community service in Los Angeles by cooking for and serving the homeless at St. Joseph's Center's Bread & Roses Café, and by training the unemployed or underemployed through the center's culinary program. "The exposure we have gotten to the Jesuits [throughout the program] has helped [participants] solidify their faith."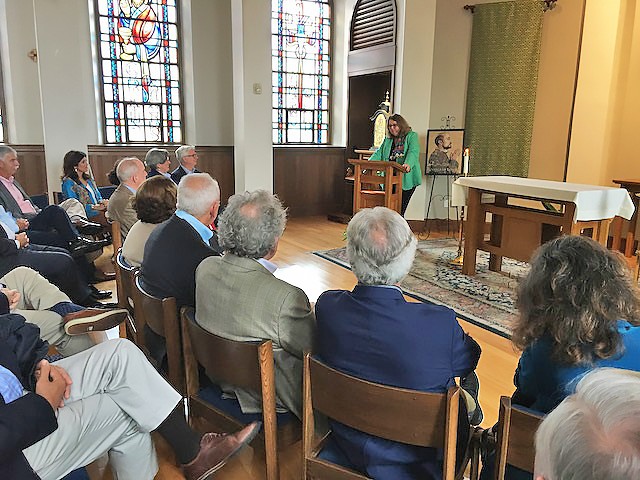 Other members of the BC community who gave presentations to the Ignatian Legacy Fellows throughout the week included: Center for Retirement Research Director Alicia Munnell; Boisi Center for Religion and American Public Life Director Mark Massa, S.J.; Church in the 21st Century Center Director Karen Kiefer; and Barton Geger, S.J., a research scholar at the Institute for Advanced Jesuit Studies and an assistant professor of the practice at STM.
Over shared meals, the Fellows also connected with Jesuit scholastics from the St. Peter Faber Jesuit Community, Vice Provost for Global Engagement James Keenan, S.J., and Theology Professor Kristin Heyer.
"The BC students were fantastic," said Doherty, who added that the ability for her group to hear from engaged young people throughout the residencies has been "life-enriching."
"We're trying to form wisdom leaders. Part of what a wisdom leader is, is a purveyor of hope. What [the Fellows] saw at BC was hope," said Fontana, citing in particular the BC students, the young Jesuits from Faber, and the impressive offerings of the C21 Center.
Prior to their residency at Boston College, the Fellows visited Georgetown University, where they talked about topics such as preparing the next generation of leaders through a Jesuit lens, racial justice, and the institutional Church. At Santa Clara, the Fellows explored issues such as women and the Church, the role of the laity, and social entrepreneurship. Loyola University Chicago was the setting for an examination of end-of-life issues, identity, and purpose.
Participants in the Ignatian Legacy Fellows Program also learn about the work of the Society of Jesus beyond the U.S. They spent time in Lima, Peru. where they met with representatives of Antonio Ruiz de Montoya University, a Jesuit university. They also saw firsthand the ministry work done in the Jesuit parish of El Agostino, which does outreach with the poorest of the poor.
Doherty said the Ignatian Legacy Fellows Program has been transformational for her and her husband, Kelly, who is also a participant. Kelly Doherty, CEO and president of Apperson, Inc., has found his purpose at Verbum Dei High School, a Jesuit high school in Los Angeles that is part of the Cristo Rey network. As he is winding down the number of days devoted to his professional work, he has turned to helping the school with its work-study program, which has faced particular challenges due to the pandemic.
Dewan, chairman of Sports Info Solutions, an industry leader in the field of sports data content and analytics, credits the Ignatian Legacy Fellows Program for a transition in his commitment to service. "Thanks to the program, I am well on my way from spending 80 percent of my time on business and 20 percent of my time on service to 20 percent on business and 80 percent on service.
"St. Vincent said. 'It is not our duty to walk with the poor, it is our privilege to walk with the poor,'" he continued. "I am blessed in my life to be surrounded by so many people who feel the same way as I do about helping the poor, blessed to have opportunities to work with the poor through the [Dewan] Foundation, and blessed to have benefited monetarily in business pursuits to try to make a difference."
This month, the cohort will close out their program in Spain and Italy, where they will meet with faculty and leaders at Esade, a Jesuit business school and law school in Barcelona, and the Pontifical Gregorian University in Rome; partake in a silent retreat; follow Saint Ignatius's footsteps in Manresa and Montserrat; and meet with Jesuit Superior General Arturo Sosa, S.J., in Rome, among many other activities.
At the conclusion of the program, Ignatian Legacy Fellows become members of the Society of Ignatian Fellows, an ongoing forum for the exchange of ideas about the spirituality and mission of the Society of Jesus and its works.
A second cohort, which will include two BC parents, is scheduled to begin their residencies in January or February, and plans are already underway for a third cohort.
"These Fellows don't want to just give money and serve on boards," said Salisbury. "They want to roll up their sleeves and be with the poor. They want to see the face of God in the poor."
"This program makes you think," said Doherty. "You have all these tremendous exposures and fascinating discussions, so you think more critically about a lot of things. You remember to do things that maybe you weren't doing before: thinking about the four apostolic preferences, thinking about the poor, thinking about how you can make a difference in someone else's life, every day."
The Ignatian Legacy Fellows Program is supported in part by a generous grant from the Henry Luce Foundation. To learn more about the program, visit www.luc.edu/ilf.
 
Kathleen Sullivan | University Communications | October 2021