Hosffman Ospino, an associate professor of Hispanic ministry and religious education in the School of Theology and Ministry, has been awarded the 2021 Richard Cardinal Cushing Medal for the Advancement of Church Research, presented by the Center for Applied Research in the Apostolate to a person or organization that has advanced Church research.

Ospino's research focuses on the dialogue between theology and culture and the impact of this interchange upon Catholic theological education, catechesis, and ministry. He is particularly interested in examining how the Hispanic Catholic presence is transforming parishes, schools, and organizations in the United States. Ospino has led groundbreaking national studies on Catholic parishes with Hispanic ministry and Catholic schools in an increasingly Hispanic Church. His current research projects examine Latino teachers in Catholic schools, Catholic organizations serving Hispanic youth, and Hispanic vocations.  

Ospino has authored and edited more than a dozen books and published more than 100 academic and general audience articles. He is a regular contributor to National Catholic Reporter and a columnist for Catholic News Service. He gives talks at events, seminars, and conferences locally, nationally, and internationally. His writings and lectures draw from current social science research to better understand the needs of Hispanic youth, their engagement in Church life, and Catholic education.

"I am humbled by this recognition, which I interpret as an affirmation on the part of CARA and the Catholic research community of the contributions theologians, especially Hispanic theologians and theologians from underrepresented communities, are making to better understand U.S. Catholicism today," said Ospino, a native of Colombia.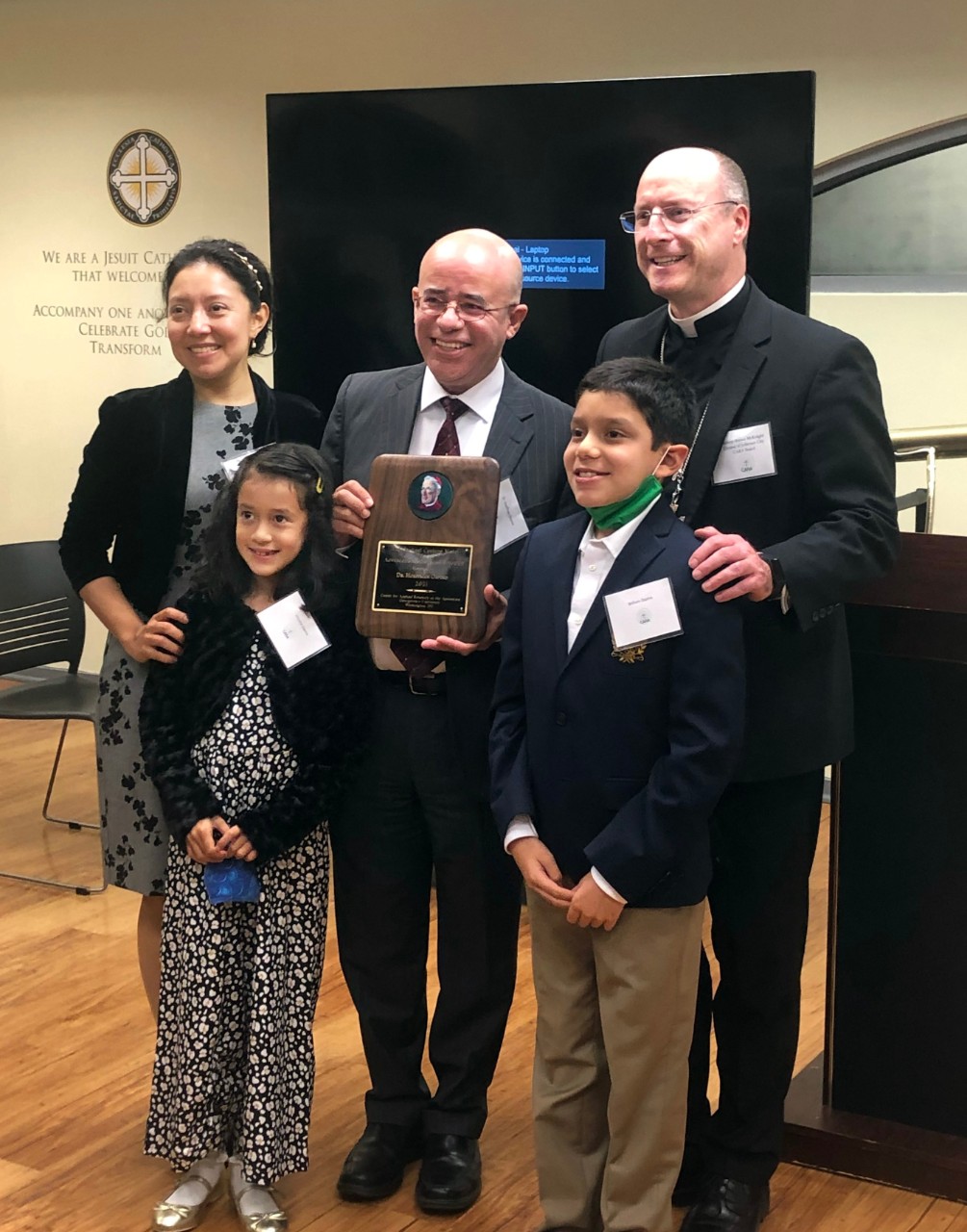 At the November 8 award ceremony in Washington, D.C., Ospino expressed his gratitude to CARA's Board of Directors and Executive Director Thomas Gaunt, S.J., for bestowing the award upon him, and acknowledged his family, as well as the foundations and benefactors who have supported his work.
"No one succeeds alone," he said.  "I thank Boston College, and particularly my colleagues and research teams at the School of Theology and Ministry, for supporting my work as a researcher, theologian, and educator. Boston College has provided me with a wonderful academic community and an invaluable platform to do the work I do."
"Hosffman stands out among theologians," said CARA Executive Director Rev. Thomas Gaunt, S.J. "He uses social science data to inform his writings. His engagement with critical issues within the Church aligns with the mission of CARA."

According to Ospino, this recognition from CARA acknowledges the significance of the research being conducted by theologians today as well as the importance of interdisciplinary collaboration between the social sciences and theology. Social sciences have the potential to ground theological inquiry and social scientists should be open to theological reflection on their data, said Ospino.
He added that this award is also a signal of the need to look more closely at the Hispanic Catholic experience and to cultivate and mentor scholars from within the Hispanic/Latino community.
"The more we understand what is happening in the spaces and communities where Hispanics are, the questions and concerns that occupy the minds and hearts of Hispanic women and men, and the hopes and contributions of Hispanics in the midst of our complex realities, the more we will understand what Catholicism will be like in this country the rest of this century."
Founded in 1964, CARA is a national, nonprofit, Georgetown University-affiliated research center that conducts social scientific studies about the Catholic Church. The medal's namesake, Cardinal Richard Cushing (1895-1970), served as the archbishop of Boston and was the principal founder of CARA.


Kathleen Sullivan | University Communications | December 2021