In recent lectures, School of Theology and Ministry Associate Professor Catherine Mooney shared her expertise on the saints with audiences in the United States and abroad.
In Chicago, she spoke on "The Saints: How They Save Us and We Save Them" at an event held at St. Ignatius College Prep and sponsored by the Bollandist Society and the Lumen Christi Institute.
She also spoke in Rome at the invitation of the Vatican's Pontifical Committee for Historical Sciences and the Dicastery for the Causes of Saints. She talked about current and future trends in the scholarly study of saints in a lecture titled "The Hagiography Society: The Present and Future of Hagiographic Studies."
Her lecture took place at the Pontifical Lateran University and was part of a three-day conference of church leaders focused on the present and future of saints, canonization, and critical scholarship regarding both.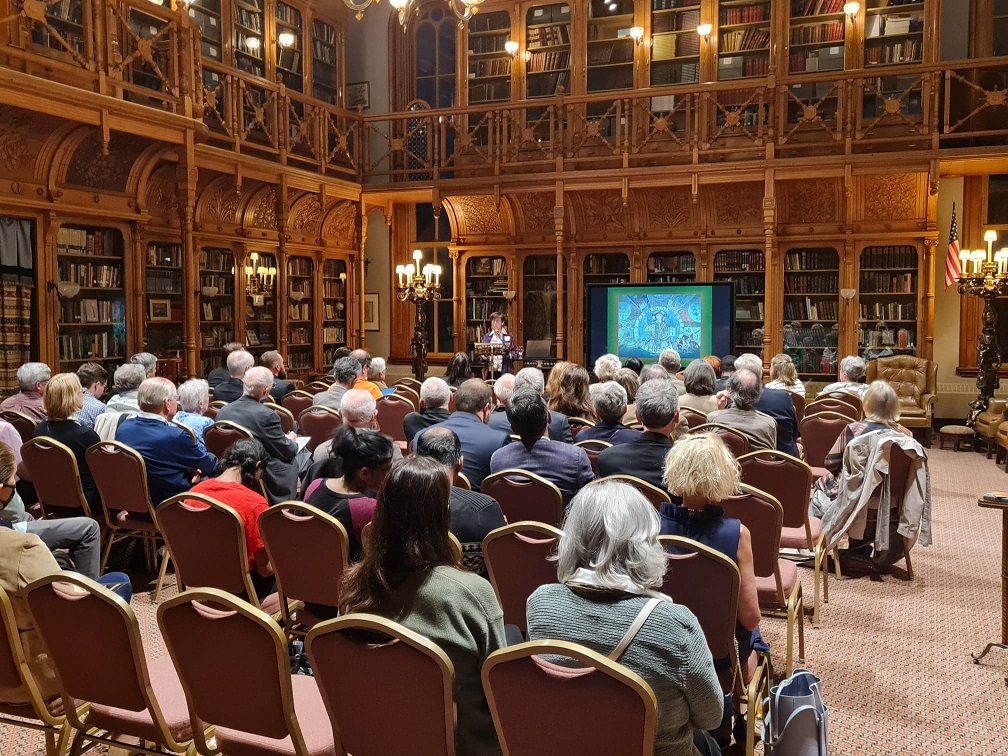 STM Associate Professor Catherine Mooney gave the Bollandist Lecture in November at St. Ignatius College Prep in Chicago.
Mooney's research focuses on the study of saints, especially in the premodern period. She has received research awards from the National Endowment for the Humanities, Harvard Divinity School, and the Franciscan Institute. Her first book, Philippine Duchesne: A Woman with the Poor, explored the life of the fourth U.S. saint to be canonized and has been translated into four languages. Her other books include Gendered Voices: Medieval Saints and Their Hagiographers, and the award-winning Clare of Assisi: Religious Women, Rules, and Resistance. At BC, she teaches seminars on Saints and Sanctity and Doctors of the Church: Hildegard, Catherine, Teresa and Therese.
Mooney serves as the president of the Hagiography Society, an international organization that is dedicated to promoting scholarship related to holy men and women. Among other endeavors, the society publishes the Sanctity in Global Perspective book series, which explores the concept of sanctity in ideational, literary, artistic, and sociohistorical dimensions.
In addition, Mooney is as a member of the Bollandist Society's Advisory Council. Founded more than four centuries ago, the Bollandist Society is dedicated to the critical study of the saints, and texts by and about the saints. It is noted for its library which holds more than half a million books, valuable manuscripts, and objects related to the saints.
Kathleen Sullivan | University Communications | December 2022