School of Theology and Ministry Dean Thomas Stegman, S.J., conferred the STM Alumni Distinguished Service Award on Maryanne Confoy, R.S.C., an internationally respected scholar and teacher in the areas of spirituality and ministry, during an event held in webinar format on April 7.
A Religious Sister of Charity, Confoy is professor of pastoral theology at Australian Catholic University. She received a Ph.D. from Boston College in 1980—the first person to earn a doctorate in religion and education from the University's Institute of Religious Education and Pastoral Ministry, which later joined with Weston Jesuit School of Theology to form the STM. She also taught in the IREPM and STM Summer Institute for a number of years.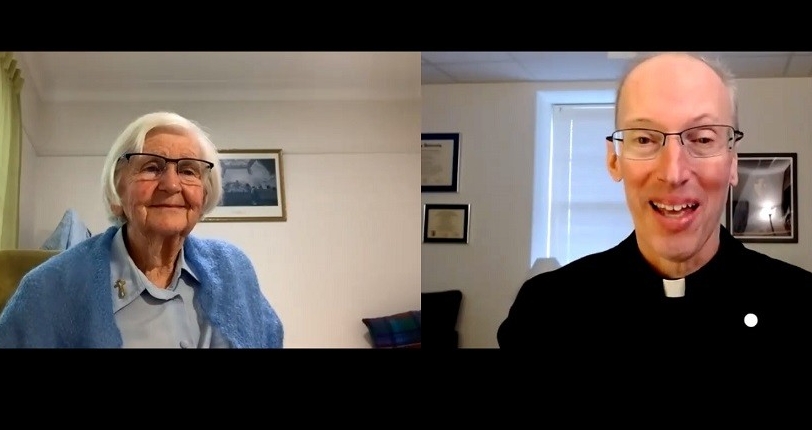 Sr. Confoy is author of the books Morris West: Literary Maverick, Morris West: A Writer & A Spirituality, Vatican II Revisited: Religious Life and Priesthood; and Welcome, Inclusion, Attentive Presence: The Central Role of Pastoral Care in Catholic Health & Aged Care, as well as many book chapters and journal articles. She is co-editor of Freedom and Entrapment: Women Thinking Theology and served as the book review editor for the journal Pacifica from 1996-2008.
She was a member of the United Faculty of Theology in Melbourne, serving as president for three years, and was made a fellow of the Melbourne College of Divinity.
She served as the director of the Kilbride Centre for Spirituality and Personal Development in Albert Park, an ecumenical and community-based initiative, and is on the board of The Way Community refuge for homeless men and of St. Vincent's Health Australia.
In 2019, Sr. Confoy was awarded the Ignatian Companions Medal from the Australian Province of the Society of Jesus, in recognition of her "incomparable contribution to the teaching, research, and formation ministry" of the province. She also received the Boston College Alumni Association Award for Excellence in Religion in 1996.
Sr. Confoy is the first woman to be honored with STM's Alumni Distinguished Service Award. Previous honorees were Jesuit priests James Martin and Gregory Boyle.
Following the award presentation, Sr. Confoy delivered the Daniel J. Harrington, S.J. Lecture, named for the celebrated New Testament scholar and beloved STM professor who died in 2014.
Speaking on "Spirituality for Mission: Connecting in an Era of Disconnectedness," Sr. Confoy drew on the writings of theologian Roger Haight in proposing a contemporary, personal, communal, and ecclesial Christian spirituality directed toward developing mission in a world characterized by the diverse experiences of disconnectedness endured during the pandemic. She recalled the loss and despair of the disciples after Jesus's crucifixion and the isolation of Ignatius of Loyola during his convalesce to examine ways in which the contemporary believers, seekers, or searchers experience being lost and being found in times of isolation and darkness.
"Where do we find God?" she said. "Where is the resurrection, faith, hope, and love taking shape in our own years?"
She went on: 'It's in the experience of being found by God in the everyday reality of our own ordinariness. Moments come through that enable us to realize there is a depth within us that we don't know how to name or to claim. But there's no way we can disclaim it because it is a moment, an experience of very deep connectedness—the connectedness of the Spirit. We are found by God in all things, and being found by God in every one of our diverse efforts to live and love in genuine relationships."
 
Kathleen Sullivan | University Communications | April 2022