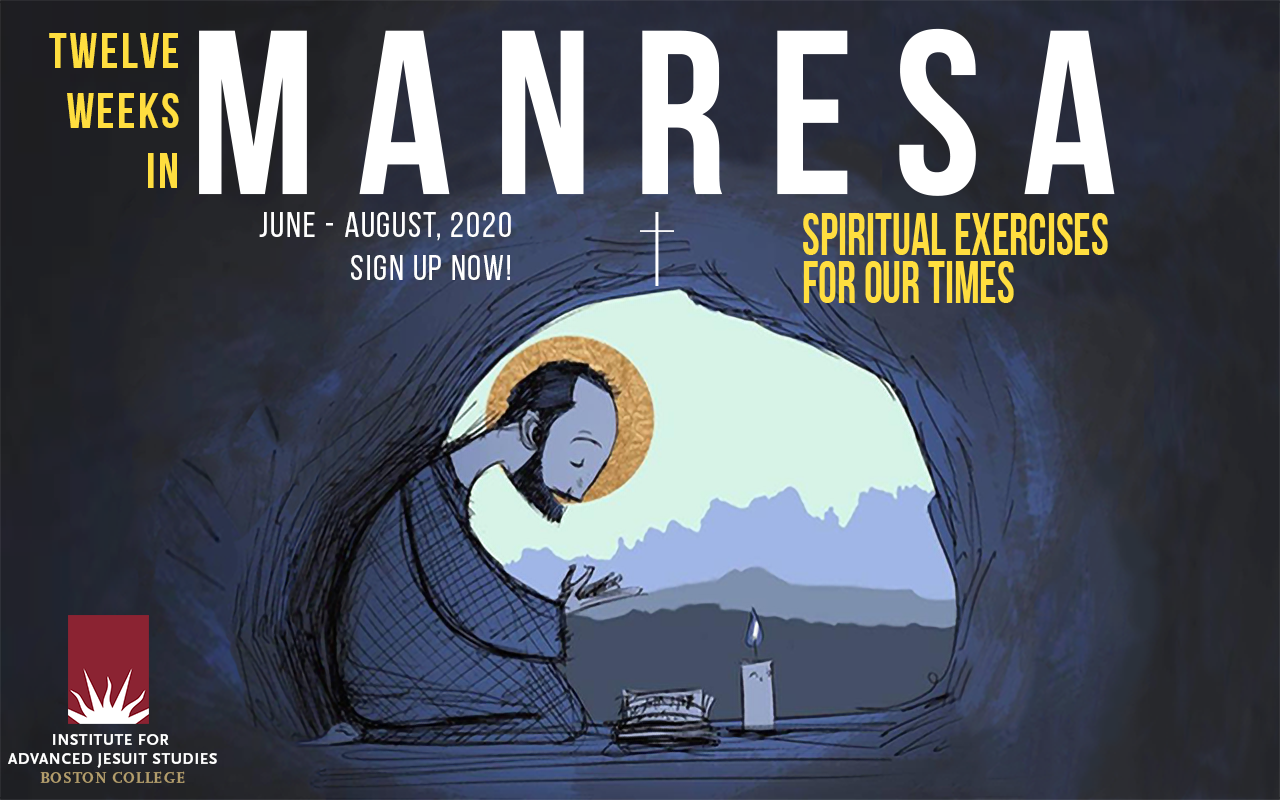 The Institute for Advanced Jesuit Studies is offering an opportunity for members of the Boston College community—faculty, staff, and students, as well as alumni—to take part in a virtual retreat that is inspired by and rooted in the Spiritual Exercises of Saint Ignatius Loyola.
Ignatius composed the Spiritual Exercises in Manresa, Spain, during a time of seclusion where he came to know God in a profoundly intimate way. Organizers say that similarly in the present time of seclusion and transitions, people can find God in a deeper, more profound way.
"Twelve Weeks in Manresa: Spiritual Exercises for our Times" begins in June and runs through the end of August. The retreat will utilize Finding Christ in the World: A Twelve Week Ignatian Retreat in Everyday Life by Joseph Tetlow, S.J., and Carol Atwell Ackels.
"The Jesuits believe that the Spiritual Exercises help all of us to endure these interesting times with renewed interior strength," said IAJS Director Casey Beaumier, S.J., who also serves as University Vice President and University Secretary. "I believe our campus community and alumni would benefit tremendously from this experience for the retreat is intended for both those experienced with and new to the Exercises of Saint Ignatius Loyola."
The retreat is made independently, with daily individual self-guided components using the retreat material, optional weekly small group faith sharing, and five presentations on the Spiritual Exercises offered every three weeks by the institute for the larger community. The small group and large presentations portions of the program will be virtual.  
According to organizers, some 650 participants from 20 countries have already registered, but there are still open slots for members of the BC community. The retreat is free; the only cost is for the text.
The Institute for Advanced Jesuit Studies, founded at Boston College in 2014, seeks to deepen understanding and appreciation of the history, spirituality, educational heritage, and pedagogical approach of the Society of Jesus. It has organized a number of online events and programs, most recently "Manresa: Spiritual Exercises for our Times," a four-day virtual retreat for more than 700 registrants.
To register for "Twelve Weeks in Manresa" or to learn more, visit the IAJS website.
University Communications