It's not surprising that a memoir by a priest and psychologist who has spent six decades in the Society of Jesus preaching, teaching, and leading academic and non-profit organizations would include numerous tales of significant people and events.  
The new memoir by Boston College Jesuit Walter J. Smith, however, comes with an unexpected benefit for readers: It's also a major cookbook.
In addition to his wide-ranging career as a clinician, consultant, professor, department chair, dean, chancellor, trustee, and chief executive officer, Fr. Smith—who currently teaches in the School of Theology and Ministry—is an accomplished cook. His  book, Faith, Food, & Friendship: Reflections and Recipes from a Jesuit's Abundant Life, is replete with 175 carefully crafted classic, original, or adapted recipes, all of which—from dal chawal, an Indian dish once recommended to him by Mother Teresa, to the '21' burger popularized by the iconic Manhattan speakeasy-turned-restaurant—in some way reflect his experiences preparing and savoring cuisine from around the world.

Though he describes his fascination with the culinary arts as "lifelong," the interest was not sparked by his upbringing.

"Growing up in South Boston in a second-generation American Irish family that ate but rarely dined, it is remarkable that I developed any interest at all," Fr. Smith said. "But my mother claims that I was curious about cooking and baking from an early age. Call it innate or simply a child's budding curiosity, the attraction to ingredients and ways to combine them have early antecedents in my life."
"Serendipity, curiosity, and boldness"


Raised in a working-class community and educated by Jesuits at both Boston College High School and Boston College, Fr. Smith joined the order in 1962, and was ordained 10 years later. He holds degrees in philosophy, theology, French language and literature, and counseling and clinical psychology—and his culinary abilities also have an impressive educational pedigree: While he was studying at the Sorbonne in Paris in the 1960s, he completed training at Le Cordon Bleu, billed as the world's most rigorous and comprehensive program in classic French techniques.

Such a high-level introduction to cooking resulted from a combination of what he calls "serendipity, curiosity, and boldness."
"I was living at the Jesuit community near to the Sorbonne where I was completing graduate studies," he said, "and wondered if Le Cordon Bleu might allow a neophyte and non-professional cook like me to audit their basic courses in method and technique. I walked in off the street and asked to speak with the director. It was as simple as that. In life, if one is prepared for the answer 'no,' it's amazing how many things unimagined can happen, and how often the answer surprisingly may be 'yes.'"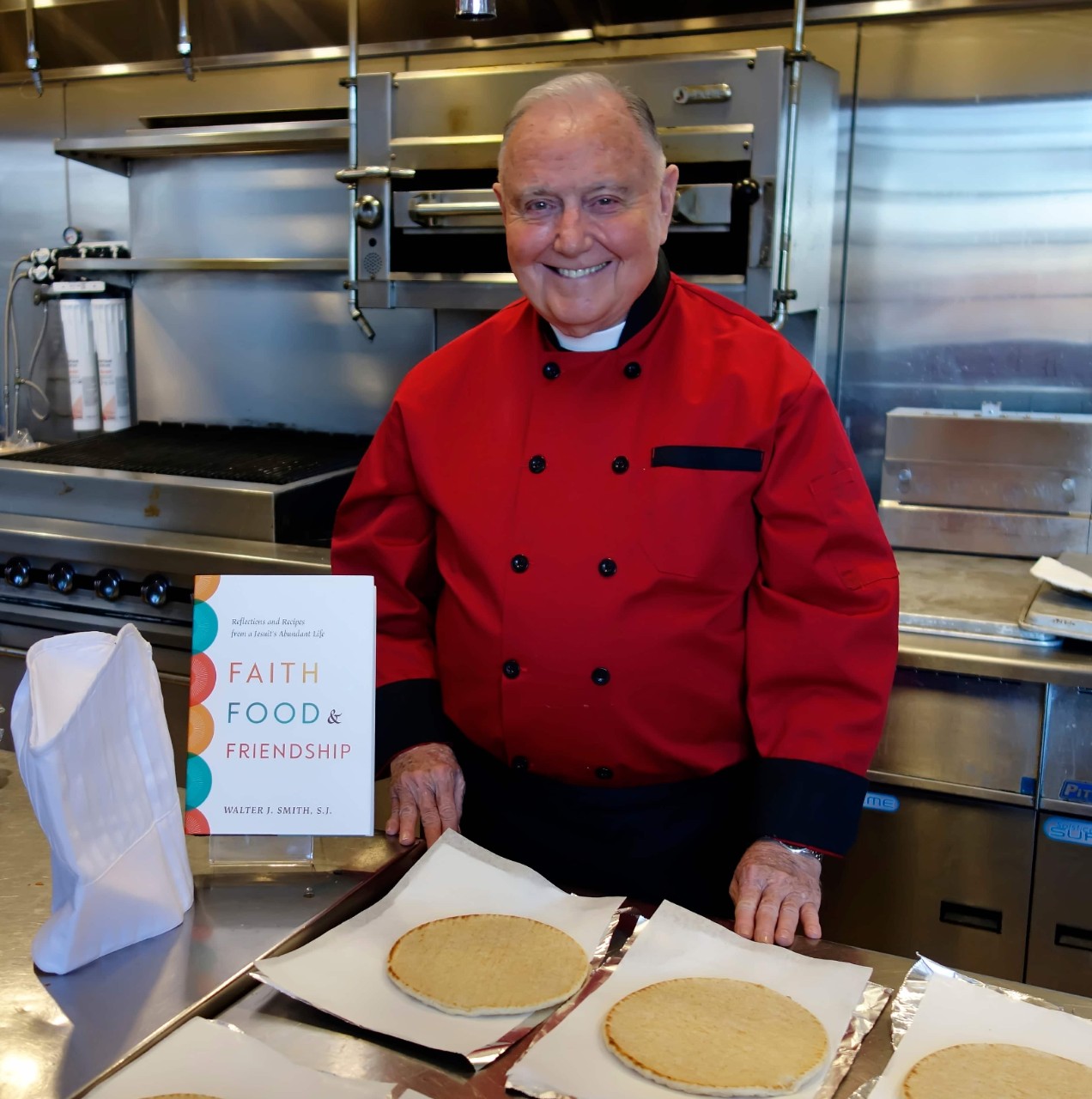 "Looking back on my own lifetime of discovery, I can affirm that God did not skimp on the good stuff. There has been plenty of butter and heavy cream, truffles and saffron, aceto balsamico, and jamón ibérico de bellota."—Walter J. Smith, S.J., clad in a chef's jacket with an executive chef's toque on the counter to the left, in the kitchen of St. Mary's Hall. (Photo by Harvey Egan, S.J.)
Later, while teaching in Rome and serving as a psychological consultant for the Vatican, Fr. Smith immersed himself in learning about regional Italian food and wine. Subsequent travel in Europe, Asia, Central and South America, and the Middle East—related to Jesuit missions, international conferences, or his extensive maritime military chaplaincy on cruise ships—expanded his culinary knowledge and repertoire.
Faith, Food, and Friendship offers a rich menu of stories related to each included recipe. Tortellini alla Papalina, for example, traces its modern origins to Pope Pius XII (Eugenio Pacelli), who was from an aristocratic Roman family. "The Holy Father allegedly once asked his cook to prepare a pasta dish that used Roman ingredients and was original," Fr. Smith said. "This dish was the result, and I learned it first-hand from a family that owned and operated a small trattoria, located very near the Jesuit-run Gregorian University in Rome."
Other recipes also relate to personal interactions.

During his tertianship—the final period of formation for Jesuits—in Rome in 1975, Fr. Smith's director, Fr. Edward Malatesta, S.J., asked him to offer a series of three evening talks and celebrate Mass for a small group of Missionary of Charity novices in the Tor Fiscale suburb. 
"On the first evening when I arrived at the novitiate, I was greeted by the community's superior who advised me that Mother Teresa of Calcutta had arrived that day and wished to participate with the novices in the triduum," Fr. Smith recalled. "Mother Teresa was not a foodie, but she did tell me that her mother often said that one could never enjoy a meal without sharing some of it with another. When I asked her what she enjoyed sharing, she spoke about a simple dish called dal chawal, an Indian lentil dish with rice, which I subsequently researched and learned to make."
In keeping with his philosophy of being prepared for the answer 'no,' but asking anyway, one of his inquiries uncovered the secret to a crowd favorite.
"During my 26 years as the CEO of a healthcare nonprofit organization, I became friends with many 'movers and shakers' in the city," said Fr. Smith, who is a recognized clinical specialist in palliative and end-of-life care, the author of two award-winning books in the field, and led the world's largest clinical pastoral education training and research center in New York City.

"One of them was Marty Lipton, the eponymous law partner of Wachtell, Lipton, Rosen & Katz, who for many years was chair of the board of New York University. His law offices were located just down the street from the famous landmark restaurant '21'.  Marty and I would occasionally share lunch together there and invariably he would order a hidden pleasure—the 21 Club House Burger—even though his wife and cardiologist would shudder to know that," Fr. Smith said. "I was able to persuade the chef to teach me how that burger was made. The secret to its richness is a generous portion of compound herbal butter that is inserted into the patty before grilling."
Don't forget the chocolate


Following four decades of work, travel, and culinary appreciation, Fr. Smith joined the Boston College Jesuit community in 2020, and currently teaches courses in lifespan pastoral care and counseling at the School of Theology and Ministry (formerly Weston Jesuit School of Theology, of which he was once dean).
He also is a member of the palliative care and workforce development advisory boards at Mass General Brigham Newton-Wellesley Hospital, a commissioner of Age-Friendly Boston, has served as a director on the boards of national health, spiritual care, legal, advocacy, and higher education institutions, and consults and lectures nationally and internationally.
And. yes, he still cooks at any opportunity.
"Many of my friends don't invite me to dinner, they invite me to cook dinner," he said. "In the book, I recount some of these events where I create a menu and cook a 5-course meal for 12 guests. I'm often the principal holiday chef for large extended family gatherings, and during the years in which I served as superior of the Campion Center [the Jesuit retirement community in Weston, Mass.], I regularly cooked meals for groups of Jesuits."
Does he have a favorite dish?
"Truthfully, I don't, but I find myself most frequently gravitating toward Italian dishes when I cook or dine, and to French recipes when I bake. The recipes in the book not only are linked to people and events, but are reflective of my lifelong fascination and love affair with both classic French and regional Italian cuisine.  
"I love being creative with the permutations and combinations of pasta sauces and with various kinds of pasta, polenta, and rice. I seem never to weary of exploring novel ways to cook chicken or seafood. And, like [New York French pastry chef and chocolatier] Jacques Torres, there isn't anything chocolate that I don't like to prepare or eat."
Faith, Food, & Friendship: Reflections and Recipes from a Jesuit's Abundant Life is available on Amazon.
 
Patricia Delaney | University Communications | January 2023