A Boston College research team's groundbreaking study of Hispanic educators in United States Catholic schools offers insights into the experiences of these teachers and school leaders and suggests pathways to increase the presence of Hispanic educators in Catholic schools—a critical issue given that more than 40 percent of the U.S. Catholic population is Hispanic.

The interdisciplinary study—the first of its kind to take an in-depth look solely at this particular sector of Catholic school educators on a national scope—was led by School of Theology and Ministry Associate Professor Hosffman Ospino and Melodie Wyttenbach, executive director of the Roche Center for Catholic Education at the Lynch School of Education and Human Development.

According to the National Catholic Educational Association, nine percent of teachers and leaders in U.S. Catholic schools are Hispanic. Ospino and Wyttenbach's report, "Cultivating Talent: A Summary Report of Findings from the National Study Examining Pathways to Increase the Presence of Hispanic Teachers and Leaders in Catholic Schools," is based on a sampling of more than 300 of these educators, about equally divided between teachers and school leaders, representing 71 dioceses/archdioceses across the country. The research was conducted over the course of 2021, starting with an online survey, followed by focus groups and one-on-one interviews.
The study is a follow-up to the 2016 Boston College report "Catholic Schools in an Increasingly Hispanic Church: A Summary Report of Findings from the National Survey of Catholic Schools Serving Hispanic Families," which unpacked the value that Hispanic families and students bring to U.S. Catholic schools and looked at ways Catholic schools could strategically engage, support, and be more hospitable to Hispanic Catholics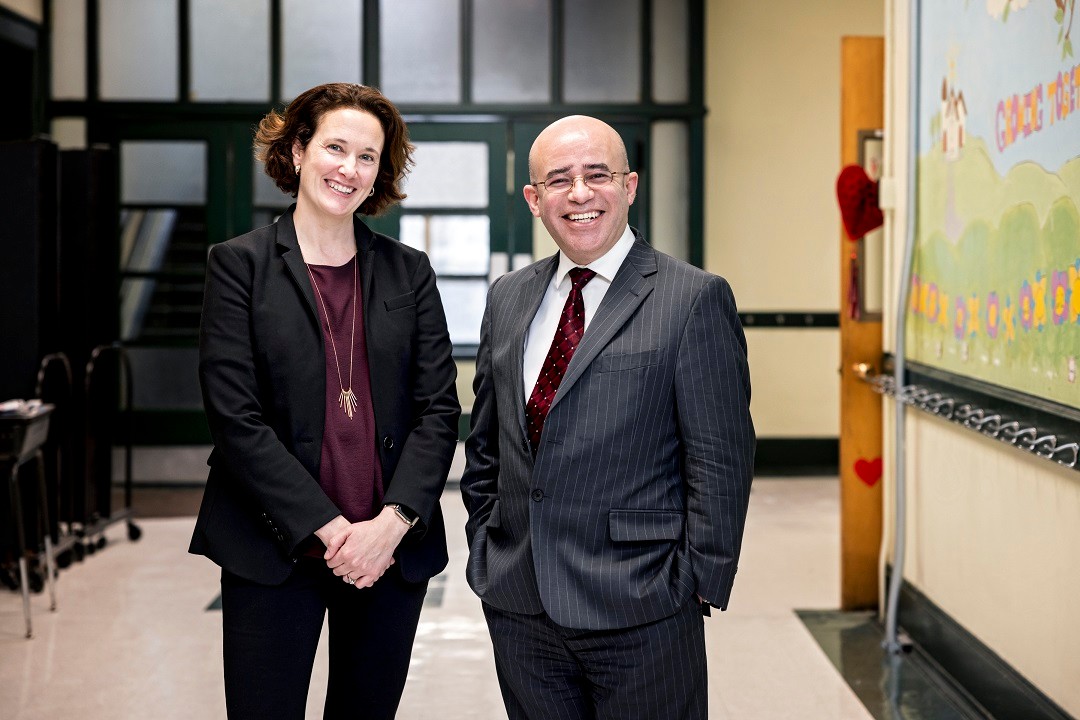 Study principal investigators: Melodie Wyttenbach of the Roche Center for Catholic Education and Hosffman Ospino of the School of Theology and Ministry (Caitlin Cunningham)
"This report looks at the talent of Hispanic teachers and leaders and the valuable assets they bring to the community," said Wyttenbach. "Hispanic educators bring new life and new light to our schools, with the gifts of biculturalism, bilingualism, and the ways that they act as bridge-builders for many in the community.

"We want to help amplify how their representation really helps to renew our Catholic schools and the Catholic Church in many ways," she added.

"One of the things we highlight in this report is that we see, in Hispanic school teachers and leaders, an instance in which the Hispanic community is beginning to shape the structures of the Catholic Church," said Ospino. "Hispanic educators are bringing in their own experience, biculturalism, and bilingualism to shape not only the identity of Catholic schools but also the sensibilities that inform that curriculum and the witness of Catholic schools today."
About 40 percent of Hispanic teachers and 27 percent of Hispanic leaders in Catholic schools are immigrants, representing nearly every Spanish-speaking nation and mirroring the backgrounds of students and families in their community.

For Wyttenbach, some of the more significant findings from "Cultivating Talent" were related to the depth of Hispanic teachers and leaders' education and their commitment to Catholic education.

More than half of Hispanic Catholic school teachers and 89 percent of Hispanic Catholic school leaders hold master's degrees. Thirty-three percent of Hispanic Catholic school leaders have doctoral degrees.

Hispanic teachers have 13.7 years of teaching experience, mostly in a Catholic school context. Hispanic leaders in Catholic schools report being in their current role for about nine years and working in the Catholic school system for 16 years on average.

Ospino noted that 85 percent of study participants attend church regularly and are involved in church life.

"They have a real deep desire to serve in Catholic schools, and I think that is a vocational calling motivated by their faith," said Wyttenbach. "It's so impactful to think about the teacher who can model the faith for their students and their families that they serve. So, for those of us involved in Catholic education, how can we help to center that and help Hispanic educators shape the church and the future of the church through their vocational ministry?"

"Hispanic teachers are advocates," added Ospino. "They understand many of the dynamics facing Hispanic families. With Hispanic teachers and leaders at the center, they can speak to these experiences and concerns and say it's not just about one or two families, but it's everybody's concern."

"If you look at the heart of the mission of our Catholic schools…we have to give our students a model of the excellence they hope they will achieve in the faith, in a virtuous life, in what it means to contribute to the good of society. Who are the people we need to deliver this? Having Hispanic teachers and leaders in the schools as models [for students] who can see a reflection of themselves, who can speak to the hardships and challenges maybe that they've overcome, and have that connection that is more readily there with others. Hispanic educators play a critical role in our Catholic schools, and we have to be bold enough to say that."

Ospino and Wyttenbach also spoke to the important role Hispanic teachers and leaders play in terms of representation. "We need teachers who are from underrepresented communities, so the children from those communities can see themselves one day serving in that capacity," said Ospino. "That's powerful."

The "Cultivating Talent" report also looked at areas of growth necessary to further support and retain Hispanic teachers and leaders in Catholic schools.

"One point that needs highlighting is the importance of promoting Hispanic teachers to positions of leadership," said Ospino. "It's not enough to have Hispanic teachers teaching math or Spanish or science or religion. How do we make sure that they end up as vice principals, principals, and eventually superintendents? One way is being intentional by promoting them and supporting them. And that's where universities, dioceses, and philanthropic organizations can play a major role."

"What struck me was how many Hispanic teachers and leaders spoke about alienation, loneliness, and tokenism," said Wyttenbach. "We need to cultivate a sense of belonging and embrace and welcome these educators as they struggle with feeling culturally unrepresented."

Wyttenbach and Ospino said that they hope their report is a resource for conversation and discernment about how to cultivate Hispanic talent in Catholic schools. Copies of the report are being sent to bishops, Catholic school superintendents and other school leaders, researchers who are working on Catholic schools, and philanthropic organizations and other key leaders throughout the country. The researchers have recorded a podcast for NCEA and the study will be highlighted and discussed at NCEA's national conference in April. In October, Boston College will host a national summit that will bring together stakeholders in the world of Catholic education to discuss the implications of this study.

"Our findings demonstrate convincingly that Catholic schools in the U.S. are and will be further enriched by the presence and contributions of Hispanic teachers and leaders," say the researchers. "As we plan for a stronger future for Catholic education in our country, we must make a renewed commitment to invest and cultivate talent within the Hispanic community. Now is the time."

Collaborators on the research team from the Roche Center were Director of Research, Program Evaluation, and Innovation John Reyes; Program Director, Two-Way Immersion Network for Catholic Schools Elena Sada; and Assistant Director of Outreach Michael O'Connor. Lynch School doctoral candidates Jeremy Alexander and Kevin Holbrook and STM student Katie Ward also contributed to the study. Financial support was provided by Crimsonbridge Foundation.

More information on the study can be found at the Roche Center website.
Kathleen Sullivan | University Communications | February 2022