Juniors Lubens Benjamin of the Carroll School of Management and Julia Spagnola of the Morrissey College of Arts and Sciences have taken the reins as president and vice president, respectively, of the Undergraduate Government of Boston College. They were inaugurated on May 2 following their victory in the election last month.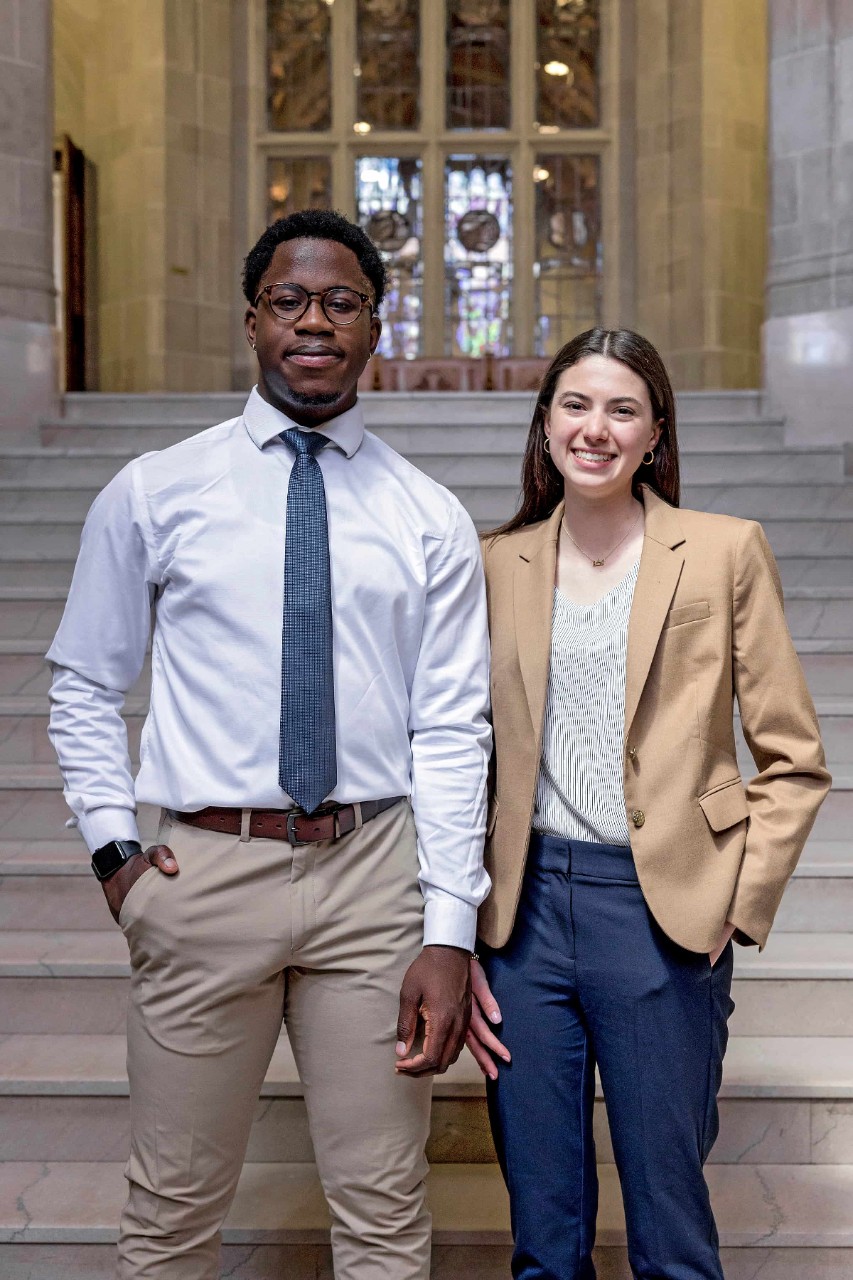 The two are eager to begin working toward goals such as fostering the value of servant leadership within UGBC, advocating for student wellness and mental health, and building a more inclusive culture on campus.
"In our roles as president and vice president, it is so important that we are the voice for students before anything else that we do," said Benjamin, a double major in philosophy and marketing from Cambridge, Mass. "Our biggest role is to advocate for students with administrators at the highest level and really represent students, especially those students who are on the margins and sometimes get forgotten here at BC. It's our job to go out and seek those opinions and those voices and really bring them to the forefront of conversations."
Benjamin has been involved with UGBC since his freshman year, when he was a part of the Undergraduate Leadership Academy Program and the AHANA+ Leadership Council, for which he served as chair this past year. Spagnola, a political science major from Rochester, NY, was elected as a Class of 2023 representative last fall and served on the Academic Affairs Committee. She chaired the committee this past year and was also secretary of the General Assembly.
Spagnola credits an assignment to work as co-leader with Benjamin during a spring break service trip with the Appalachia Volunteers as a time of growth for their friendship and leadership. In March, the two led a trip to Joy Ranch, a home for children in need in southwest Virginia. "It was the perfect experience for the week before we kicked off our campaign," said Spagnola. "It really brought what was important to the forefront of our minds."
The two also have participated in a variety of campus activities. Benjamin is involved with the BC Bigs program, Kairos, the Student Admission Program, and the Black History Month Committee. Spagnola serves as a Bowman Advocate for Inclusive Culture and a Campus School Volunteer.
The pair are conscious of the fact that their new roles will affect their fellow students now as well as future Eagles who attend BC after they have graduated.
"I think this is such an opportunity to set the tone of BC because we are at a crossroads on our campus," said Spagnola. "We're pointed towards a really hopeful future and there's a lot of change happening. Although Lubens and I won't be here to see a lot of the things we want to get done in just one year, we want to lay those foundations for future BC students, too."
Christine Balquist | University Communications | May 2022