Alyssa Lego '25 at the Campus School. Photo by Caitlin Cunningham.
When Alyssa Lego '25 thinks about the future, her younger brother Michael is both a source of worry and an inspiration. Michael, who is on the autism spectrum and is nonverbal, turns 17 this month, bringing him closer to the age of 21 when young adults with disabilities no longer qualify for certain state services. 
"It's heartbreaking because a lot of your resources like your schooling and your transportation just get cut off," Lego explained. "Knowing my brother is approaching that age is something that's always in the back of my mind."
But Lego, a New Jersey native, has never been the type to let worry get in the way of action. This year, her nonprofit organization, the Morgan Marie Michael Foundation, celebrated five years of advocacy on behalf of individuals with autism, and, for the first time, expanded its focus to include students with disabilities at the Campus School at Boston College, housed within the Lynch School of Education and Human Development. And if you ask Lego, she's just getting started. 
Pushing for change
Thousands of children in the United States are diagnosed with autism spectrum disorder every year, and yet misconceptions around the condition abound. By the time she was in middle school, Lego had witnessed countless instances of bullying and ableism directed towards her brother, both from his peers and adults. 
"Having people not accept him, or not take the time to appreciate or understand him just made me so angry," she recalled. "I struggled with it for the longest time, and wondered if at such a young age I could be that change." 
She started small, collaborating with her former fourth grade teacher to introduce a lesson plan combating toxic labeling and negative stereotypes around students with disabilities. A year later, at the age of 14, she befriended Amanda Witkowski at an autism skate-a-thon, and the two began discussing ways to raise funds and awareness. 
"We realized that if we could combine forces, we could do a lot more together," Lego recalled. 
The pair hosted their first event, a fashion show and marketplace called "Shop. Sell. Strut!" and donated the proceeds to an existing nonprofit. Six months later, they launched the Morgan Marie Michael Foundation ("Morgan" and "Marie" are their middle names), a registered charity with a dual mission: to enhance the lives of individuals on the autism spectrum and "foster a world of acceptance and inclusion for those who are differently-abled."
Connecting with the Campus School 
To develop programs for the foundation, Lego drew from her experience as Michael's big sister. She knew, for example, that an iPad had been "life-changing" for her brother, who used it to communicate, learn, and relax, so she launched the iCan iPad Learning Experience to allow families of children with disabilities to apply for a free tablet. Similarly, the Sensory Gifting Program was inspired by items Michael had received during hospital stays that, while well-meaning, were often better suited for neurotypical kids.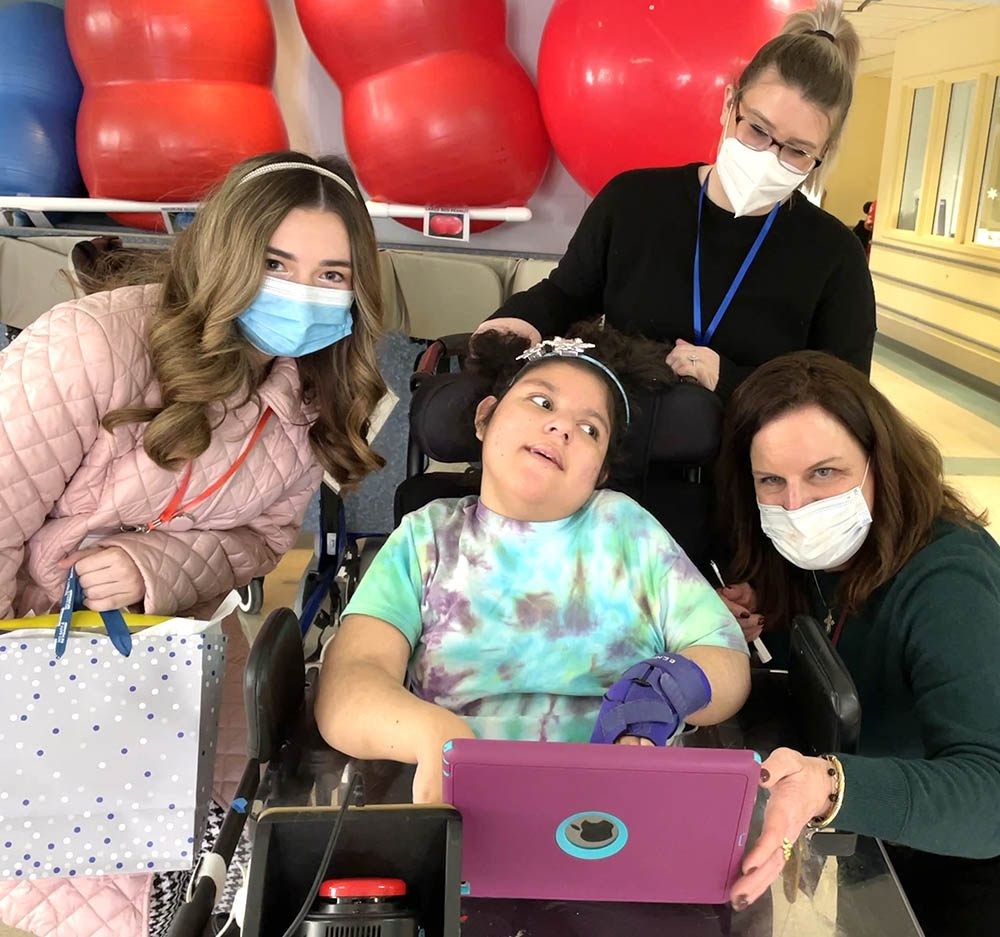 "Around the holidays, we'd get a basket filled with Avengers instead of toys that were calming and regulating for him," explained Lego. "We were grateful for the support but we wished that he could have sensory toys that he enjoyed." 

The Sensory Gifting Program was designed with hospital patients in mind, but this winter, Lego worked with the Campus School at Boston College, which enrolls students with a range of disabilities, to deliver custom sensory toys to every child. In December, she and Witkowski brought bags full of gifts—including tactile foam, wiki sticks, and textured blocks—to the Campus School classrooms.
More recently, Lego delivered a new iPad, adorned with a hot pink protective case, to a Campus School student who had applied to the foundation's iPad program. Kara Hardiman, the Campus School Family Services Coordinator, said the tablet will be programmed by the school's assistive technology specialist with apps to support the student's language skill development. 
"It will also enhance her quality of life by enabling her to listen to music, which she loves," Hardiman added. 
Future plans
The opportunity to pursue philanthropic work alongside her studies is part of what drew Lego to Boston College. A communication and history double-major, she plans to attend law school after graduation, and eventually use her degree to open a residential campus for adults with autism. "Somewhere students over 21 can have fulfilling jobs and careers that meet them where they're at, and that gives them opportunities for socialization in a safe, happy environment," she explained. 
It's an ambitious goal, and Lego sees the Morgan Marie Michael Foundation as a crucial stepping stone in her journey to achieving it. She approaches each fundraising event, billboard campaign, and social media contest, as an opportunity to expand her skillset and form connections that may prove valuable down the road. 
Gaining the support of the BC community, and witnessing the commitment of its faculty and students to giving back, has been reinvigorating for Lego, especially during the COVID-19 pandemic. Although few of her peers have co-founded a nonprofit (yet), almost all of them are involved in service initiatives on or off campus, she said.  
"People have different majors, come from different places, and have completely different experiences but I think a common ground for BC students is social justice and community service," she said. "It's really evident on campus, and it's a really nice thing to be surrounded by."   
Alix Hackett | University Communications | April 2022