Czar Sepe '21 hasn't had to look far for inspiration in the face of the coronavirus pandemic: His parents, both nurses, not only work on the front lines but have each survived a bout with COVID-19.

Initially irritated to be stuck at home with his parents, Sepe realized he took for granted their time together when his father was forced into isolation by a positive COVID-19 test while his mother was working long hours at the hospital before contracting the virus herself. His parents' symptoms were mild, but it was a scary time.

"As nurses, their job is to care for others and I think they've instilled that in me," said Sepe. "I don't think that the medical route is for me personally, but that mindset is still there."

After his parents had recovered and his semester was completed, that mindset of helping others prompted him to contemplate what he could do in the face of so much disruption.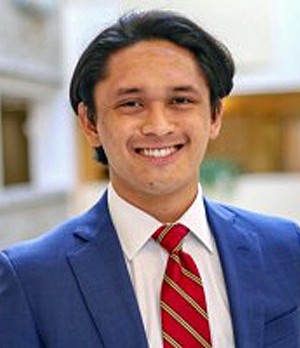 "I was looking for a way to help my community. What can I offer as a college student? I'm not a doctor, I'm not a nurse," said Sepe, a political science and history major. "Sitting at home, not necessarily doing that much while my own parents are being lauded as heroes, I thought, 'I want to do more.'"

Reading about fellow members of the Boston College community stepping up to help others during this time of crisis prompted Sepe to get creative. He was particularly inspired by the "Foster a Family" initiative created by Isabel Litterst '21 that pairs families in need with those who can provide assistance. After receiving some advice from Litterst, Sepe launched the online resource Parsippany College Connect with friends from his hometown of Parsippany, N.J., including Rebecca Klausner '21 and Danielle Davis '21.

Parsippany College Connect helps Parsippany high school students to learn from and connect with current college students from their hometown. The website provides a directory of more than 300 undergraduates, their universities, majors, extracurricular activities, and email addresses. Using this information, local high school students can find a college student who is majoring in something that they wish to pursue, attends a university in which they are interested or to which they have already committed, or takes part in an extracurricular activity they might want to explore. In addition, the website provides a list of frequently asked questions and blog posts from college students offering insight and information about the college experience.

Sepe, who in 2019 received BC's Omar A. Aggad Travel and Research Fellowship for language acquisition and cultural immersion in Beirut, Lebanon, and has served as a campus ambassador for Teach for America, recalled his own experience with the college search process: "It's intimidating. It's a little frightening. You're kind of clueless in many ways."

The personal connections made through Parsippany College Connect are meant to lessen some of that uncertainty, especially for high schoolers who are now stuck at home, unable to visit college campuses or access resources that would typically be available to them at their high school. Sepe and his team hosted panel discussions over Zoom as another means to share information and answer questions about the college experience.

In its first two weeks, the website received more than 9,000 page views.

Sepe's goals for the future of Parsippany College Connect are to expand the alumni directory and for it to become a permanent component of the local school district's website by the end of the summer.
Christine Balquist | University Communications | July 2020