Students in BC's Appalachia Volunteers program participate in a community service project at St. Mary's Center for Women and Children in Dorchester. Photos by Frank Curran.
For decades, early March has seen Boston College students travel throughout the United States and to other countries, assisting people and communities affected by poverty-related problems or the aftermath of natural disasters. While these service learning experiences can take place just about any time of the year, spring break week is arguably the peak period for such activity.
With most service trips for the 2020- 2021 academic year shut down due to COVID-19, the groups that organize them, at BC and elsewhere, have sought to come up with alternatives—working with local or regional service and charitable organizations instead of going farther afield, for example, or doing some projects in a virtual format.
But the pandemic also has prompted a deeper examination of the service-trip model itself, and whether its goals and benefits—for the students and the communities being served—can be realized by other means, according to BC administrators. Not that the University doesn't delve into such questions already: Service learning is connected to BC's Jesuit mission, encouraging students to contemplate the world beyond them by working for others. However, according to Daniel Ponsetto, the Welles Remy Crowther Director for BC's Volunteer and Service Learning Center, service programs need to focus more than ever on those needing the help.
"Obviously, the disruption caused by COVID not only affects our programs and our students, but it has had a devastating impact on the communities and organizations we have historically visited. I think this reality—that the vulnerable communities we typically visit, as well as the organizations that facilitate our work, have suffered great losses as a result of the pandemic—has caused those of us who run our programs to examine the nature of our commitment to what we often refer to in Jesuit education as 'solidarity.'
"What does it mean for us to practice solidarity with the most vulnerable? The pandemic has highlighted the truth that there has to be a mutuality or reciprocal element to our relationships. These are organizations and communities of people who provide strong experiences and facilitate important learning for our students. But hopefully we bring something of value to them as well. I think we have been making the most of what we can accomplish, but there is an invitation to really ask ourselves if we are truly committed to the people we hope to serve and learn from."
Chronicle reached out to three BC service learning programs, two of them traditionally centered around spring break, to see how they are confronting such issues.
Serving Boston and beyond
Facing a pandemic that could potentially paralyze its long-running service immersion program, Boston College Appalachia Volunteers seemed to heed presidential inaugural poet Amanda Gorman's words, "Where can we find light in this never-ending shade?" In a more typical year, more than 400 BC students would travel nationwide during spring break, conducting community service and living in solidarity with the families it serves in under-resourced urban areas such as New Orleans and Detroit, as well as rural areas throughout the South and the Appalachian region. More commonly known as "Appa," the 42-year-old program's roots—and its name—are embedded in the central and southern portions of the range.
But this year, Appa has adapted its program structure and opted for service weekends in March throughout Eastern Massachusetts, "where we can safely and effectively address community needs," said Campus Ministry Associate Director Ryan Heffernan, who leads the program.
Launching what Heffernan calls "our first deep dive into the Boston area and beyond" over the first weekend of March, 71 student volunteers sorted and packed food at Catholic Charities' Yawkey Center in Dorchester, Our Daily Bread-Mansfield Food Pantry, and Kylee's Kare Kits for Kidz in Leominster, and helped transport food donated by Boston-area restaurants to local social service agencies, all to address food insecurity—"a skyrocketing need during the pandemic," according to Heffernan. Another team conducted deferred maintenance work at Dorchester's St. Mary's Center for Women and Children to round out the first slate of activities.
Nearly 250 students will participate throughout the month. Future projects include sorting donated children's items collected through grassroots community drives and corporate contributions at Newtonville-based Cradles to Crayons, which then distributes them to local disadvantaged children; preparing evening take-out meals for the hungry and homeless at Mustard Seed Catholic Worker in Worcester; and sorting and packing food donations at Catholic Charities' Friends Feeding Families in Boston and the Centre Street Food Pantry in Newton Centre. Return visits to Our Daily Bread, and Rescuing Leftover Cuisine, the restaurant food donation program, are also scheduled.
An on-campus group will pack "welcome baskets" composed of non-perishable necessities purchased by Campus Ministry for former Pine Street Inn guests who have moved from the Boston homeless shelter into their permanent residences.
BC was one of the first universities to undertake an alternative spring break when 20 students traveled to Kentucky in 1979 for an eight-day trip centered on service and solidarity. "We're out to raise the awareness [among] BC students in terms of the people of Appalachia," Gregg Cassin '80 told The Heights at the time. "People can't conceive of Third World conditions existing in our own country."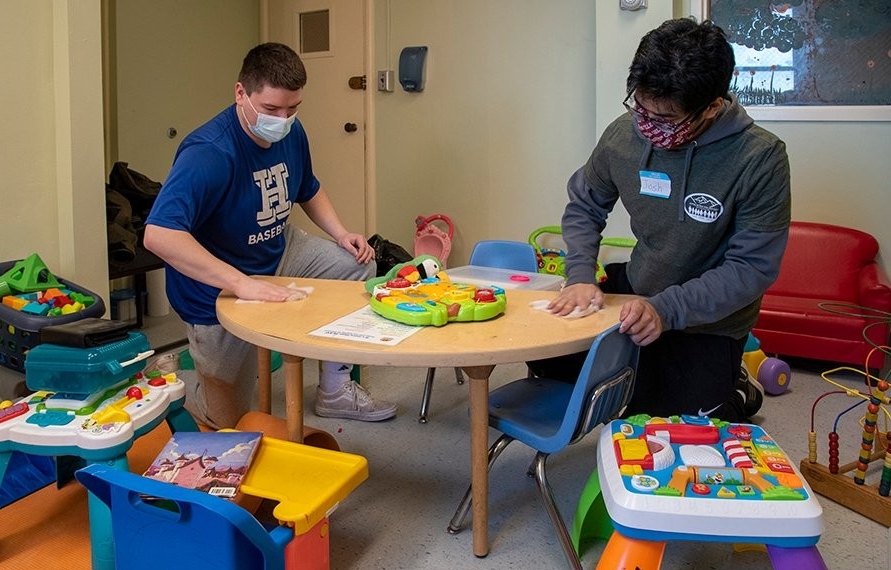 Today, 15 percent of BC students participate in one of Campus Ministry's three service-immersion programs, which also include 4Boston and Arrupe International Immersion. Students annually raise more than $250,000 to underwrite Appa's associated costs, and contribute to community partners, both products of the University's long tradition of charitable involvement, reports Heffernan.
The commitment to these programs goes beyond the service work itself. Participants meet biweekly throughout the school year to learn about the structural injustices and social realities that marginalize people, and to draw on BC's Jesuit tradition of asking how faith might motivate us to respond.
One of the program's key learning outcomes, says Heffernan, is for students to formulate a plan to continue participating in acts of service and solidarity beyond Appa involvement.
"Our hope is that these aren't isolated moments of community or experiences of service," he said. "Appa strives to transform the ways students interact in the world and reflect on how they might use their gifts for the common good."
This academic year, noted Heffernan, "our meetings have been a space in which to discuss the intersection and impact of twin pandemics—both COVID-19 and racism in the United States—and underlined the need to be more fully present to the lived realities of unheard voices and under-resourced communities via direct encounter and shared service."
"

What does it mean for us to practice solidarity with the most vulnerable? The pandemic has highlighted the truth that there has to be a mutuality or reciprocal element to our relationships.

"
Healthcare service in rural Maine
Clinical Assistant Professor Donna Cullinan typically leads a group of Connell School of Nursing students on a trip to Haiti, where they set up clinics and provide care for hundreds of children and adults living in rural parts of Haiti who have limited or no access to health care. Undergraduates fulfill their community clinical requirement, while nurse practitioner students earn patient care hours toward their certification. Although COVID travel restrictions made the trip impossible this year, the Haitian people are very much in the hearts and minds of the CSON community, according to Cullinan, a 2011 Boston College Community Service Award winner who has been providing care in Haiti for about 20 years.
As an alternative clinical experience, Cullinan will lead a contingent from the Connell School on a trip to the northernmost part of Maine to provide care and health education to the residents of Aroostook County. Working in partnership with Catholic Charities Maine and the Maine Department of Public Health, the CSON cohort will visit locations including Caribou, Presque Isle, Houlton, and Madawaska during the week of April 18. Cullinan said they expect to assist with vaccine clinics, blood drives, and oral health assessments. They also will conduct health education classes and make health care visits to homebound residents.
The CSON group consists of 19 undergraduates in the Population Health Practice in the Community course and five graduate students in the nurse practitioner program. Joining Cullinan will be Connell School faculty members Colleen Simonelli, Maureen Connolly, and Kellie LaPierre.
"I think it's going to be a really good trip," said Cullinan. "This part of Maine is really remote and there is a lot of need there."
Virtual service in Jamaica
For almost 30 years, Boston College has partnered with St. Theresa's Catholic Church to work in solidarity with the various communities around Annotto Bay in Jamaica's St. Mary Parish. BC students have traveled there during spring break and other times of the year to assist in projects like summer camps, tutoring, and, in January 2020, a series of free public health clinics and home visits. The pandemic's impact on the St. Mary's area, along with COVID travel restrictions, prompted a new collaboration formed late last year between BC's Center for Student Formation with the May River Primary School, whose students have been forced into remote learning.
Through the May River Scholars Project, 24 BC undergraduates have each been paired with a child for two hourlong tutoring sessions a week via Zoom or Google Meet; the project also provided new tablets, with Internet access, to the school for the children to use. The BC tutors employ virtual worksheets, videos, learning apps, and other tools to work with the children on reading and mathematics. Sessions began last month and will continue into early April.
The value of in-person service experiences is indisputable, said Center for Student Formation Executive Director Michael Sacco, who has been on more than a dozen service-related trips to Jamaica: Students witness for themselves the human cost of poverty and injustice, as well as the resilience of communities in dealing with such issues. But the multi-week virtual approach has its own advantages.
"If this were a spring break trip, it would be a very intense, concentrated week for the students, with not much of a chance to form deep relationships in the community. Through the May River Scholars Project, the students will each have about 16 hours with the same child, and they provide a very important, tangible service in assisting the kids with reading and math. Along the way, the BC students learn about the child's joys as well as sorrows, and may gain insights into them and their families' lives."
May River Primary School Principal Alcia Moore-Reid said the partnership with BC is a timely and necessary one: The project has helped mitigate some technical difficulties in keeping the school connected with its students while providing a valuable supplement to May River faculty's efforts to serve a significantly increased student population.
"The partnership is working tremendously," said Moore-Reid, who has worked with several BC service learning trips. "Based on information from teachers, we have seen improvements among these students. And what is more, by interacting with the BC tutors, the children are learning about other cultures and having an opportunity to talk about their own—they are doing some teaching themselves."
"

Life is all about making a plan, and what you do when that plan doesn't work out. You just keep looking for the door that can lead to something better, and when you do you build from that.

"
While eight of the BC volunteers are students in the Lynch School of Education and Human Development, not all of the remaining cohort are experienced in teaching or working with children. They underwent concentrated preparation before beginning their tutoring sessions, familiarizing themselves as much as possible with the school's curriculum and May River teachers' notes on each child participating in the project. The BC students now meet regularly to reflect on and discuss their tutoring experiences—four of the Lynch School undergrads serve as group leaders—and offer one another advice, and sometimes commiseration.
Ultimately, each tutor has to draw upon his or her creativity, empathy, and patience, whether helping a child navigate a subtraction problem or a reading exercise game, or simply striking up a casual conversation. A BC student received a litany of polite "No, Miss" and "Yes, Miss" replies once when she tried to get her young friend talking about his weekend activities.
"That's the best thing to hear—it just makes my day," laughed Victoria Denaro '22, an International Studies major with an English minor from West Newton, Mass., recalling the exchange with Junaid, a third grader. "I feel that, even in our short time together, we've been able to make a connection. I respect that he's a shy kid, or just doesn't want to talk about himself sometimes; it's about respecting boundaries."
Denaro said she's seen indications Junaid enjoys their interactions, especially when he sent her a message via What'sApp: "Good night, Miss Victoria." (Students and tutors are not permitted to communicate outside of their sessions.)
The details she's picked up about Junaid have compelled Denaro to reflect on the differences in their day-in/week-out lives, and the perspectives about poverty and equality she's carried with her.
"But it's not about me, it's about him. If I can challenge my preconceptions, that's fine. What I really want is for Junaid to get something out of all this. I'm not going to go around congratulating myself, 'Wow, I taught Junaid subtraction'; it's far more important to be able to say, 'Junaid knows how to do subtraction.'"

Although Natasha Munroe, a sophomore from West Palm Beach, Fla., majoring in political science, is no stranger to Jamaica—both her parents were born there, and she's made many visits to the island—she was largely unfamiliar with the part where her tutee Alexxis lives.
"I see it through Alexxis' eyes. Everything seems so far from her and her family. They don't have access to the opportunities and resources that other people have had, including my parents."
For Gerald Mastellone '23, a biology major from Cleveland, hours spent working with Kelvin on memorizing and spelling out the days of the week or reading books are full of "little moments" that point the way forward.
"Life is all about making a plan, and what you do when that plan doesn't work out. You just keep looking for the door that can lead to something better, and when you do you build from that. Service is about education, and I'm learning about my patience and ability to make plans, but also about how Kelvin sees things. And I want to make sure he knows people care about him and are proud of him."
Sacco said the program, when it ends in the second week of April, will have some kind of closure for the tutors and children, such as a group Zoom session, along with certificates and other mementoes. Hopes for the partnership to continue are strong all around, including with the May River Primary School and the children's parents, he said.
Sean Smith, Phil Gloudemans, Kathleen Sullivan | University Communications | March 2021