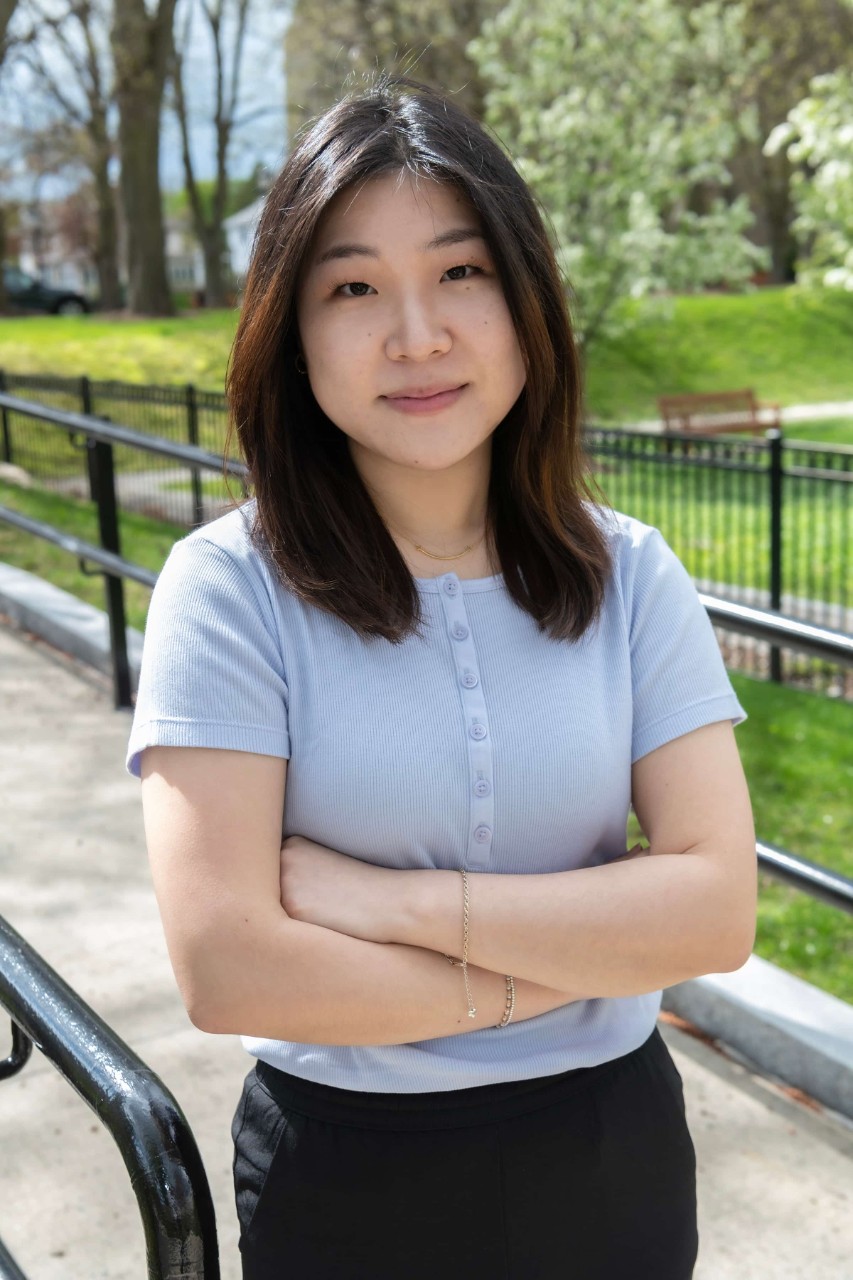 Hometown: University Place, Wash.
Major: Applied psychology; minor in cybersecurity and design

Notable Activities/Achievements: Served as a cybersecurity intern for the Lynch School's undergraduate office and conducted an internal cybersecurity audit to identify possible vulnerabilities and risks; as a research assistant, conducted an investigation into the intersection of cybersecurity and climate change to reveal areas where information technology security could be utilized to help address long-term shifts in temperatures and weather patterns.

Mentors: Julia DeVoy (Lynch School); Kevin Powers (Woods College)

Post-Graduation Plans: Pursuing a career in cybersecurity; will join the Master of Science in Cybersecurity program at the Woods College of Advancing Studies this fall.
Hong's cross-country journey from Washington state to New England and her four-year experience at Boston College resulted in the classic benefits of "re-planting" in a new and challenging environment: self-discovery, personal growth, confidence building, and potentially, a successful career path in a burgeoning industry. Above all, she's embraced the University's ethos of being men and women for others.
---
What drew you to BC and how has Boston College made a difference in your life?

First, I was impressed by its reputation for academic excellence. Secondly, I was excited to attend college in a completely different part of the country, since I'm from the Pacific Northwest. Thirdly, I found that BC aligned with my personal and professional goals.  I'm very glad to have called BC my home for the past four years; it was definitely an exciting time of continuous exploration and discovery. Through classroom discussions, reflection sessions, and guided conversations among students and faculty, BC encouraged me to personally reflect and examine my decisions by connecting course materials to my own experiences, allowing me to work on becoming a better person. I also think BC's overall culture and emphasis on becoming men and women for others has significantly influenced the way I approach the world and inspired me to live a more meaningful life of compassion and service.


What BC experiences had the most significant impact on you?

The Lynch School's amazing program [Design for ImpACCt] provided opportunities for me to collaborate with peers from different parts of the country, to step outside of my comfort zone, expand my horizons, and discover new aspects of myself and the world around me.

For example, at the Atlantic Coast Conference-Academic Leadership Network ImpACCt Design Summit, I was a member of an interdisciplinary and cross-ACC team charged with designing innovative solutions for complex, real-world problems using human-centered, multi-perspective approaches. We proposed "Pod Connect," a multi-purpose modular tool for installation in underground train stations to provide access to resources, emergency services, and to increase safety in the absence of stable Wi-Fi.  Also, my dean, Julia DeVoy, a few undergraduates, and I were invited to present at the 2023 International Conference on Gender Research at Ulster University in Northern Ireland, where we shared our findings on the environmental and gendered health effects from post-consumer textile waste.

What was your favorite class?

Courage to Know, which I took during my freshman year. This course had a significant impact on me by allowing me to explore fundamental questions about myself and my future. I gained a deeper understanding of my values, interests, and goals, which has since guided me through my academic and personal journey.

Another course that had a profound and transformative impact on my life was Experience, Reflection, Action, a first-year program at Lynch. This class not only served as my introduction to the fascinating and ever-evolving field of cybersecurity, but also provided a unique and intentional approach to cultivating a holistic sense of self, community, and purpose. The program's focus on design thinking and ethical reasoning also fostered a culture of creativity and innovation that empowered me to think critically and resourcefully about the world around me. I was encouraged to consider the ethical and societal implications of my decisions, and to strive towards making a positive impact in my community and beyond.

Consequently, I learned more about myself while also learning practical skills and tools to design and solve complex issues.

What will you miss most about BC?

I'll miss the people at BC the most because I can confidently say that they are the kindest and most caring individuals I've ever met.
Phil Gloudemans | University Communications | May 2023