Members of the band Photo Negative in the BC Recording Studio. (Photos by Lee Pellegrini)
What's the hardest part of being in a college band? For the five members of Photo Negative, it was coming up with a name that wasn't "totally crappy."
"Our first band name was Quiplash, which doesn't work, and we did a year as Tough Lettuce," recalled Carroll School of Management student Matty Hogan '22. "We played a show as The Kick Ons and then decided we didn't like that either."
A four-month-long text chain yielded enough ideas to fill a 13-page Google Doc, and inspired a song called "NBN" (New Band Name). Eventually, the group settled on Photo Negative, because "it was the least bad," said Carroll School student Ben Crandall '23. "Plus we were about to put our first single out on Spotify and we needed a name."
Other aspects of band life have come easier to the five undergraduates, who have been writing, recording, and performing together for the last three years. They released two singles in 2021 (a third is on the way), and took home the top prize at BC's Battle of the Bands competition in May. On December 4, they'll play their biggest show to date, taking the stage at the Paradise Rock Club as one of the opening acts for Juice, an eclectic seven-piece rock band that originated at BC in 2013.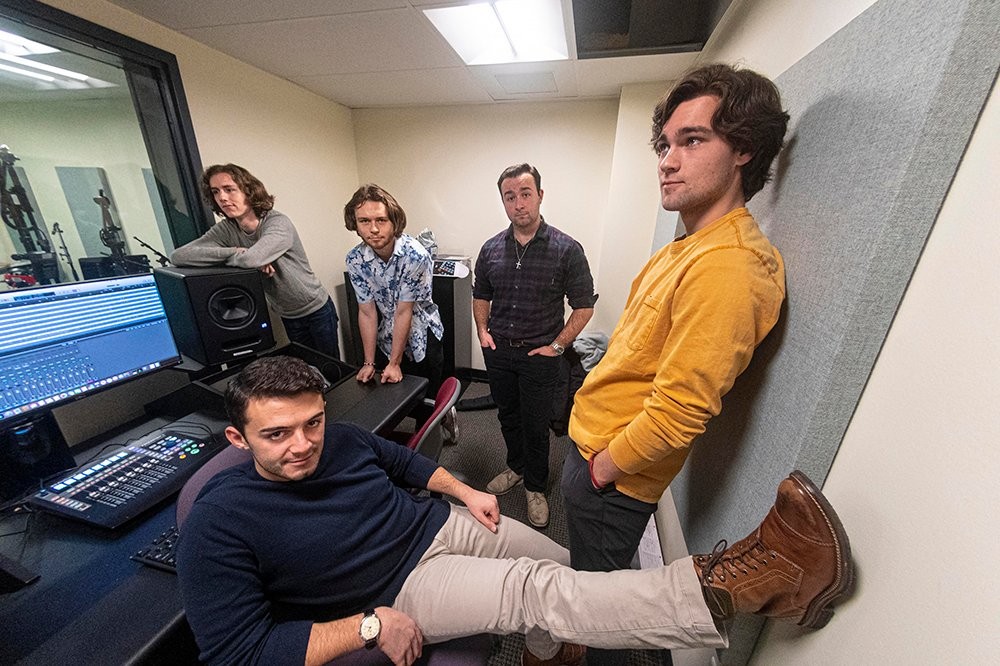 "We were playing a show outside on Parents Weekend and their lead singer just happened to walk by," Hogan explained. "It was a 'right place, right time' kind of thing and now we're playing at our first real venue, which we're super excited about."
All five members of Photo Negative arrived at the Heights with musical experience and aspirations. Drummer Éamon Laughlin '22, an English and political science major at the Morrissey College of Arts and Sciences, and saxophonist Stephen Ventura '22, a finance major at the Carroll School, have been playing their respective instruments since elementary school, and Crandall started playing guitar at 10 years old. The son of a classical flutist, economics major Nicky Straub '22 studied cello as a 7-year-old, performing in concerts where "no one's allowed to talk and you wear your nice shirt," before picking up the bass guitar. Hogan, who shares lead vocal duties with Crandall, taught himself to play guitar as a high school freshman with the goal of someday being in a college band.
The group's initial sound took inspiration from well-known alternative rock bands like the Red Hot Chili Peppers, but evolved as they spent more time experimenting with chord structures and drumming patterns during weekly jam sessions.
"Early in the process we were just writing songs to see if it was something we could actually do," said Ventura. "Now it's more about finding a pocket of sound we fit into. I think there's some more funk and punk in there now."
The band members share an appreciation for all types of music, but their personal tastes are varied. In rehearsals, it's not uncommon for Crandall to pull an element from a Grateful Dead song while Laughlin shares inspiration from the indie rock group Hippo Campus.  
"Some bands are just groups of friends that all listen to the same exact type of music and we're not like that," said Crandall. "I think that's cool because I'll bring something, Matty will bring something else, and we'll both tug each other into the middle and find some entirely new sound. We're not copying anything because we're not trying to sound like any one thing."
Photo Negative's current discography includes four singles, recorded in BC's state-of-the-art recording studio, and one EP—"A Great Big Hole in the Wall"—which the band members wrote and recorded remotely in the spring of 2020 after being sent home during the COVID-19 pandemic. Their two most popular songs—"2 AM" and "Modset"—have been streamed a combined 4,000 times on Spotify.
The band shines brightest during live performances—whether it's an open mic night, a Quadstock party, or an off campus gathering—playing a high-energy mixture of original music and covers of songs by artists like The Kinks and Fountains of Wayne. Through the Music Guild, a student-run organization that supports musicians and live concerts on campus, the band helped put together three COVID-safe outdoor shows for the BC community this past year, giving them a chance to test out new material in front of a live audience.
This Saturday, they'll trade the lawn in front of O'Neill Library for a stage that has hosted rock-and-roll legends for over 40 years. And then on Monday, they'll head to class and look forward to sitting around playing music with friends. 
"We're really just having fun with it," said Ventura. "It doesn't feel rigid, it doesn't feel like a grind; it feels like we're all here because we love to do this." 
Alix Hackett | University Communications | December 2021