BC's inaugural seafood ambassadors Morgan Santaguida '25, at left, and Victoria Newton '23 share a passion for sustainability and the environment. (Photo by Caitlin Cunningham)
It looks like a character from an underwater horror film, but monkfish—a deep water bottom-dweller harvested in the northern Atlantic Ocean—is both sustainable and delicious, says BC Dining's Associate Director of Food & Beverage Frank Bailey. Now he just needs to convince more students to eat it. 
"There's so much we can do with it, but it's really ugly," he acknowledged. "It's essentially a tail and a giant pair of jaws, so you can't market it using pictures. Plus 'monkfish'? I don't know if that's the best name in the world, and it's certainly not recognizable."

In the spring of 2021, the Gulf of Maine Research Institute reached out with a potential solution: a student ambassador program focused on local seafood. Bailey saw the opportunity as a win-win. Students would have a better shot at influencing their peers' food decisions than dining administrators, and they'd gain real-world experience working with a non-profit marine science center. The following fall, Boston College became one of five colleges and universities in New England selected to participate in the initiative, sponsored by the National Marine Sanctuary Foundation. 

BC's inaugural seafood ambassadors, Morgan Santaguida '25 and Victoria Newton '23, shared a passion for environmental issues and were familiar with coastal ecosystems. Santaguida, a communication major with a double minor in marketing and environmental studies, comes from a family of fishermen, including some based in Maine, while Newton, a biology major and environmental studies minor, has a love for the ocean and marine biology. Both were already involved in environmental and sustainability clubs on campus when they saw Bailey's flier advertising the ambassador program. 

"When I saw it was with GMRI I thought it would be an awesome opportunity to work with a non-profit and BC Dining at the same time," recalled Newton. "It seemed like the best of both worlds for an internship." 

The pair visited GMRI headquarters in Portland, Maine, where they met with fishermen and learned about the local industry before designing a project that combined research and marketing to promote local seafood consumption at the Heights. To get a handle on students' preferences and decision-making around seafood, they administered a campus-wide survey asking their peers what dishes they preferred and why. Some of the results were surprising. 

"One of the biggest takeaways was that nutrition and health were the biggest drivers for students, and people didn't really know or care as much about the sustainability side of seafood," said Santaguida. "We realized we had to tailor our marketing towards the nutritional side, saying 'these are the health benefits of local monkfish' and things like that, while increasing awareness around sustainability."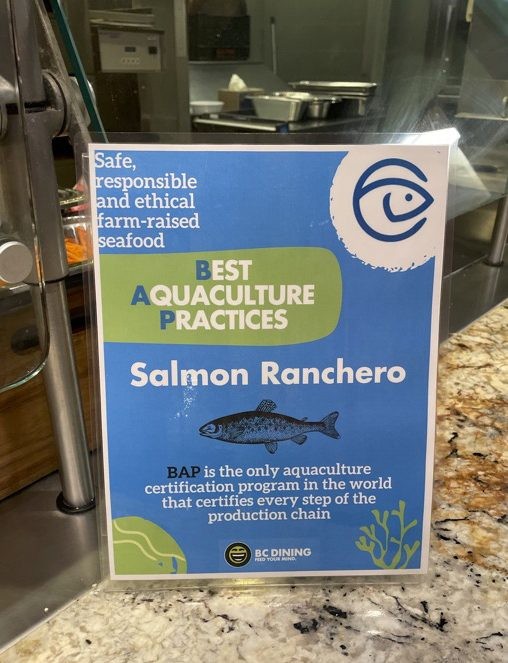 Selecting local and sustainable seafood for BC's dining halls has been a priority for Bailey and his colleagues for years, and they have the purchasing power to make a difference: between August and December of 2021, more than 3,400 pounds of local seafood was delivered to Chestnut Hill, from squid rings to littleneck clams. The survey results helped Bailey realize that this information wasn't reaching the intended audiences.
"The vast majority of our fish is GMRI certified—it's sustainable, regional, and responsibly harvested—and we have other certifications as well," he said. "The weird secret is that we've been doing this for a really long time; we've just been terrible at getting the word out."
Using the survey results as a guide, Newton and Santaguida designed eye-catching fliers introducing students to ingredients like monkfish while explaining what a GMRI certification actually meant, and posted them strategically in dining hall lines and on display screens across campus. This past spring, they collaborated with BC Dining's FRESH to Table initiative to host events where students could taste and learn more about less common local species. A demonstration featuring a Thai Curry Monkfish dish helped make dozens of skeptical students into monkfish converts.
"It was initially hard to get people to eat it but once you told them it tasted just like lobster they were all for it," said Newton. "It was really positive feedback, which was nice to hear."
Salmon remains the most popular fish served at BC, but the BC culinary team has started introducing species like pollock and Acadian redfish in recipes like fish tacos, where their unfamiliar names are less likely to draw attention. Monkfish, which is fast growing, low waste, and not overfished, remains Bailey's favorite sustainable ingredient (despite a seafood allergy, he's participated in several blind tastings to explore alternate species).
Last month, Newton returned to GMRI's Portland offices to deliver a presentation on the results of the survey and marketing efforts, marking the end of her and Santaguida's ambassadorship. Both students said they appreciated the chance to immerse themselves in an increasingly relevant field while putting their marketing and social media skills to work.
"It's cool to take what you're learning in the classroom and apply it in a practical way," said Santaguida. "I've always been someone who was very eco-conscious about what I ate so it was amazing to work with experts in the field of sustainable food and to make a difference in the small way that we did."
Alix Hackett | University Communications | July 2022