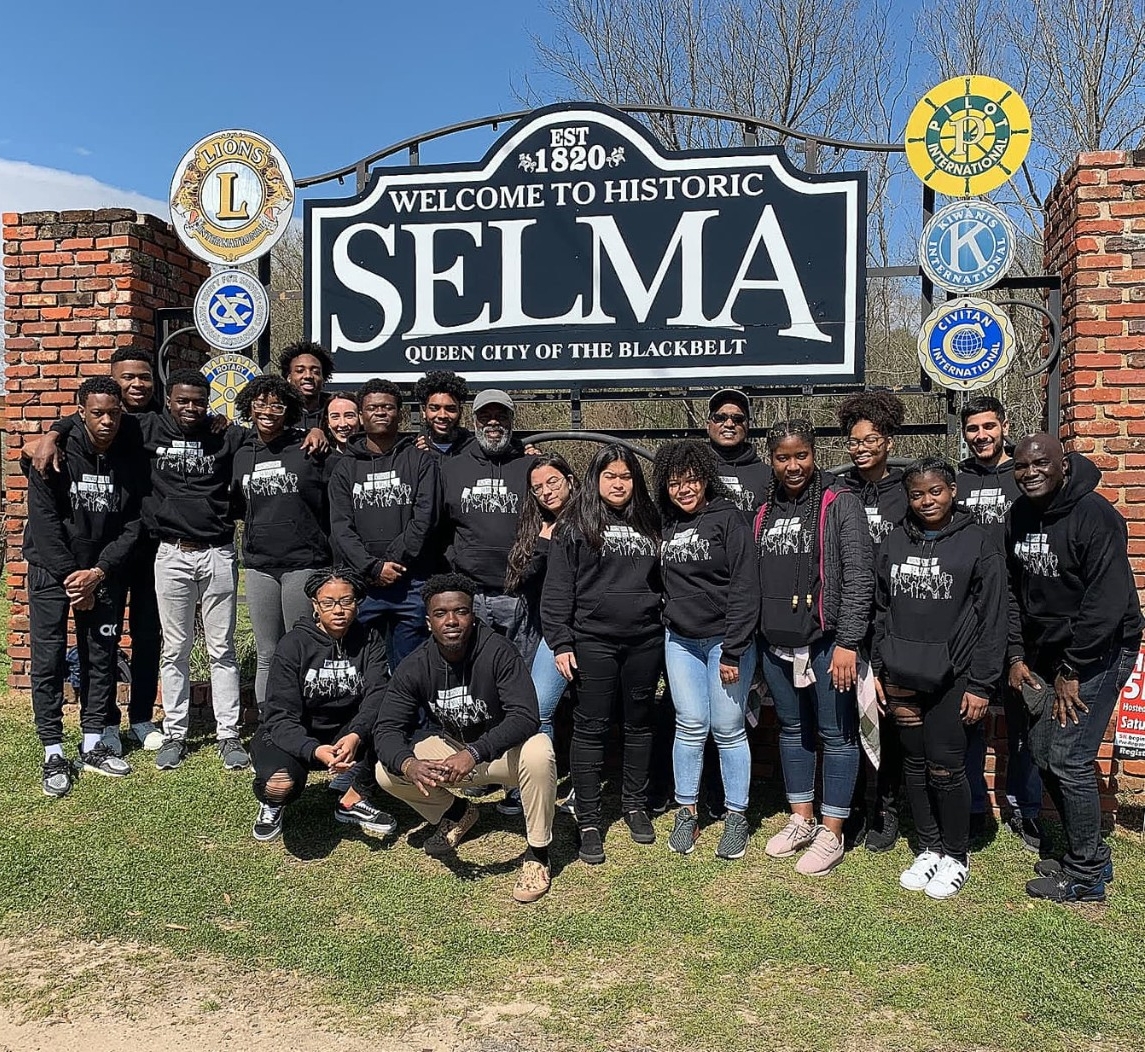 On March 7, 1965, nearly 600 voting rights advocates were brutally assaulted by armed police officers during a confrontation at the Edmund Pettus Bridge outside of Selma, Alabama. The event, which was captured by television cameras and broadcast across the country, became known as "Bloody Sunday," and was a catalyst for the passing of the Voting Rights Act five months later.
Last Thursday, on the 54th anniversary of the attack, 15 Boston College students walked solemnly beneath the bridge's painted steel arch, reflecting on its violent history. Before leaving, they came together to pray.
"Evil took place right here," said Michael Davidson, S.J., director of BC's Thea Bowman AHANA and Intercultural Center. "How can we move from hatred to love in 2019?"
At the time, the group was midway through the Magis Civil Rights Immersion Trip, a six-day tour through Georgia and Alabama with stops at major sites related to the civil rights movement. Earlier in the week, students visited the tomb of Martin Luther King, Jr. and toured the Rosa Parks Museum, located at the site of her arrest.
The trip, which coincided with BC's Spring Break, encouraged students to gain a deeper understanding of historic events, and of their own place within the continued battle for racial equality in the United States.  
"Part of understanding who we are as individuals is an appreciation of where we come from and the history of struggle by our forebears that allows us to experience the liberties we take for granted these days," said Fr. Davidson, who designed and led the trip with Special Assistant to the Vice President of Student Affairs Dan Bunch and Associate Director of the Thea Bowman AHANA and Intercultural Center Danielle Date. "The civil rights movement is a pivotal part of this for many of us, white and black alike."
For Bianca Lopez, a first-year student in the Connell School of Nursing, the most memorable part of the trip came during a visit to the recently-opened National Memorial for Peace and Justice in Montgomery, Alabama. The memorial features 805 hanging steel rectangles, representing each of the counties where a documented lynching took place.
"It was very impactful because I knew it happened, and I knew it happened in the South where I'm from," she said, "but seeing the names of the people who were lynched in places I pass by in my daily life back home connected with me on a personal level."
As they toured various sites, students drew context from a course on the civil rights era taught by Associate Professor of History Martin Summers. Each evening, they reconvened for an hour of reflection, sharing how it felt to be physically present in places they had previously learned about in the classroom.
As they discussed everything from lynchings to mass incarceration, Fr. Davidson encouraged students to consider all issues, both past and present, with "facts but also with hope." This message hit home for Lopez, who was struck by a similar message she received during a tour of the Dexter Avenue King Memorial Baptist Church.
"The woman guiding us was telling us that we should choose to love instead of hate, and I think that was the overall takeaway from this trip—learning how to stand up for what you believe in but to do so in a respectful way," she said. "You're choosing to love those who don't necessarily show that emotion towards you."
—Alix Hackett | University Communications | March 2019