Boston Marathon bombing survivors Jessica Kensky and her husband, Patrick Downes '05, with Conor McCormick '22, second recipient of the scholarship created in their honor. Kensky's service dog, Rescue, is at her side. (Photos by Lee Pellegrini)

Boston College freshman Conor McCormick has received the second annual Boston College Strong Scholarship, presented by Boston Marathon bombing survivors Patrick Downes '05 and his wife, Jessica Kensky, at a campus ceremony on April 22. The scholarship fund, established in their honor by Downes' classmates from the Class of 2005, supports Boston College students who have overcome adversity.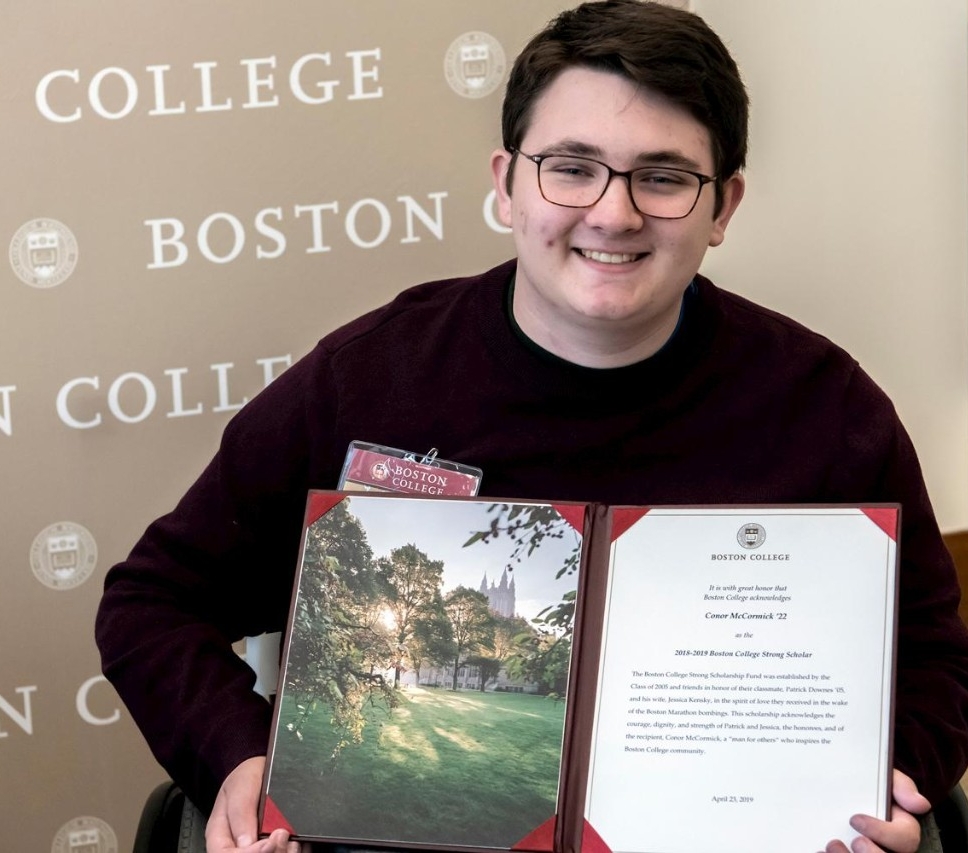 When he was 16, a tragic swimming pool accident left McCormick, of West Springfield, Mass., paralyzed from the waist down. After surviving multiple surgeries and life-threatening infections, McCormick is now enjoying his freshman year at BC, where he navigates campus in a wheelchair.

"A year ago I could not imagine being in this spot," said McCormick. "I believed that I lost my independence and that my physical disability would transcend to both my social and academic experience as well. But it all changed with one phone call from [BC Vice Provost for Enrollment] John Mahoney to my guidance counselor, and with the steps this committee made so that I can come to this school."

After Downes and Kensky were gravely injured at the Boston Marathon finish line in 2013, Downes' friends and classmates raised money for the scholarship to honor their strength and resiliency.

"What happened to Patrick and me was very public and therefore there was a huge response, a tidal wave of love and support from Boston and beyond," said Jessica Kensky. "Since our lives were turned upside down, we have met so many people who have been overcoming obstacles much greater than ours but more anonymously and more quietly. One of the goals of this scholarship is to harness that love and support and feed it to others."

"This young man embodies perfectly the BC Strong spirit, having overcome great adversity while continuing to excel in his academic, community, and spiritual pursuits," said Downes.
"

A year ago I could not imagine being in this spot. I believed that I lost my independence and that my physical disability would transcend to both my social and academic experience as well. But it all changed with one phone call from [BC Vice Provost for Enrollment] John Mahoney to my guidance counselor.

"
McCormick is currently studying biology in the Morrissey College of Arts and Sciences and plans to become a doctor.

"I am filled with overwhelming gratitude because this gift that was given to me is extraordinary," said McCormick. "I want to thank everyone who invested a part of their lives to provide me with possibly the rest of my life."
Christine Balquist | University Communications | May 2019