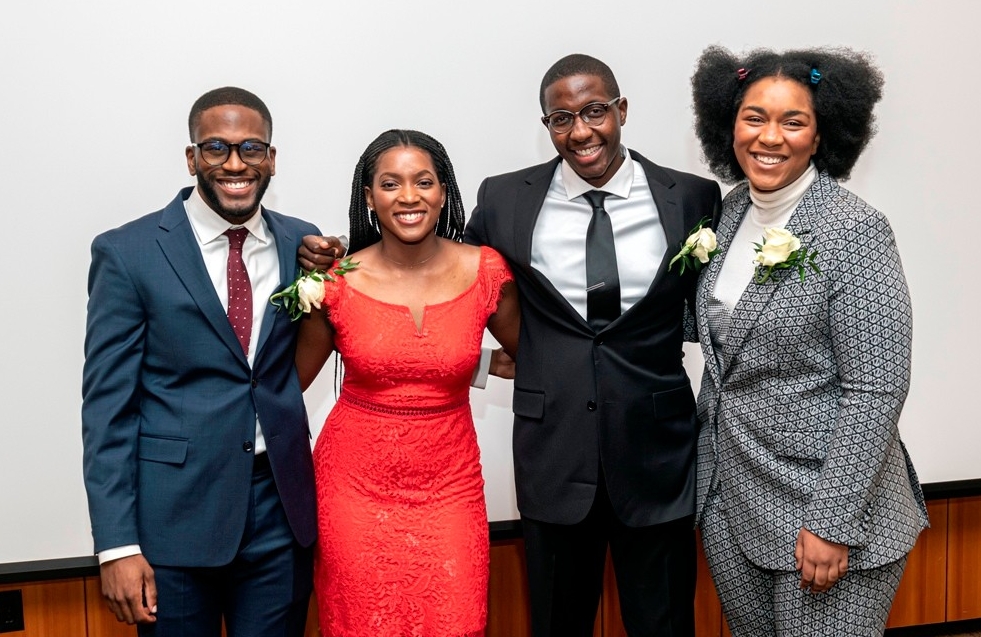 2020 Martin Luther King Jr Scholarship winner Shakalah Thompson (second from left) with MLK Scholarship finalists (l-r) Langston Swafford, Daniel Adedeji, and Kathryn Destin. (Not pictured Berlindyne Elie). Photo by Justin Knight.

---
Daniel Adedeji
HOMETOWN: Boston
SCHOOL: Lynch School of Education and Human Development
MAJORS: Applied Psychology and Human Development; Mathematics/Computer Science
Adedeji is a Big Brother in the BC Bigs program and a leader in Boston College's Black Christian Fellowship, which he credits for strengthening his faith and providing a strong sense of community.  He is also a member of Dedicated Intellectuals of the People and of the Compass Mentoring Program.  Adedeji served as a camp counselor at Mildred Community Center and participated in the Learning to Learn Dominican Republic service and immersion trip, where he drew praise for supporting his peers as well as engaging with the communities in the program. Inspired by Martin Luther King's dedication to non-violence, Adedeji sees education as a vehicle to address racial injustice: "My goal is to become a teacher who can shape the minds and hearts of black youth," he wrote in his essay, "so that they can become future men and women of intelligence and character."


---
Kathryn Destin
HOMETOWN: New York City
SCHOOL: Morrissey College of Arts and Sciences
MAJOR: Political Science, with minor in the Faith Peace and Justice Program
Destin spent the fall semester at the London School of Economics and Political Science. Awarded an internship in the Queens (NY) Supreme Criminal Court, she focused on criminal court trials and jury selection. Destin is active in FACES, which provides campus-wide events to raise awareness about racism, and served as a resident assistant in the Perspectives Living and Learning Community, which she says supports first-year students and normalizes black women in positions of authority.  As a member of Abyssinian Baptist Church, she has helped organize programs for college-preparedness in minority communities, and has written on racial justice issues in publications including The Heights. In her essay, Destin expressed her belief that that addressing racial injustice requires "a radical redistribution of political and economic power," a process that begins with education; after graduation, she wrote, she hopes to educate future leaders according to the values of Dr. King.


---
Berlindyne Elie
HOMETOWN: Irvington, NJ
SCHOOL: Morrissey College of Arts and Sciences
MAJOR: Africa & African Diaspora Studies, with minor in Philosophy
Elie  serves as a legal intern for the Boston College Innocence Program, where she works with attorneys, investigators, and clients to exonerate those who are wrongly convicted by the criminal justice system. She maintains a vlog, which she describes as a "visual depiction of my college experience as an inner-city first-generation, low-income woman of color." As a teaching assistant for the class #BlackLivesMatter to #MeToo, taught by African and African Diaspora Studies Director Shawn McGuffey and Romance Languages and Literatures Associate Professor Regine Jean-Charles, she assisted with class maintenance, hosted study sessions, and led weekly reflections. Elie is events coordinator for the Haitian Heritage Association and Black Student Forum and was intercultural chair for the Undergraduate Government of Boston College. King's radical faith and fearlessness has inspired her own activism on racial justice at BC, wrote Elie, who will seek to pursue a career in law, with a focus on criminal justice reform and civil rights.


---
Langston Swafford
HOMETOWN: New Orleans
SCHOOL: Morrissey College of Arts and Sciences
MAJOR: English, with minors in Management and Leadership and African & African Diaspora Studies
Swafford was president of the New Orleans chapter of Jack and Jill of America Inc., an organization that works to nurture young African American leaders and give back to the African American community, where he volunteered for 13 years at food banks, schools, community centers, and churches. He spent last summer as an intern for the Orleans Parish Criminal District Court, where his research focused on criminal justice reform; he plans on interning this summer at the State of Louisiana Court of Appeal, Fourth Circuit. His most significant extracurricular activity is with Dedicated Intellectuals of the People, which he describes as having "given me a platform to voice my beliefs, give a piece of myself, and has allowed me to give younger students an ear whenever they too feel like outsiders." He plans to continue using his voice to bring to the forefront the unique struggles faced by African Americans.
Material provided by the Martin Luther King Jr Memorial Committee | Read about Shakalah Thompson, the 2020 MLK Scholarship winner.