Boston College Assistant Professor of Chemistry Masayuki Wasa has been awarded a prestigious 2019 Sloan Research Fellowship by the Alfred P. Sloan Foundation.

Wasa is among the 126 outstanding U.S. and Canadian researchers chosen this year to receive the fellowships, which are given to early-career scientists and scholars whose achievements and potential identify them as rising stars among the next generation of scientific leaders.

A native of Japan who moved to the United States as a youth, Wasa earned a Ph.D. at The Scripps Research Institute and carried out his post-doctoral research at Harvard University. He joined the Boston College Chemistry Department in 2015.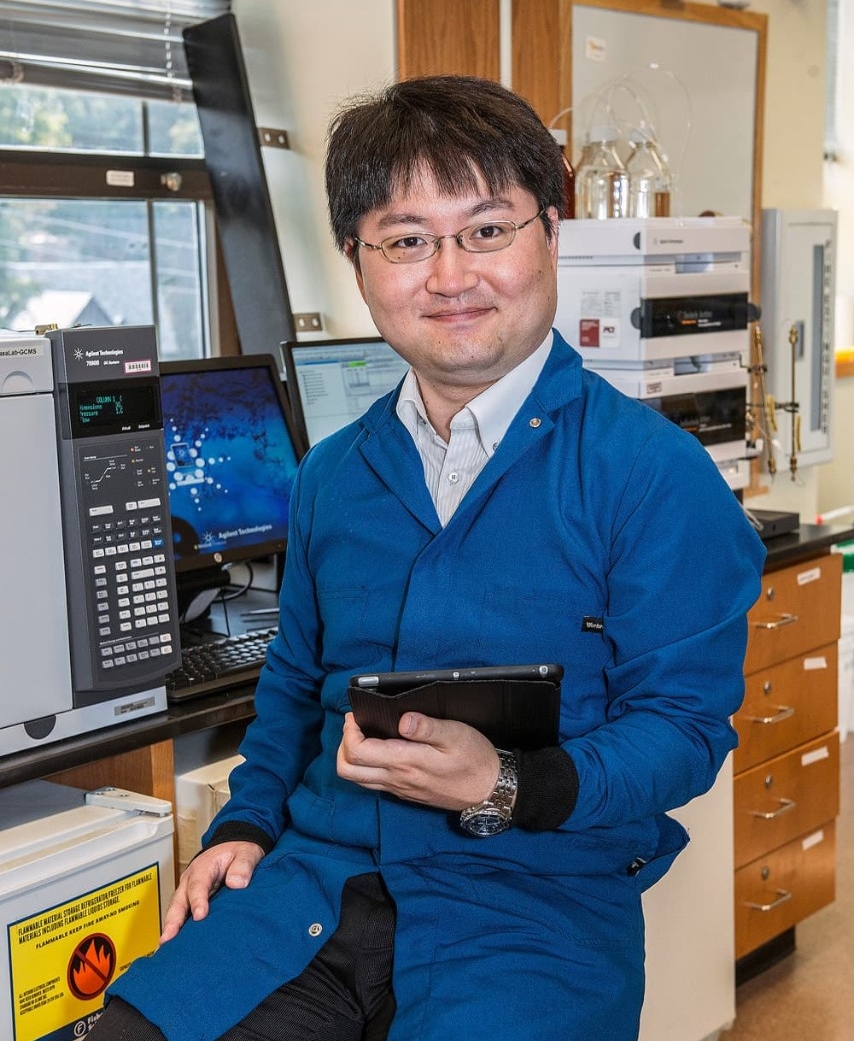 "I'm honored to be named a 2019 Sloan Research Fellowship recipient," says Wasa. "I am grateful to the foundation, to the researchers in my lab, and to my colleagues and Boston College for all the support I have received."

Wasa's research focuses on the development of novel catalysts to support the discovery of new synthetic methods that can be used to prepare biologically active molecules and pharmaceuticals. His research is also funded by the National Institutes of Health.

"My young colleague, Professor Masayuki Wasa, is truly deserving of this prestigious recognition," says Amir Hoveyda, the Patricia and Joseph T. '49 Vanderslice Millennium Professor of Chemistry, who nominated Wasa for the award.

"In just a small number of years he has been able to establish a well-funded and highly dedicated research group, one that is engaged in enviably creative and high-impact investigations in catalytic chemistry," Hoveyda adds. "My colleagues and I have no doubt that there is much more to come, and that this is only the beginning."

Wasa's research focuses on a class of chemical reactions that melds an organo-borane catalyst and an amine catalyst, a combination also referred to as frustrated Lewis acid/Lewis base catalysts.

"The type of chemistry we are developing in our group may be applicable to the discovery of new drugs," says Wasa. "Pharmaceutical companies and academic researchers are investigating efficient and selective ways to modify the structure of drug molecules in order to improve their potency and also to reduce the dosage into the human body. We have demonstrated that some of our methods can achieve the derivatization of those pre-existing drug molecules used for the treatment of Alzheimer's Disease or cancer."

"

Sloan Research Fellows are the best young scientists working today. . .To be a Sloan Fellow is to be in the vanguard of twenty-first century science.

"
Wasa, whose father is a physician, says he knew as an undergraduate that he wanted to be a scientist whose work strives to improve human lives.

"I know that being a medical doctor is a great way of saving lives," says Wasa. "But I also thought that being a chemist working to prepare new pharmaceuticals could be an effective way of saving people's lives as well. That is our ultimate goal."

Wasa says the Sloan award would support a range of projects in his research lab. "I have several directions I would like to work on," he adds.

Wasa joins a number of other BC faculty who have received Sloan Foundation Fellowships, including faculty in the departments of biology, chemistry, physics, psychology, and mathematics.

Administered and funded by the Sloan Foundation, the fellowships are awarded in eight scientific fields—chemistry, computer science, economics, mathematics, evolutionary and computational molecular biology, neuroscience, ocean sciences, and physics. Fellows receive $70,000 to be used to further their research.

"Sloan Research Fellows are the best young scientists working today," says Adam F. Falk, president of the Alfred P. Sloan Foundation. "Sloan Fellows stand out for their creativity, for their hard work, for the importance of the issues they tackle, and the energy and innovation with which they tackle them. To be a Sloan Fellow is to be in the vanguard of twenty-first century science."

Past Sloan fellows have gone on to receive some of the highest honors in science, engineering, economics, and mathematics, including 47 Nobel Prizes, 17 Fields Medals in mathematics, 69 National Medals of Science and 18 John Bates Clark Medals in economics.

Ed Hayward | University Communications | February 2019