Laos is among the prospective host countries for BC alumni who have been selected for Fulbright awards. (U.S. Department of State)

Nine Boston College alumni—including three members of the Class of 2022—have been selected for coveted Fulbright Scholarships, which support a year's post-baccalaureate study abroad.

Sponsored by the United States Department of State's Bureau of Educational and Cultural Affairs to support academic exchanges between the United States and more than 150 countries around the world, the Fulbright U.S. Student Program provides grants to college graduates, graduate students, and early-career professionals for individually designed study or research programs and English teaching assistantships abroad.
Nearly 600 U.S. colleges actively participate in the Fulbright Program. Recipients are chosen on the basis of academic merit and leadership potential.  

BC has been ranked consistently among the nation's top producers of student Fulbright winners, according to statistics compiled by The Chronicle of Higher Education. The University was 15th among doctoral institutions in the most recent survey.

Like many study-abroad programs, the Fulbright has been disrupted by the COVID-19 pandemic. In 2020, the program halted in-person exchanges for U.S. participants, resuming them on a country-by-country basis the following year. In March, the Fulbright Program announced that in-person exchanges would be based "on the operating status of the host institutions, the administrative resources in place at the U.S. Embassy or Fulbright Commission to support participants while on their program, the availability of international travel and visa services, and the capacity of local facilities to protect public health."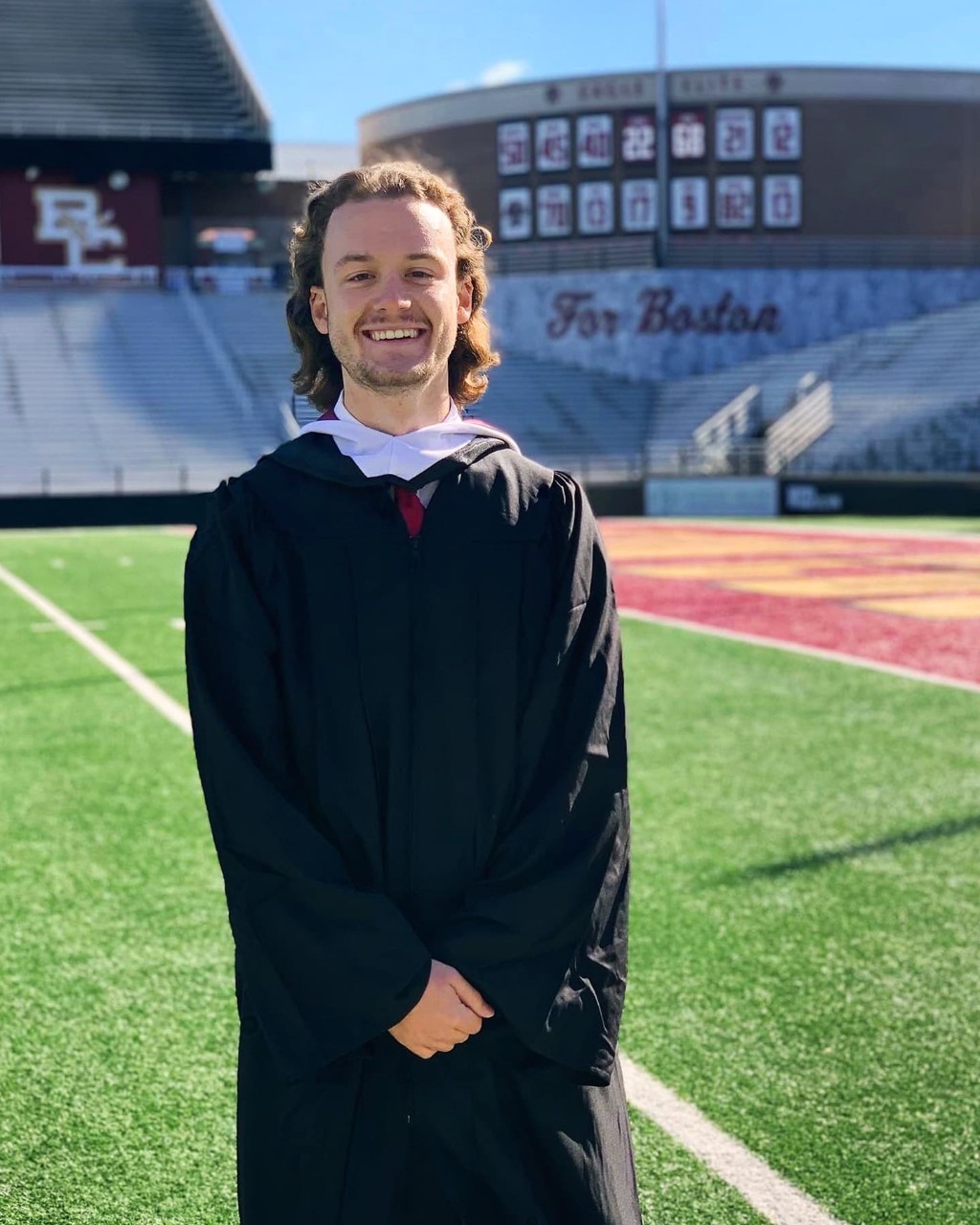 Political Science Professor of the Practice Paul Christensen, BC's Fulbright administrator, said the selection process was more competitive this past year, as more students from the U.S., including a record number from BC, sought Fulbrights than in previous years. Many students who missed out on study-abroad opportunities due to the pandemic—as well as some students unable to pursue their Fulbright projects because of COVID—applied or reapplied, he noted. In addition to the eight BC graduating seniors and alumni who won Fulbrights this year, eight others were named as alternates.

"I want to congratulate all the students who applied, and I hope that those students who received grants this year will have the opportunity to take them up," said Christensen, who also expressed gratitude to the Fulbright advising team, as well as "all the BC faculty and members of the administration who assist our students with their applications and support this important program."

Iulia Boboc '20
HOMETOWN: Dumont, NJ
DESTINATION: Spain
PROJECT: Holding speech and acting classes that culminate in a community performance of a series of mini-plays, intended to highlight how different cultures represent and handle the same topic. This project aims to build student confidence in oration and performance while sparking community conversations about different cultural values and societal norms.  
FUTURE PLANS: Will return to the learning academy where she works as an assistant director and English teacher "and use what I've learned in Spain to better serve our students."  

"I would not have gotten this Fulbright without BC. Spain Fulbright requires intermediate Spanish, but I actually never took Spanish in college. However, while studying abroad in Spain my junior year, BC allowed me to take my classes in Spain completely in Spanish, which improved my language skills enormously and gave me the credentials to apply. Some of my fondest memories in college in general were from acting classes I took with BC's Patricia Riggin, who showed me the strength, connection, and sanctuary that good training can lead a performer to find on the stage. If I can lead my students to feel 10 percent of what I was able to feel in her classes, I would consider my project a complete success."


Mariana Ferreira '21
HOMETOWN: New Canaan, Conn.
DESTINATION: Spain
PROJECT: Received a Fulbright/IE University Award to study for a master's degree in international (sustainable) development at IE University in Madrid.
FUTURE PLANS: Pursue a career in sustainable development, general sustainability, or corporate responsibility field.

"As an International Studies major, I gained an interdisciplinary perspective on global ethics and justice through courses in political science, sociology, history, and economics. I dedicated my college years to exploring societal issues at the local to international scale. My experiences helped me form a deep and nuanced understanding of complex issues, including refugee crises, the causes and implications of climate change, and the systemic nature of social inequities. As such, the Master's in International Development program is a natural next step for me because it will help me build out the critical quantitative and analytical skills that are required to tackle complex societal problems.

"Additionally, I came into contact with IE University students through a project I helped lead at BC called Global Conversations, which connects students from around the world via video conference to openly discuss topics that are important to them. In and of itself, this project played an influential role in my decision to apply for a Fulbright grant because of the unmatched value I found in collaborating and having deep discussions with students and faculty members from around the globe. In addition to profoundly enriching my studies, these interactions led me to discover similarities I shared with complete strangers around the world."


Laura Kate Magnuson '21
HOMETOWN: Chelmsford, Mass.
DESTINATION: Greece
PROJECT: English Teaching Assistant at a Pre-K-12 school in Athens; will also be a coach for the school's English debate and theater organization.
FUTURE PLANS: Return to the U.S. and teach in a public elementary school.

"Through the Lynch School of Education and Human Development, I was able to realize my passion for teaching by completing practicums in a variety of surrounding school districts. Through these experiences, I was inspired to research opportunities to teach outside of the United States as a way to broaden my perspective as an educator. I also took several courses about best teaching practices for students who have a native language other than English, and I am excited to put these practices to use next year when I teach Greek students."


Ninutsa (Nina) Nadirashvili  '19
HOMETOWN: Hawthorne, NJ
DESTINATION: Republic of Georgia
PROJECT: An intersectional analysis of Georgian textbooks and how they are taught in the classroom.
FUTURE PLANS: Pursue a Ph.D. in the fields of gender studies or comparative literature; hopes to teach at a university in the U.S. or Europe.

"This was my second time applying for a Fulbright. I was guided by Boston College professors both times and have to give special thanks to Michael Resler and Paul Christensen for their help. The first time, I ended up being a teaching assistant in Austria through a program facilitated by Fulbright Austria, and now I am going to be doing the research aspect instead. Getting advice from the professors at BC has been invaluable and I really would not have been able to do this without them."


Latifat Odetunde '22
HOMETOWN: Providence, RI
DESTINATION: Cameroon
PROJECT: English Teaching Assistantship
FUTURE PLANS: Will pursue a doctoral degree in the University of North Carolina-Chapel Hill Religious Studies Department in hopes of teaching at the university level and continuing her work with the Black Muslim community.

"Through my time at Boston College, I have evolved into a woman who is both spiritually in tune and grounded in my identity as a Nigerian-American Muslim woman. Additionally, I have been able to rediscover who Latifat is in the midst of navigating disbelonging. While at BC I was able to use my education as a sociology and African & African Diaspora double major as tools to have my education serve me. I did this by engaging in research on African Muslim women and then later formed a organization that seeks to amplify Black Muslim experiences. Through BC, I discovered my passion for education. I seek to bring my gifts and experiences to Cameroon in hopes of forming a space where they are able to feel seen, but also where I am able to learn from them."

Clayton Scott '20
HOMETOWN: Syracuse, NY
DESTINATION: Spain
PROJECT: English Teaching Assistant; he also plans to host a high school cooking club.
FUTURE PLANS:  Attend Boston College Law School, focusing on public service.

"At Boston College, I studied political science and Hispanic studies/Spanish. In and outside the classroom I learned the importance of reflection and service to others, which I will continue to live as a Fulbright scholar."

Doan Khue Tran '22
HOMETOWN: Los Angeles
DESTINATION: Laos
PROJECT: English Teaching Assistantship; she will also be conducting a supplementary project on the study and preservation of Laos textile art.
FUTURE PLANS: To attend law school.

"BC's liberal arts curriculum has exposed me to a wide range of subjects, interests, and experiences. This, in turn, has greatly helped me demonstrate my preparedness for the Fulbright grant in Laos."


Peyton Wilson '22
HOMETOWN: Springdale, Ark.
DESTINATION: Germany
PROJECT: English Teaching Assistantship Award; pursue research in architectural theory and city planning/urban design.
FUTURE PLANS: Return to BC on a Dean's Scholarship to pursue a master's in learning engineering at the Lynch School of Education and Human Development; use Fulbright teaching experience to work in educational curriculum design for a social institution, e.g., a museum or university.

"I came to Boston College because I knew that Jesuit values would help me discern what I was meant to do. Every class, professor, club, and job I engaged with pushed me to consider how my actions affect others, and how I can meaningfully engage in service and educational opportunities that lift others whose voices might not otherwise be heard. I was able to refine my educational and vocational interests, and was academically challenged, but more importantly, I was encouraged to use my talents and passions to help others. This Fulbright grant is the perfect opportunity to combine my passions for education, travel, and intentional service."

Chloe Zhou '21
HOMETOWN: San Jose, Calif.
DESTINATION: Taiwan
PROJECT: English Teaching Assistantship.
FUTURE PLANS: To work as a high school English teacher in the school district of Philadelphia.

"I am extremely excited to be teaching English in Taipei this year. As a queer womxn of color, I am passionate about promoting equity in my classrooms and being culturally responsive and anti-racist in my practice. I hope to explore those themes, and the parallels and distinctions in social emotional learning at my school there."


University Communications | June 2022