Photos by Caitlin Cunningham

Morrissey College of Arts and Sciences junior Emma Story, whose interest in politics and government has taken her beyond the classroom since her high school days, is the latest Boston College undergraduate to earn a coveted Truman Scholarship.

The scholarship, awarded by the Harry S. Truman Foundation, supports the graduate education and personal development of accomplished undergraduates committed to public service leadership. A native of the St. Louis area majoring in political science with minors in International Studies and Managing for Social Impact and the Public Good, Story plans to pursue a juris doctorate with concentrations in constitutional and government law.

BC, with 22 Truman Scholars since 1981, is among a select group of colleges and universities designated as Truman Honor Institutions for their encouragement of outstanding young people to pursue careers in public services, effective promotion of the Truman program on their campuses, and sustained success in helping their students win Truman Scholarships.

While a BC student, Story has worked on various campaigns in her home state as well as in Massachusetts. She recently served as a regional field director managing a political action committee's grassroots operations in multiple counties. As a United States Senate intern last summer, Story conducted in-depth research on slave labor, and her findings and recommendations were incorporated into several pieces of government legislation.

She is president-elect of the BC chapter of the Network of Enlightened Women, and a research assistant for Professor of Political Science Peter Krause on issues such as global political violence and political polarization in the U.S.

Animated by a zeal for politics and government that emerged well before her college years, Story believes the on-the-ground, state/local perspective of politics is inseparable from its national and global dimensions, and a willingness—and determination—to look past ideological differences in pursuit of the public good is indispensable.
"

I continue to believe that, difficult as it might be to have political conversations, you need to show compassion and tolerance, and listen to different perspectives. In the past, we've been able to come together as a nation and move forward past our disagreements; that's what we need to do now, even just on a person-by-person basis.

"

Earning a prestigious scholarship whose namesake was one of America's most celebrated presidents is quite fulfilling for Story, especially given that his hometown is in the same state as hers.

"Harry Truman's dedication to public service is definitely inspiring to me as a fellow Missourian," said Story. "He helped create change at both the international and local level, which is admirable."

Story was drawn to BC because of its Jesuit, Catholic character, with an emphasis on faith and service, its strong academic reputation, and the opportunities to pursue research as an undergraduate. She also felt a change of scenery to the East Coast would be a beneficial growth experience. Closing in on the end of her third year at BC, Story feels her decision to come to the Heights has been a sound one.

"Majoring in political science has given me the theoretical and practical side of politics and government, which can be applied in the real world," she said, citing Political Science Department faculty members such as Krause, Kenji Hayao, Michael Hartney, David Hopkins, and Kenneth Kersch for their impact on her intellectual and personal formation. "My International Studies minor has provided a global perspective, through classes on East Asia and Africa as well as political economy and development. And I've learned a lot about digital innovation with the Managing for Social Impact minor. While I'm unsure of my exact career path, I feel that I have a solid foundation with which to study constitutional and government law."

Hayao was so impressed by Story's performance in his Politics of Korea and Japan class he wound up encouraging her to apply for the Truman Scholarship, which he notes has become more competitive in recent years.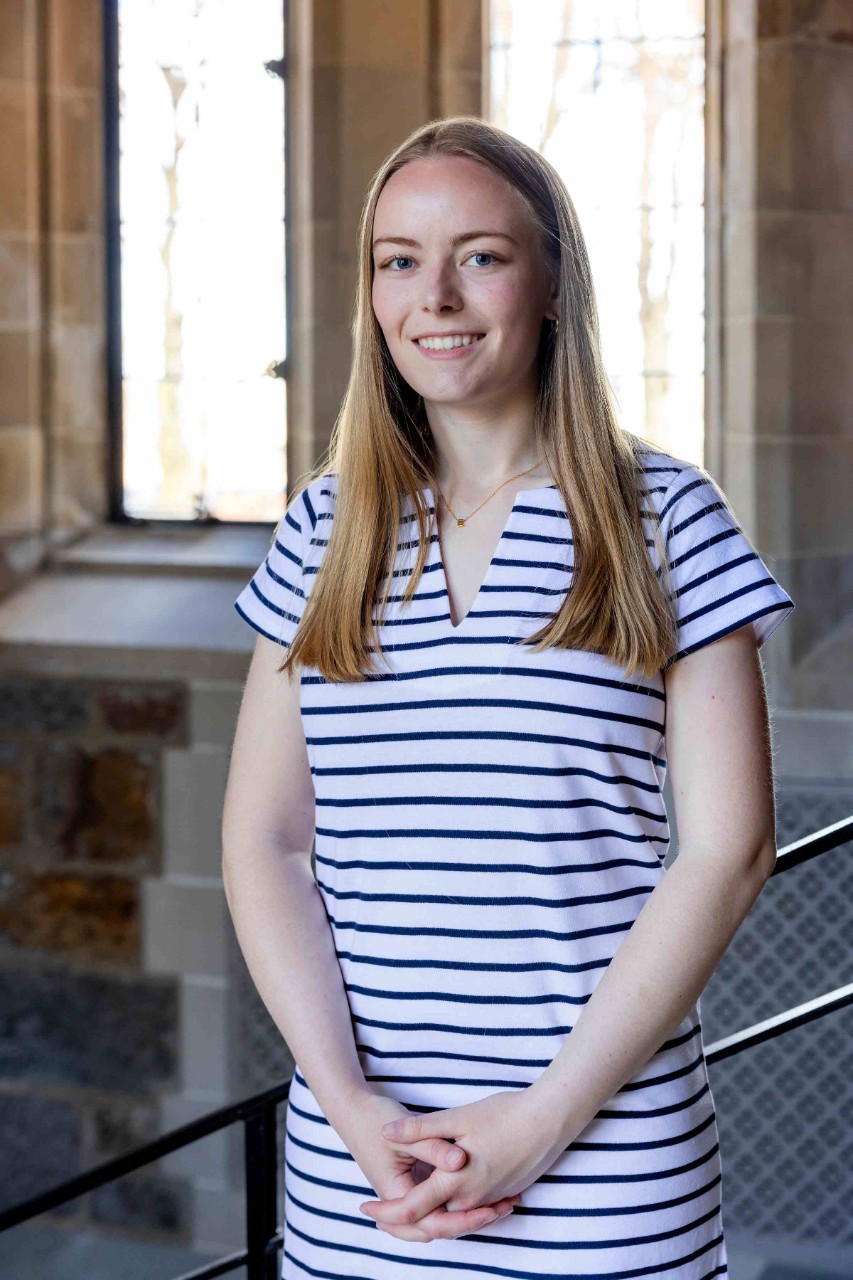 "Emma did excellent work across the board, particularly on her research paper, which focused on the decision of South Korea's President Moon Jae-in to accede to North Korea's requests to prevent anti-NK activists in the South from trying to send information to North Koreans. More than most students, she really dug into the resources available to her to gain an understanding of the issue."

Krause, for whom Story worked as a research assistant on his Political Violence Project, added his praise. "Emma is an incredibly intelligent and hard-working student. She has conducted valuable research with me on polarization and extremism in the United States, the international relations of the Middle East, and the politics of post-war governments. Her work has contributed to peer-reviewed articles, policy memos, and two book projects. She is a worthy recipient of the Truman Scholarship, which I know will further her already deep commitment to public service."

Story also is grateful to those who helped her cultivate an interest in politics and government early on, especially her father, with whom she enjoyed dinner table talks about news and current events. As a high school student fascinated by her state's gubernatorial race, she convinced him to drive her to a candidates' debate taking place in their hometown. Too young to vote in the election, she volunteered for one of the candidates ("I loved it").

During the 2018 midterm elections—which occurred during her senior year of high school—she knocked on more than 10,000 doors and became the youngest field organizer on her campaign team. The summer before college, she embarked on what was essentially an independent study, observing local judges at work and talking with them about the cases they adjudicated.

Experiences such as her Senate internship, and the opportunity to further her study of slave labor—an issue she explored in her Managing for Social Impact classes—have deepened Story's respect for the political process, imperfect and messy though it may be sometimes, especially in this volatile day and age.

"I continue to believe that, difficult as it might be to have political conversations," she said, "you need to show compassion and tolerance, and listen to different perspectives. In the past, we've been able to come together as a nation and move forward past our disagreements; that's what we need to do now, even just on a person-by-person basis."
Sean Smith | University Communications | April 2022