Boston College junior Mikayla Sanchez, who hopes to foster her commitment to social justice through a career in the field of law, is this year's winner of the University's Saint Oscar A. Romero Scholarship.
The scholarship, which covers a significant portion of senior-year tuition, is given annually to a BC junior who has demonstrated superior academic achievement, extracurricular leadership, community service, and involvement with the Hispanic/Latinx community and issues both on and off campus.
The award was presented to Sanchez by BC President William P. Leahy, S.J., at the 30th annual Romero  ceremony on March 26.

"As a second-generation American, I feel the need to persevere and utilize the opportunity so selflessly provided and presented to me by my parents," Sanchez said in remarks following the presentation.
She grew up aware of the poverty and discrimination faced by her mother and father—who emigrated to the United States from the Dominican Republic and Colombia, respectively—and by other Latinx immigrants. She had a powerful experience as an intern in the Boston U.S. Attorney's Office, where she gained a wider understanding of racism in the justice system, which inspired her goal to pursue a career in immigration or defense law.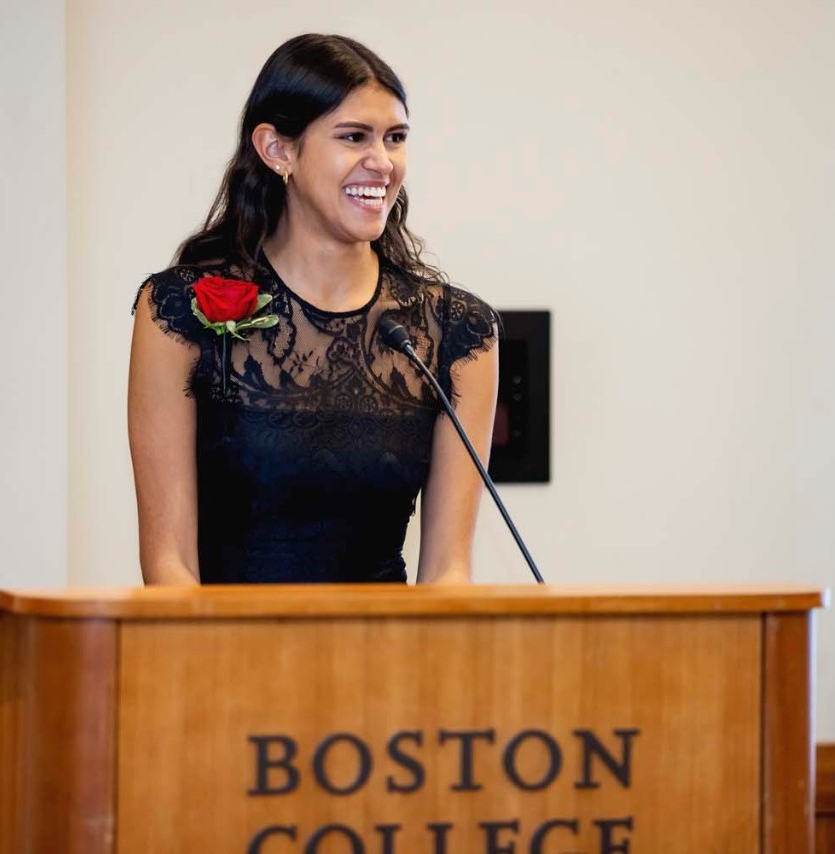 "Saint Oscar Romero's legacy serves as inspiration for me to be a person for others and support my fellow Latinos as we overcome barriers," she said. "His commitment to justice and empathy particularly resonate with me, and continue to inspire me to enter the legal profession and further the life that my family sacrificed so much for me to live."
A double major in history and sociology in the Morrissey College of Arts and Sciences, with a minor in Managing for Social Impact and the Public Good, Sanchez's BC activities include involvement in the Jenks Leadership Program, Student Admission Program, and Organization of Latin American Affairs. She is in the top four-to-five percent of her class, a Bowman Scholar, and a member of the Pi Alpha Theta History Honor Society. A resident of Berkeley Heights, New Jersey, Sanchez is living in Madrid, Spain, this semester, studying at Carlos III University.  
This year's Romero Scholarship finalists were juniors and first-generation students Maribel Andrade and Alberto Juarez, both of whom have distinguished themselves academically and as servant-scholars, through many activities. They will be awarded scholarships of up to $3,000; along with Sanchez, each will receive a $1,000 gift certificate to the BC Bookstore.
Andrade is pursuing a major in biology and a minor in Hispanic studies; her career goals include medical school and assisting the undocumented and other marginalized communities. An orientation leader, she is a member of the Montserrat Coalition Board and the AHANA Coalition Council, and is vice president for STEM & Health Outreach for AHANA.
Juarez, who is double majoring in theology and applied psychology and human development, and minoring in Management and Leadership, is dedicated to the service of others and the community. An ESL teaching assistant at East Boston High School and a catechist at Saint Ignatius Church, he is a Bowman Scholar and Organization of Latin American Affairs community service director.
Also at the ceremony, Ronaldo Rauceo-Ricupero J.D. '07, who said the lessons he learned at Boston College impacted his commitment to his community, received the John A. Dinneen, S.J. Hispanic Alumni Community Service Award. Established in 1993, it recognizes alumni whose work reflects Saint Romero's ideals and Fr. Dinneen's commitment, leadership, and service to the Latino community. Rauceo-Ricupero practices litigation at Nixon Peabody LLP; from 2013-2019, he was named a Massachusetts SuperLawyers Rising Star, a distinction reserved for two percent of attorneys in the Commonwealth.
O. Ernesto Valiente, a School of Theology and Ministry associate professor of systematic theology, delivered the keynote address at the ceremony, which also featured a performance by Latin dance group VIP and remarks from the 2021 Romero Scholar, Morrissey College senior Daniela Vazquez Loriga.
Rosanne Pellegrini | University Communications | April 2022