Above image from the 2018 canonization ceremony for Oscar Romero held in Vatican City. (Marcin Mazur/Creative Commons license)
Daniela Vazquez Loriga '22, a Cuban-American, first-generation college student, and McNair Scholar, is this year's recipient of Boston College's Saint Oscar A. Romero Scholarship.

The scholarship, which covers a significant portion of senior-year tuition, is given annually to a BC junior who has demonstrated superior academic achievement, extracurricular leadership, community service, and involvement with the Hispanic/Latinx community and Hispanic/Latinx issues both on and off campus.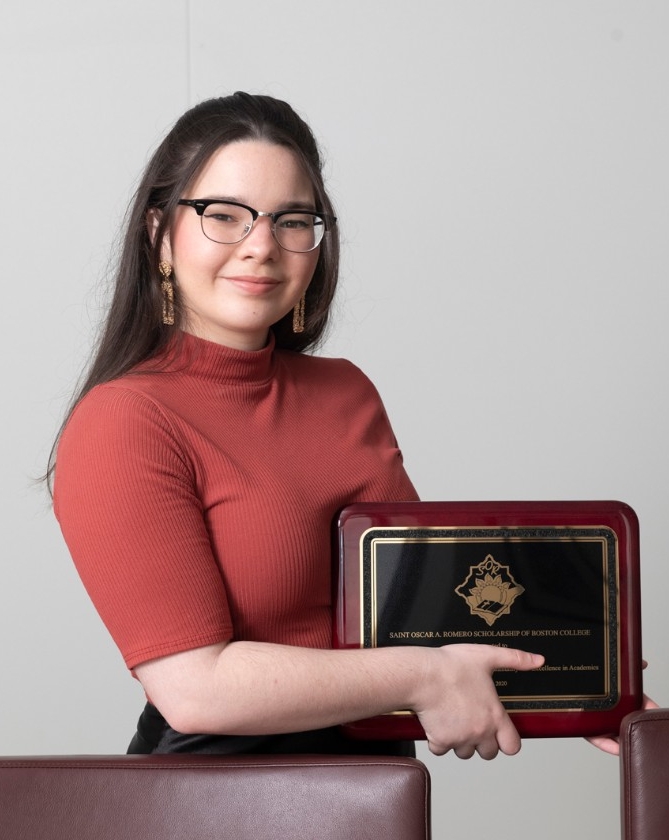 "Learning about Romero's life, mission, and sacrifice demonstrated to me that all you need to make a change in this world is courage, faith, bravery, and love for others, the world, and the community," said Vazquez Loriga in her acceptance speech after University President William P. Leahy, S.J., announced her as the winner at the March 25 virtual award ceremony. "Change begins with one person, so thank you for believing that I will be one of those people."

An International Studies major and history minor, Vazquez Loriga was born in Cuba and moved with her family to Miami when she was two years old, escaping communism and extreme poverty. Her experiences growing up in an immigrant family were influential in her decision to pursue International Studies.

"I always felt very connected to my Cuban roots, but I was also in America, so I felt sometimes like I was experiencing two worlds at the same time," said Vazquez Loriga. "I loved learning about politics, and coming from an immigrant household, the laws really decide our fate. As I build my career and think of my future, I just want to improve upon them."

Vazquez Loriga's ambitions for her future center on international human rights. She hopes to pursue a career in international law after working in the nonprofit sector. During her time at BC, she has researched femicides in Guatemala through the McNair Scholars Program—a graduate school preparation program for Boston College undergraduates from first-generation, low-income, and underrepresented backgrounds—and published "LGBT Rights in Russia: The 'Gay Propaganda' Law and Its Consequences in Chechnya" in the Bellarmine Law Society Review.

She is the co-director of Social and Political Action for the Organization of Latin American Affairs, a committee member for the Undergraduate Government of BC, and an AHANA Outreach Committee member.

Vazquez Loriga expressed thanks to the scholarship committee, last year's Romero Scholarship recipient Monica Sanchez '21—who also spoke at the award ceremony—for motivating her to apply, Director of Learning to Learn Rossanna Contreras-Godfrey for writing her letter of recommendation, and especially her family.

"This award is dedicated to my family because as a first-gen student, everything I do is to bring pride to my parents for all of the sacrifices that they've made," said Vazquez Loriga, who was also awarded a gift certificate to the Boston College Bookstore. "It was very humbling to be given this honor and I will make sure to represent Oscar Romero in everything I do."

School of Theology and Ministry Associate Professor Hosffman Ospino was the keynote speaker at the ceremony, which also included a recorded performance by Boston College Latin dance group Vida de Intensa Pasion.


Christine Balquist | University Communications | April 2021