Morrissey College of Arts and Sciences student Monica Sanchez, who immigrated to the U.S. as a child and aspires to a career serving others as an immigration lawyer, has received the University's 2020 Saint Oscar A. Romero Scholarship.
The Romero Scholarship, which covers a significant portion of senior-year tuition, is given annually to a BC junior who has demonstrated superior academic achievement, extracurricular leadership, community service, and involvement with the Hispanic/Latinx community and Hispanic/Latinx issues both on and off campus.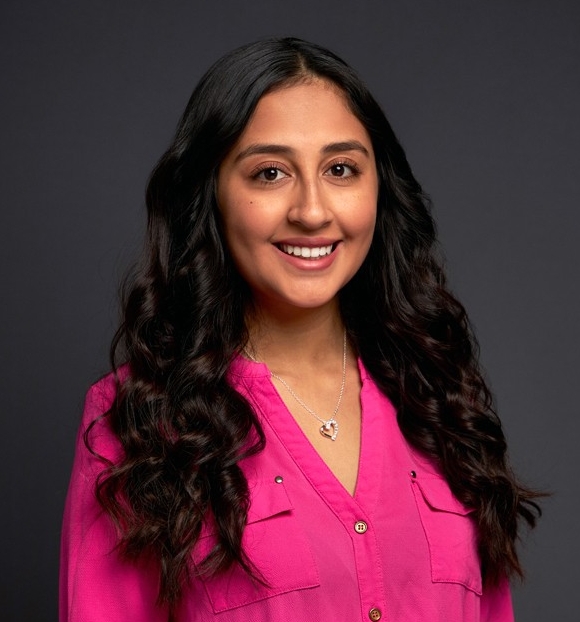 "I love BC. I think it's the best place on earth," said Sanchez in her acceptance speech at the Saint Oscar A. Romero Scholarship Award Ceremony, which was held May 14 via Zoom due to the COVID-19 pandemic. University President William P. Leahy, S.J., announced her as the winner.

A political science and history major, Sanchez was born in Colombia and moved to New Jersey with her mother when she was eight. She is the incoming co-president of the Organization of Latin American Affairs, a student group that has been an important part of her time at Boston College.

"OLAA has given me a platform to welcome Latinx students on campus," she said. "Without it, BC would not be BC. I've been able to meet great mentors through it, [get to know] great people, and do great events that have really shaped my experience."

Sanchez has volunteered at Rosie's Place where she taught English to immigrants, participated in Learning to Learn's Dominican Republic Service Learning and Immersion Program, and served as a mentor for first-year students in the Latinx community at BC through the El Principio Mentorship Program. She also has been an orientation leader and as an ambassador for the Thea Bowman AHANA and Intercultural Center.

She interned at Catholic Extension in its Latin American Sisters Program with the Woods College of Advancing Studies, an initiative that brings women religious to the U.S. for coursework and degree programs that will enhance their ministry in various dioceses, as well as when they return to their home countries.

"This program has changed my life—the things we've done with the sisters and what I've been able to learn from the sisters. If anyone ever has the chance to interact with nuns, well, I can tell you they're awesome. The Jesuits are great too, but the nuns are awesome!"

In her remarks at the ceremony, Sanchez thanked the scholarship committee and her supporters, including her mother Monica Penuela as well as Erika Cedrone of Catholic Extension and Joana Maynard of BAIC.
Later, Sanchez said in an email that her my mother played a large role in her achievements. "I appreciate her so much because her decision of making us leave Colombia when I was eight years old open the door to so many opportunities for me, but it brought many hardships for her."
Sanchez also expressed gratitude to the Saint Ignatius Parish Latinx community, Samuel Hay of the Woods College, her boyfriend Matthew Alvarado' 20, and her roommates Paola Sanchez, Fatou Sall, and Priscill Alouidor.
The event was organized by the Romero Scholarship Committee, co-chaired by Marcela Norton and Milvia Sanchez. Carolina Tiru '20, last year's Romero Scholarship recipient, spoke during the event and BC Jesuit Community member Donald MacMillan, S.J., offered the opening prayer.
All three finalists for the scholarship were recognized during the ceremony and received gift certificates to the Boston College Bookstore.

A look at the two other Romero Scholarship candidates:

Mariana Quintero Tapasco is a Hispanic Studies and psychology double major in the Morrissey College. She participated in the Multicultural Alzheimer's Prevention Program, which investigated the disproportionate effect Alzheimer's disease has on the Latino population. She is a Yawkey Foundation Scholar and a Massachusetts General Hospital Youth and Alumni Scholar.

Adriana Gonzalez is a political science and neuroscience double major in the Morrissey College. She has published Yo Soy La Monarca, El Dolor Ignorado De Los Niños Con TDAH (I Am the Monarch Butterfly, the Ignored Pain of Children with ADHD), a guide for educators working with children who have attention deficit hyperactivity disorder. The book was published in Gonzalez's native country of Mexico where ADHD is less understood. She also has been involved in voter registration drives on campus. Gonzalez plans to attend law school and serve as an advocate for those within the immigration system.

Gonzalez and Quintero Tapasco each received a scholarship of up to $3,000.
Kathleen Sullivan | University Communications | May 2020