Carolina Tiru '20, winner of the 2019 Saint Oscar A. Romero Scholarship. (Christopher Huang)

When Hurricane Maria struck her native Puerto Rico in September of 2017, Carolina Tiru '20 was unable to get word from her family for more than a week.

"I didn't know anything about them until eight days later," recalled Tiru of the disaster, which occurred at the start of her sophomore year in the Morrissey College of Arts and Sciences.

During that time, Tiru drew strength from the campus community. In particular, she cites the importance of the support she received from a mentor, Assocaite Professor of Philosophy Marina McCoy, as well as from her faith community at St. Ignatius Parish.
The 2019 Saint Oscar A. Romero Scholarship winner recently reflected on these and other relationships, and how they have shaped her BC experience.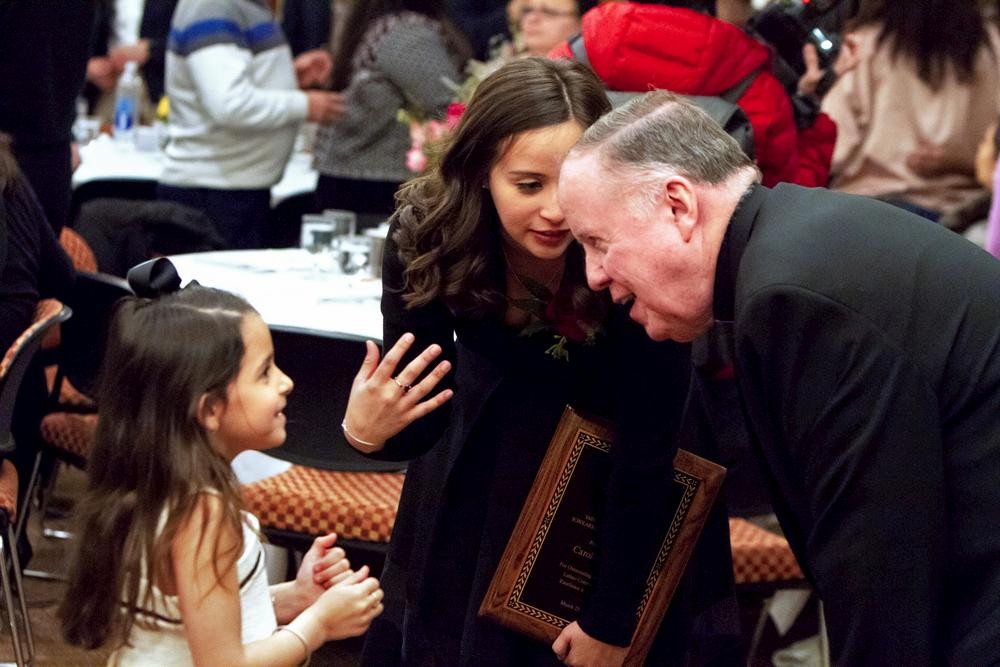 "I am deeply grateful to everyone who has played a role in these formative years of my life and I am so honored to receive this award," said Tiru, an aspiring immigration and human rights attorney. "I came to BC to broaden my education and to leave a greater mark on the world."

The Romero Scholarship recognizes a BC junior who has demonstrated an understanding of, and commitment to, the values and ideals inherent in the life of the Salvadoran archbishop, as well as academic achievement, extracurricular leadership, community service, and involvement with the Hispanic/Latino community and issues both on and off campus.

"This award represents the commitment I have to social change and civil liberty," said Tiru. "It represents my never-ceasing struggle to stand up for those less fortunate. I was gifted; I have a beautiful, loving family that encouraged me to pursue a higher education and follow my dreams. This award serves as a reminder of what I wish to pursue in life: to fight for immigrants and human rights."
A psychology major, Tiru—who has served as a research assistant in Associate Professor Liane Young's Morality Lab—is minoring in philosophy and international studies. She feels privileged to be the first in her family to pursue higher education in the United States, and, in another first, to have voted in the 2016 presidential election.

She credits her family—especially her mother, from whom she learned at a young age that helping others is vital—with her commitment to serve others. Through her role as co-director of external affairs in the Organization of Latin American Affairs and involvement with the St. Ignatius Latinx community, she launched "Creando Sonrisas" ("Creating Smiles") to connect BC students and members of the parish through such activities as immigration policy discussions, cultural celebrations, and ESL classes.
"

[This award] represents my never-ceasing struggle to stand up for those less fortunate. I was gifted; I have a beautiful, loving family that encouraged me to pursue a higher education and follow my dreams. This award serves as a reminder of what I wish to pursue in life: to fight for immigrants and human rights.

"

Tiru cites her affiliation with the Campus School, where she began volunteering as a freshman, as a meaningful undergraduate experience. She went on to do her PULSE weekly volunteering there, and is now a student employee.

"From day one, the school has given me a place to feel at home. My older sister has severe epilepsy; it was amazing to be able to do at BC many of the things I do back home. The students, teachers, and administration are part of my family. They have supported me in my endeavors and inspire me to persevere no matter the circumstance."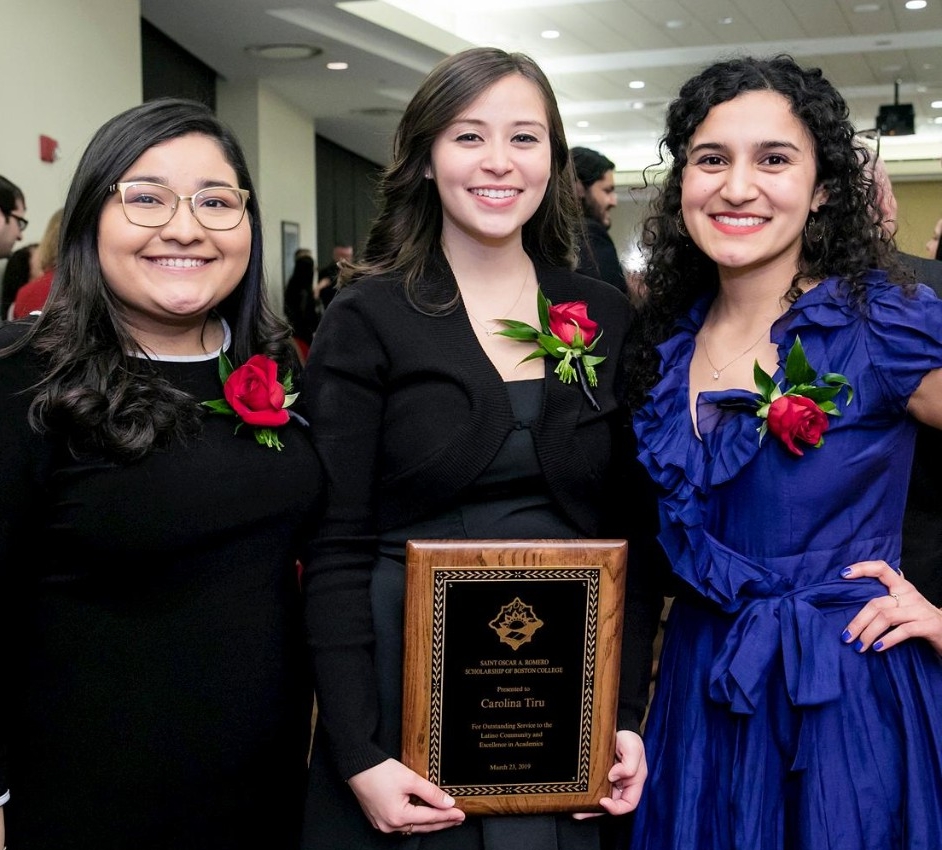 Although she is studying abroad this semester at the American University of Rome, Tiru was back on campus on March 23 to receive her award from University President William P. Leahy, S.J. at the annual Romero Scholarship event. She ended her acceptance speech with a call to the audience: "Let us be the mic of those whose voices are not being heard. Let us fight for our people, the people of the world. It is an honor to have received this award and I can only hope to carry on [Saint] Romero's mission for the rest of my life."

Two other juniors were nominated for the 2019 Saint Oscar A. Romero Scholarship:    

Diana Hernandez, an applied psychology and human development major in the Lynch School of Education and Human Development, has heard about her parents' firsthand experiences during the civil war in their native El Salvador. "Saint Romero's teachings have influenced the advocate that I am now," said Hernandez, who says her passion is helping others, particularly young immigrants. She is a peer leader and advocate in the Student Immigration Movement, a Massachusetts-based immigrant youth-led organization. Hernandez plans to become a speech pathologist and aspires to serve bilingual students who may have learning differences and challenges.

A political science major in the Morrissey College of Arts and Sciences, Vanessa Ruiz-Wiarco "was born in a vibrant Mexican-American household whose priorities are love, unwavering support, and thrilling adventure." She plans to return to her home state of California, and her family, to research and advocate for educational policies that support Latinx American communities. "When one individual succeeds, the whole community succeeds," said Ruiz-Wiarco, who has done educational internships and volunteer work with Latinx communities, both as a BC student and in California.

–University Communications | April 2019