John Berardi, director of technology applications services at Boston College and long-time champion of Little League baseball as player, coach, umpire, and more recently, senior administrator, is this year's recipient of the University's Community Service Award.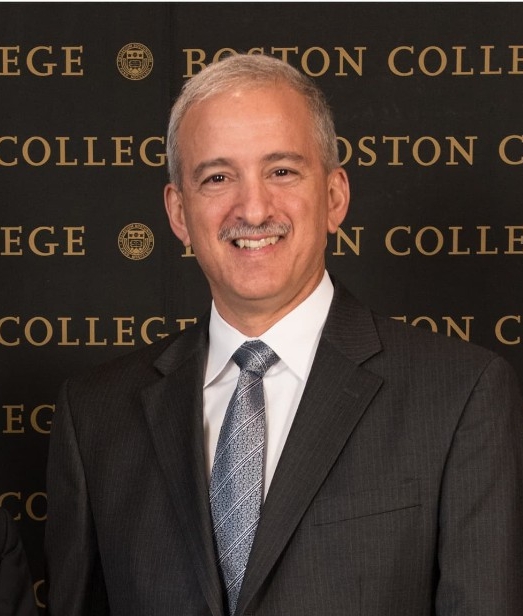 The award, organized by the Office of Governmental and Community Affairs, recognizes the outstanding contributions of a BC employee whose actions exemplify the Jesuit spirit of service to others.

Berardi is the Massachusetts Little League District 13 Administrator, overseeing Little League operations for 13 cities and towns, encompassing 550 teams and more than 6,500 players. He also volunteers on the Little League International Advisory Board.

 "It is a quite an honor to receive this award, particularly when I look at prior recipients," said Berardi. "They are a group of very special people. I think of my parents, who were two of the most generous people with their time, serving the community in many ways.  I am very fortunate to have the support of my wife, Joan—I could not do what I do without her.  This honor would not happen without all the good people, fellow district administrators, district volunteers, and others who do not hesitate to volunteer."

In 2014, Berardi helped establish a formal partnership with the Red Sox Foundation that provides financial support and other assistance to the nearly 200 leagues in the state. The foundation offers a $500 sponsorship for each league, sponsors the state finals for 12-year-olds, and underwrites leadership and instructional skills training for coaches. In 2017, Berardi was named Red Sox Foundation Volunteer of the Year for his work on behalf of Little League; he received his award at Fenway Park prior to a Red Sox game.

Interviewed by the Boston College Chronicle after winning the Red Sox Foundation award, Berardi summed up his admiration for Little League baseball: "Learning to support your teammates, whether they had a great game or a bad game is what it's all about. Little League isn't about building better athletes; it's about developing better citizens."

In 2009, Berardi established "Little League Days" at Boston College: Each spring, Little League baseball and softball players are invited to attend a BC baseball and softball game; the youngsters also have a meet-and-greet with the players on the field after the games.

Berardi, whose father George served as Mass. District 13 administrator for 50 years and Massachusetts Little League director for more than 40 years, played Little League baseball as a child and began umpiring games in his teens. John Berardi later volunteered as an assistant coach on each of his three children's teams, and in the 1990s assisted his father in Little League official business.

He also is the program coordinator for the Jimmy Fund Little League, a program founded by the elder Berardi and Red Sox players Rico Petrocelli and Mike Andrews which gives children the opportunity to play ball over the summer after the end of the regular season while also raising money for the Dana-Farber Cancer Institute and the Jimmy Fund.

Berardi said he is upbeat about the outlook for Little League.

"While some participation numbers dip related to school enrollment numbers, the engagement continues to be strong through coaches' clinics, Red Sox Foundation events, the Little League regular season and tournament, and the summer Jimmy Fund Little League program.  The towns in our district work very well together, which helps keep their Little League programs—small or large—positioned well for the future."
Berardi received his honor from University President William P. Leahy, S.J., at a recognition dinner held on May 29.
University Communications