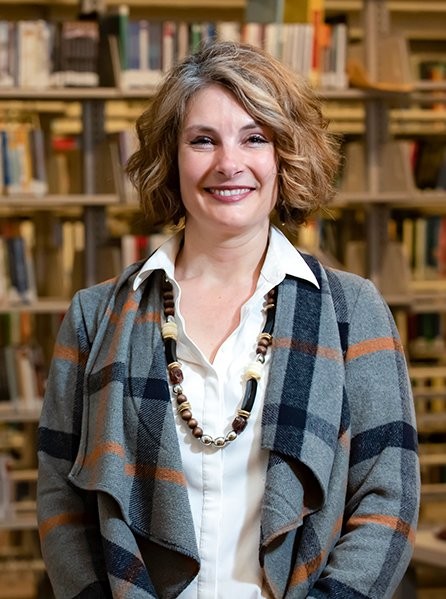 Boston College social work professor Tiziana Dearing is the new voice of WBUR's Radio Boston, transitioning from an occasional guest commentator on the program to its full-time host this month.

"Tiziana's intellect, work experience, ability to connect with people, and deep knowledge of the city proved to be a winning combination," said Sam Fleming, WBUR's managing director of news and programming, in a statement announcing Dearing's selection. "At a time when engagement matters more than ever in media, I'm particularly pleased that she's been embedded in the local community for decades."
Dearing joined the Boston College School of Social Work faculty in the fall of 2013 as an associate professor, teaching courses on social innovation and leadership. During her five-plus years at the University, she became the co-founding director of its Research in Social, Economic, and Environmental Equity initiative, known as RISE3, and served as co-director of the Center for Social Innovation.
Dearing is no stranger to the media world, appearing regularly on local and national programs to discuss issues related to social impact, inequality, and poverty.
"For many years, she's been a trusted WBUR commentator, addressing issues that ranged from the Boston Marathon bombing...to income equality in Massachusetts," said Radio Boston executive producer Hitesh Hathi. "We're eager to collaborate with her on an exciting new chapter."
Last fall, Dearing served as a host of the new docuseries, "Divided We Fall," which brings 12-person casts of everyday Americans together for 48 hours to discuss hot button topics like immigration, race, and gun control. The project, which is sponsored by the nonpartisan National Institute for Civil Discourse, is still in production.
"It's a ton of really intense, intimate facilitation work," Dearing said at the time. "The cast doesn't know what to expect: they're wondering, 'How am I supposed to behave?,' 'What am I supposed to do?' So you're setting the tone and creating the right kind of feel and invitation while also knowing when to leave people alone and recognizing that you are not the point, in any way."
Tom Cosgrove, a longtime political activist and a producer of "Divided We Fall," said he recruited Dearing based on her impressive ability to connect and relate to others around sensitive issues.
"She understands facilitation, she understands people, and she understands storytelling," he said. "She's about as intuitive and fair a person as I've ever known in my life."
Before coming to Boston College, Dearing held leadership positions at several social service organizations including Boston Rising, the former anti-poverty fund, and Catholic Charities for the Archdiocese of Boston, where she served as the first woman president from 2007 to 2010. She serves on several local boards, including the Advisory Board of the Rappaport Center for Law and Public Policy at Boston College Law School and the Rappaport Institute for Greater Boston at Harvard Kennedy School.
—Alix Hackett | University Communications