In response to the profound impact of the coronavirus pandemic and the divisive political climate, award-winning author and Professor of Russian, English, and Jewish Studies Maxim D. Shrayer has written Of Politics and Pandemics: Songs of a Russian Immigrant, a volume of 36 interconnected poems about the effect of these seminal events on American society.

Called "a tonic for our times" by one reviewer, the volume—presented in the vibrant voice of "a Russian immigrant"—employs a rich variety of poetic forms. Through a combination of biting satire and piercing lyricism, Shrayer's new work delivers a translingual poetic manifesto of despair, hope, love, and loss, according to its publisher.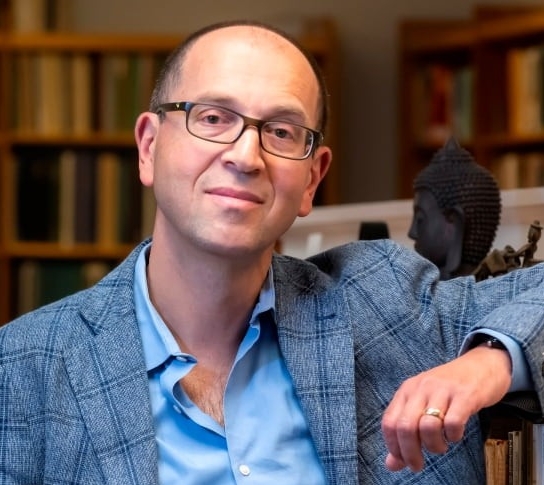 "These poems, this book, was my method of surviving the pandemic," according to Shrayer, who teaches in the Department of Eastern, Slavic, and German Studies. "It was also a way of sharing with the world my sense that poetry can offer a modicum of hope and a small dose of relief. One cannot write poetry today without harboring some hope that these silly rimes shall lead one out of the labyrinth of helplessness, illness, and death."

Shrayer took part in a virtual launch for Of Politics and Pandemics via Zoom on October 29 at the Brookline Public Library-Coolidge Corner.

He has authored more than 15 books in English and Russian, among them the internationally acclaimed memoir Leaving Russia: A Jewish Story, the collection Yom Kippur in Amsterdam, and the anthology Voices of Jewish-Russian Literature. His works have been translated into nine languages. Shrayer won a 2007 National Jewish Book Award and in 2012 he received a Guggenheim Fellowship.

In late November of 2019 Shrayer "experienced a surge of political hopelessness," which served as his literary inspiration. "The explanation is fairly simple in historical and existential terms, and a bit more complex along the linguistic and stylistic lines."

Shrayer said he "rather surprised [himself] by composing a series of mostly satirical poems about election-year politics," between December 2019 and March 2020. But in the wake of the COVID-19 pandemic, he shifted focus by the end of March: "I was mainly writing about the impact of the pandemic on everyday life—my own, my family members and close friends both in the U.S. and in Europe, and my fellow citizens of the world.

"As life increasingly retreated and turned inward under the yoke of the pandemic, my poems became less satirical and more lyrical and confessional," he explained.

A Jewish-Russian immigrant himself, Shrayer said his poetic protagonist serves as an alter ego and authorial representative capable of fluidly and swiftly transitioning from the satirical to the lyrical mode. He "felt a need for ironic distancing, so as to speak with intellectual honesty and confessional vulnerability about the most pressing questions that were constantly on my mind: Why is our country going through such a terrible, devastating patch of history? Is the world on the brink of a heretofore unknown epidemiological catastrophe? And many more cursed, unanswerable questions." In one verse, he describes this engaging "Russian immigrant":

A Russian Immigrant entertains                                                                                        

with Jewish humor in his veins,

Russian soul-searching in his rimes,

American optimism in bad times.

Prior to Of Politics and Pandemics, the prolific author had written and published some English-language poetry and self-translations, but much of his experience as a practitioner of English-language verse has been in the realm of literary translation. Shrayer had previously published three collections of Russian poetry.

"Perhaps the time was ripe for me to write poetry in English. My new book is American poetry, but in a sense it's also Russian poetry living and breathing in English. I found myself in conversation with Russian and American poets who have been particularly important in my formation."

According to Shrayer, central to the book, especially its second half, "is a reflection on that remarkably intensive experience of family love that so many of us lived—are still living—in isolation. I know I would not have completed this book without having sheltered in place with my family."

Shrayer was joined at the book launch by his daughter, Tatiana Rebecca Shrayer, winner of a Stone Soup book contest and a student at Brookline's Driscoll School. Her debut poetry collection, Searching for Bow and Arrows, explores the weight of one's own personal, familial history as well as the history of politics and identity. Information on other upcoming events are available through Shrayer's website.

Rosanne Pellegrini | University Communications | November 2020