The late G. Peter Wilson, one of Boston College's best and most beloved professors who was credited with helping colleagues at BC and across the world become better accounting teachers and researchers, has been named to the Accounting Hall of Fame, joining an elite group of 113 inductees since its inception in 1950.

Wilson, who held the Joseph L. Sweeney Chair in Accounting at Boston College until his retirement in 2018 and the title of professor emeritus until his death from complications of Parkinson's disease in 2020, was one of four individuals selected for the Hall of Fame by the American Accounting Association this year. His wife, Carolyn Wilson, will accept the award in his honor during the organization's annual meeting in Denver this August.

According to the AAA announcement, Wilson was "an exemplar of a master teacher and scholar who became a teacher-of-teachers, and inspired others to make a difference. His overarching goals were to help students and other educators develop robust conceptual frameworks to navigate complexity and uncertainty; build relationship skills that promote effective and rewarding interactions with others; and gain a passion for lifelong learning. His aim was a more prosperous society."

Vice Provost for Faculties Billy Soo praised his friend and former colleague for his unwavering devotion to his students and his mentorship of colleagues at Boston College and beyond.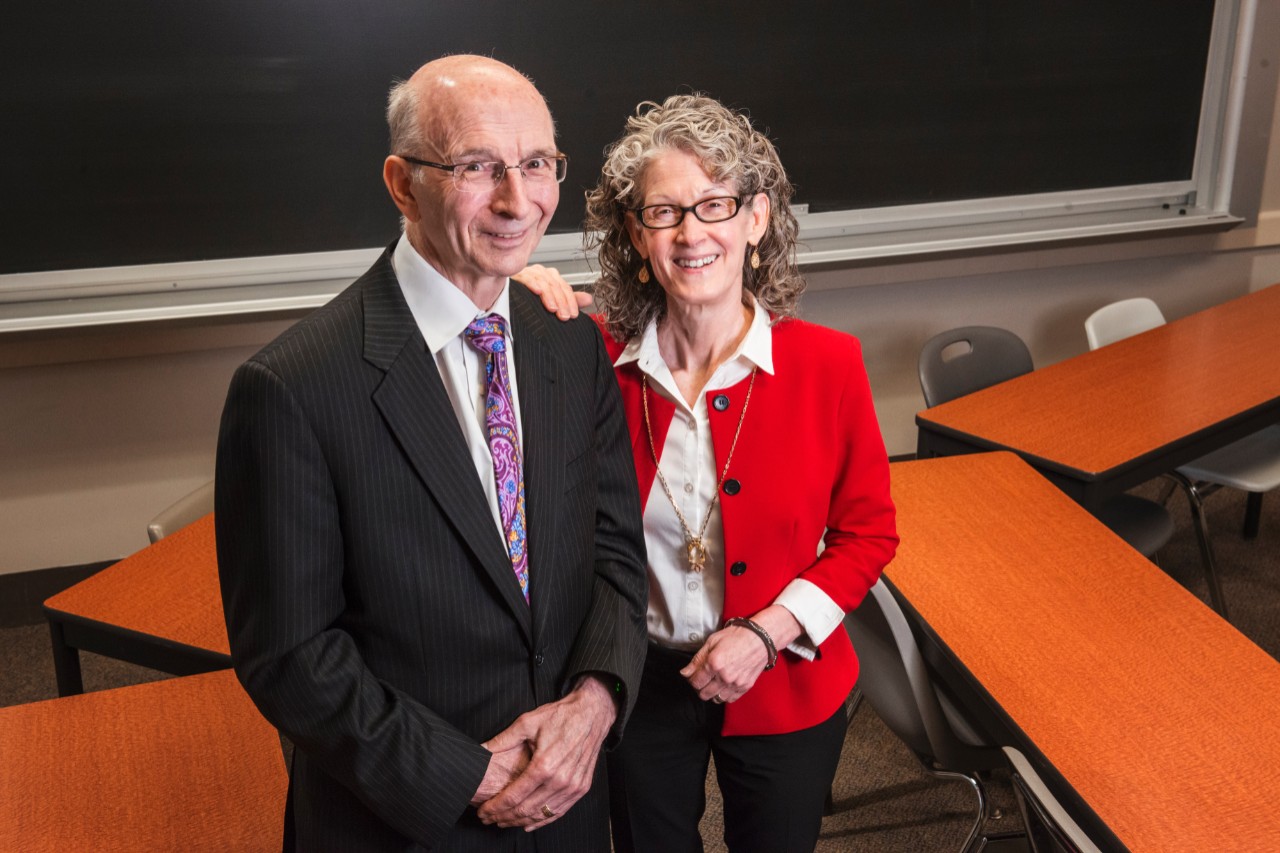 "Pete's induction into the Accounting Hall of Fame is a wonderful testament to the impact he had on students and colleagues alike," said Soo. "I had the privilege of being his office neighbor and saw first-hand the devotion to, and time he spent with, his students. I know so many students who recall fondly their time in his class. Pete shared generously his mastery of teaching and research with his colleagues not only at Boston College, but around the world. I am beyond pleased that so many others share this sentiment."

Carolyn Wilson, who often assisted Pete during his classroom lectures and helped develop many of his popular and widely used educational materials, said that his induction was a fitting tribute to a person who devoted his professional life to teaching and advancing the field of accounting.

"Pete benefited from many mentors, colleagues across the academy, former students, and the support and encouragement from family and friends," she said. "I am sure he would share this honor with his colleagues at Boston College, knowing full well his individual success depended greatly on our collective success. This was his 'Journey from Me to We,' recognizing that we all contributed to making a difference."

Wilson, who earned a doctorate in industrial administration from Carnegie Mellon University in 1985, taught at Stanford University, Harvard University, and the Massachusetts Institute of Technology before his appointment at Boston College in July 1997.

During his illustrious teaching career, he earned many awards, including the Distinguished Teaching Award (Stanford Business School, 1988); Teacher of the Year Award (MIT Sloan School of Management, 1995); the AAA Outstanding Educator Award (2005); Teaching with New Media Award (Boston College, 2009, 2010); AICPA Distinguished Achievement in Accounting Education Award (2010); AAA Lifetime Achievement in Accounting Education (2014); AAA Financial Accounting and Reporting Innovation in Accounting Education Award; and the prestigious J. Michael and Mary Anne Cook/Deloitte Foundation Prize for teaching excellence (2016).

Upon his death, John and Linda Powers Family Dean Andy Boynton praised Wilson for the unique and lasting contributions to the Carroll School of Management and Boston College.

"Pete was the very definition of a master teacher, but he was also a great and generous mentor of teachers at our school and in the accounting discipline," said Boynton.  

"While teaching was Pete's signature craft, he also was a superb scholar. He exemplified careful thought and assessment of a wide variety of theoretical and empirical research. He was BC at its best."
Jack Dunn | University Communications | March 2023