Mary A. Armstrong, who taught painting at Boston College for almost 30 years while continuing to pursue an active, accomplished artistic career, died on May 14. She was 71.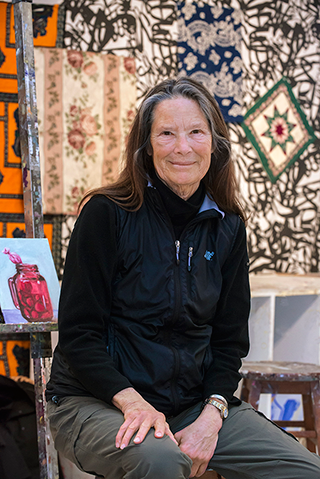 Ms. Armstrong joined the studio art faculty in BC's Fine Arts Department in 1989 after having taught at the Charles River School in Dover for 13 years. At BC, she taught such classes as Foundations Drawing, Color Theory and Practice, and—in collaboration with the Lynch School of Education—Principles and Concepts in the Arts. She also curated the McMullen Museum of Art exhibitions "Re/Dressing Cathleen" and "Original Visions."

A native of Kent, Conn., Ms. Armstrong found inspiration for her own art in seascapes and landscapes, especially along the coast of Maine, where she spent several months a year, or at the Anza-Borrego Desert State Park in California, which she visited for many years.

"Every day I stare wide-eyed at the changing light, and perceive, more and more deeply, the symbiotic connection of earth and sky," she wrote on her website.
. "I see how the forces shape each other and I strive to create a painted space that will expres the ineffable beauty of this dynamic 'sandwich' of atmosphere and earth. I am striving, in my daily practice in the studio, to continually improvise from my perceptions; this makes the process very active, containing many layers of oil paint and wax (on wood panel). I am a student of light and a collector of air."

Ms. Armstrong's artistic vision found acclaim in many quarters. She exhibited multiple solo shows at The Victoria Munroe Gallery in New York City and Boston's Victoria Munroe Fine Art Gallery, and was given a 10-year retrospective at The Felecita Foundation in Escondido Calif. She also participated in numerous group exhibitions, including at the Institute of Contemporary Art in Boston, deCordova Sculpture Park and Museum in Lincoln, Mass., and the Portland Museum of Art in Maine, as well as others in Connecticut, Florida, Pennsylvania, and Rhode Island.

Among her numerous honors and awards were a fellowship from The Ballinglen Arts Foundation in Ballycastle, Ireland, and a grant for works on paper from the New England Foundation for The Arts.

Ms. Armstrong continued to find new avenues and contexts for her art. In 2006, she created the exhibition "24 Hour News," a series of paintings representing her response to the Iraq War.

"Up until then I was working with imagery that connected nature to the human body. I was and am interested in exploring images of transformation and transfiguration," she said in an interview with the Boston College Chronicle in 2016, when she brought "24 Hour News" to O'Neill Library.

"24 Hour News" showed such a progression, as she explained. The dark blue paintings were the earliest and part of a series dating to just after 9/11, which were "meditations on the vulnerability of the human body to violence." As images from the war unfolding in Iraq began to enter her consciousness, she said, "the color red came to dominate the work." The final painting in the exhibition, "Launch," was "a release"— the return "to light and air in the movement away from the earth, sailing up into the troposphere."

Having retired from BC in the spring of 2019, last fall Ms. Armstrong presented the exhibition "Conditions of Faith" in the McMullen Museum's atrium—a selection of paintings she had done in recent years depicting vistas in Maine and Anza-Borrego. "For Armstrong," the exhibition description read, "roiling currents, sunlit estuaries, and particularly rising waves are 'a perfect visual metaphor for change, both desired and feared, destructive and regenerative, personal and political.'"

Ms. Armstrong received a B.F.A. from Boston University and a master's degree from Lesley University.

She is survived by her husband, Stoney Conley, an associate professor of the practice in BC's Art, Art History, and Film Department, with whom she studied and taught in such meccas of art as Florence or Venice. She also is survived by her brother, Christopher F. Armstrong, and several nieces and nephews. She was predeceased by her brother, David Armstrong.

A celebration of her life is planned for a later date. Condolences may extended via a virtual tribute wall.

University Communications | May 2020