Rev. James A. Woods, S.J., Boston College's longest-serving dean and the namesake of the University's Woods College of Advancing Studies, died on November 20 at the Campion Center in Weston. He was 90.
A Mass of Christian Burial was celebrated at St. Ignatius Church on Wednesday, December 1, with homilist Robert D. Farrell, S.J., a former Woods College faculty member. Scroll down to view a video of the livestream.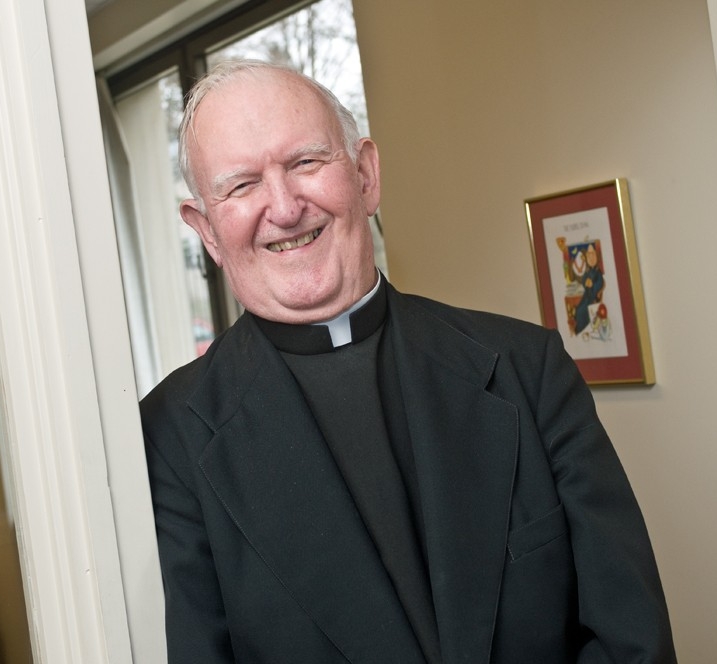 The founding dean of the former Evening College, Fr. Woods led the school for 44 years before stepping down in 2012.
University President William P. Leahy, S.J., praised Fr. Woods for his contributions to the BC community as an administrator and Jesuit.
"Fr. Woods was such a force for good at Boston College from the time he arrived on campus, always positive, caring, and helpful to those around him," said Fr. Leahy.  "Many benefited from his encouragement, especially to pursue education and earn degrees at BC.  He enjoyed life, and I will always remember him as a faithful Jesuit and priest."
Upon his retirement in 2012, Fr. Woods was honored at a University event—a "Celebration of Gratitude" in Conte Forum—for his dedication and commitment to the school and the thousands of students who benefitted from his advice, guidance, and personal encouragement.  
At the celebration, Fr. Woods expressed his own gratitude for the opportunity to help shape generations of students. "I am very, very grateful to my superiors–both Boston College and the Jesuits—to have been assigned to do this work and allowed to stay this many years," he said. "BC students have always been a part of my life. They teach me that the world is made and moved by individuals. One person can help another—who in turn can help others—and by doing so, make a difference."    
During his long and accomplished tenure, Fr. Woods oversaw comprehensive changes in the curriculum and designed and introduced graduate degree programs for part-time students. At his request, the name of the Evening College was changed in 1996 to the College of Advancing Studies to reflect its evolving mission and expanded academic program.
In May 2002, the name was formally changed to the James A. Woods, S.J., College of Advancing Studies, following a $5 million gift from BC Trustee Associate Robert M. Devlin and his wife, Katharine, in recognition of their deep gratitude for Fr. Woods.
"Fr. Woods was a man with a generous heart, mind, and spirit, who made dreams become real for thousands of people," said Robert Devlin.  "As a family, Kate, Matt, Michael, and I were blessed to have three generations inspired by him. We owe him a tremendous debt of gratitude for his life's work in the service of others."
Added Trustee Associate Michael Devlin, "I am deeply grateful for the opportunity and guidance Fr. Woods gave me to complete my education at Boston College. Those who have been enabled to continue their education as a result of Fr. Woods are beacons of his benefaction."
Fr. Woods was awarded an honorary Doctor of Humane Letters degree from Boston College at the University's 137th Commencement Exercises in 2013. His honorary degree citation read, in part:
"We pay tribute to a superlative career as Jesuit priest, educator, mentor, colleague, and friend. Fr. James Woods of the Society of Jesus headed a school that not only bears his name, but also reflects his vision and vocation, and continues his commitment to the education of first-generation students and adult learners. An inspiration to generations of Woods College students, he has contributed immeasurably to Boston College and its mission."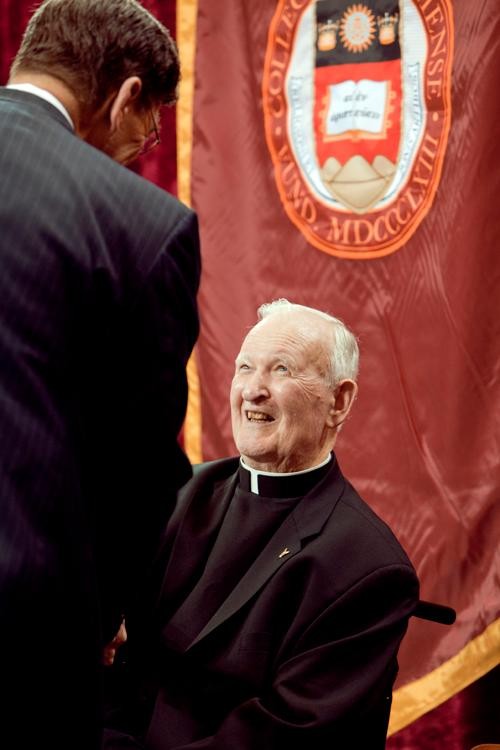 Fr. Woods took pride in Woods College's role in helping fulfill the University's educational and service mission in the Greater Boston area. The school historically has served non-traditional students, among them adults working full-time and others wishing to broaden their academic knowledge or prepare for professional advancement. Fr. Woods established numerous scholarship and endowment funds during his years as dean, and named them for his longest-serving faculty and staff.
The Woods College is the fourth oldest of Boston College's eight schools and colleges. Today it offers eight undergraduate majors, 18 graduate degree and certificate programs, and 114 fully online courses for more than 850 students in a supportive community that prepares students for service and ethical leadership in a global society.
In addition to his service as dean, Fr. Woods also was active as an administrator within the Society of Jesus. He oversaw the launch of Bishop Connolly High School in Fall River, Mass, and from 1955 to 1958 served on the faculty of the Cranwell Preparatory School in Lenox, Mass.
After he was ordained to the priesthood in 1961, he served as secretary of the New England Province of Jesuits.  
President Jimmy Carter appointed Fr. Woods in 1979 to the National Advisory Council on Adult Education, on which he served through 1981. He also served two terms as New England chair of the Association for Continuing Higher Education, and was a founding member of the Boston Area Deans' Higher Education Council.
A popular priest, he served as a parochial vicar at Infant Jesus Parish in Chestnut Hill, and in a similar role at St. Ignatius Parish, adjacent to the BC campus.
In 1993, Fr. Woods authored Opportunities: Boston College: Making the Difference for Students, in which he and other longtime Evening College faculty shared their experiences teaching working students. A second book by Fr. Woods released that year, Excel, advised high-school guidance counselors on preparing students for college.
Fr. Woods was born in the Neponset section of Boston and entered the Society of Jesus in 1948, the same year he graduated from Boston College High School. He went on to study at Boston College at the undergraduate and graduate levels, earning a Bachelor of Arts degree in 1954 and a Master of Arts degree in teaching in 1961. He then earned a Bachelor of Sacred Theology degree from Weston College in 1962 and a doctorate in education from Boston University in 1977.
He took delight in remarking on the monumental growth in the University's scope and stature during his long term of service: "I didn't watch it," he chuckled with his trademark boisterous laugh.  "I took part in it." 

Fr. Woods is survived by two younger sisters, Kathleen Woods and Elinor Woods, both of whom live in Nashua, NH.  He was predeceased by his younger sister, Ann (Woods) Dunn, and his parents, Thomas Patrick Woods and Helen Ann (Ward) Woods.
Jack Dunn | Unviersity Communications | November 2021
---