Darald and Juliet Libby Professor Cathleen Kaveny, who holds appointments in both the Theology Department and Boston College Law School, has been appointed a Phi Beta Kappa Society Visiting Scholar for 2023-2024.
Since 1956, the PBK Visiting Scholar Program has been dedicated to exchanging ideas and contributing to the intellectual experience on campus. Visiting Scholars spend two days apiece at universities and colleges where PBK chapters are located, taking full part in the academic life of the institution. They meet informally with students and faculty members, participate in classroom discussions and seminars, and give a lecture open to the academic community and the general public.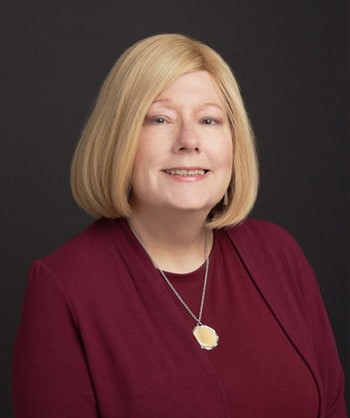 Kaveny is one of 14 outstanding scholars in the liberal arts and sciences selected for the 2023-2024 cohort of PBK Visiting Scholars, who are expected to make more than 100 campus visits during the academic year.

"I am very honored and excited by the PBK appointment," said Kaveny, whose work focuses on the intersections of law, religion, and ethics in a divided, pluralistic society. "I am sure that I will learn so much from talking with undergraduates and others at different schools across the country about the challenges facing our nation and our world."

Kaveny is expected to lecture on topics such as the connection between nostalgia for the 1950s and American nationalism and the tension between civil discourse and "call-out" culture in American public life. In the classroom, she will address religious liberty and freedom of conscience after Dobbs v. Jackson.

Kaveny served as the Cary and Ann Maguire Chair in Ethics and American History at the Kluge Center at the Library of Congress during 2018-2019. Her books include Law's Virtues: Fostering Autonomy and Solidarity in American Society; Prophecy without Contempt: Religious Discourse in the Public Square; and Ethics at the Edges of Law: Christian Moralists and American Legal Thought.

The Phi Beta Kappa Society is the nation's most prestigious academic honor society, with chapters at 293 colleges and universities in the United States, nearly 50 alumni associations, and more than half a million members worldwide. Its mission is to champion education in the liberal arts and sciences, foster freedom of thought, and recognize academic excellence.

Kathleen Sullivan | University Communications | March 2023