Eighteen youths from the Greater Boston area spent a week at Boston College this past summer at the first Boston College Youth Police Academy. The youth cadets were selected to participate because of their interest in law enforcement, according to the Boston College Police Department, and all costs were covered thanks to many generous sponsors.
"We had been looking at ways that we could engage with the greater Boston community," said BCPD Lieutenant Jeffrey Postell of Patrol Operations and Community Policing. "We wanted to enable the youth who were selected to become more self-assured, caring, disciplined adults—to instill confidence and encourage."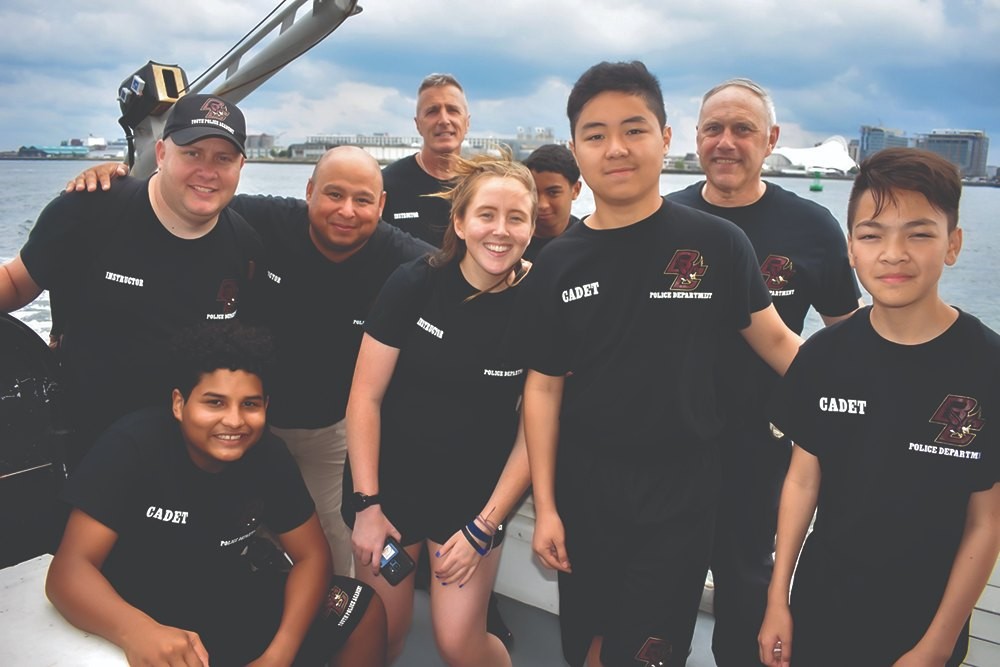 The program was designed with elements of a police academy and incorporated discipline, physical fitness, and drill exercises. The week's many activities focused on teamwork, leadership, communication, confidence, and relationship-building. Cadets also took a CPR certification course and had the opportunity to learn about investigation procedures by documenting a simulated crime scene and collecting evidence. Other activities included a harbor cruise with the Boston Police marine unit and training in fire prevention and alcohol education. 
"Being here at BC showed me a part of myself I didn't know," wrote one cadet in a course evaluation. "Being here showed me that I am capable of many things and that if I find anything difficult, I can keep trying and never give up."
The cadets received certificates in a ceremony at the end of the week—an extremely moving moment, said Postell, after witnessing their transformation during the program.
"I've been in law enforcement for over 20 years and I've been at BC for about 10 years now. Seeing those kids walk across the stage, the look on their faces, the pride and the confidence they showed—that was one of the proudest moments I have had since I've been here. There were very talented young men and women in that group and, frankly, they set the bar high for future academies that we will hold."
—Christine Balquist | University Communications | October 2019